Golfing diehards in Wisconsin no doubt have gotten in a few rounds this spring, dodging raindrops, trying to stay upright in 50 mph winds and playing through intermittent snow squalls. For most of us, though, the season is in its infancy.
There's no better time, then, to introduce 10 "must-haves" for golfers looking to lower their scores and have more fun on (and off) the course in 2022 … or who are just trying to stay warm and dry.
Marmot Minimalist Pro Jacket: If the last few weeks have taught us anything about spring in Wisconsin, it's to be prepared for any kind of weather. Pelting rain, blustery wind, numbing cold, even snow … and sometimes all on the same day.
Good rain gear, then, is essential. Marmot makes an excellent Gore-Tex all-weather jacket. It's lightweight, waterproof, windproof, seam-taped for leak protection and has adjustable Velcro cuffs to keep out the cold.
But the best feature is a fixed hood with a drawcord, something we don't often see on a rain jacket. With Marmot, the wet head is dead. $250.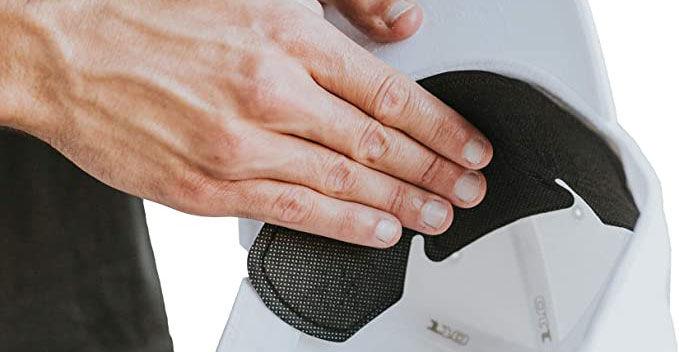 NoSweat hat liners: On the other end of the weather spectrum, is there anything worse than playing on a 90-degree day and ruining a brand-new $35 golf cap with a gigantic sweat stain?
NoSweat is a disposable, moisture-wicking liner that sticks inside any hat or visor. The company's patented SweatLock Technology keeps sweat out of your eyes, reduces fogging on glasses and helps prevent those hideous sweat stains on your headwear.
Just peel the label and stick the liner in your hat. $27.95 for a 12-pack.
SaltStick FastChews: Speaking of sweat, the average person's perspiration contains about 1,000 milligrams of sodium per liter, while a typical sports drink contains only 440 mg of sodium per liter.
That means if you consume nothing but sports drinks on those hot, humid days, you could become hyponatremic — a medical condition that can lead to nausea, fatigue and a spate of weak drives and three-putt greens.

FastChews help athletes maintain performance by replacing the five electrolytes — sodium, potassium, magnesium, calcium and chloride — lost through sweat. FastChews come in several flavors, including orange, mixed berry and watermelon. $15 for a 60-count bottle.
KLYR Rangefinder: There are a lot of good rangefinders on the market, but we like the KLYR (pronounced "clear") because of its size. The unit, made by TecTecTec fits in the palm of your hand or even in your pocket, but also comes with a magnetic belt clip.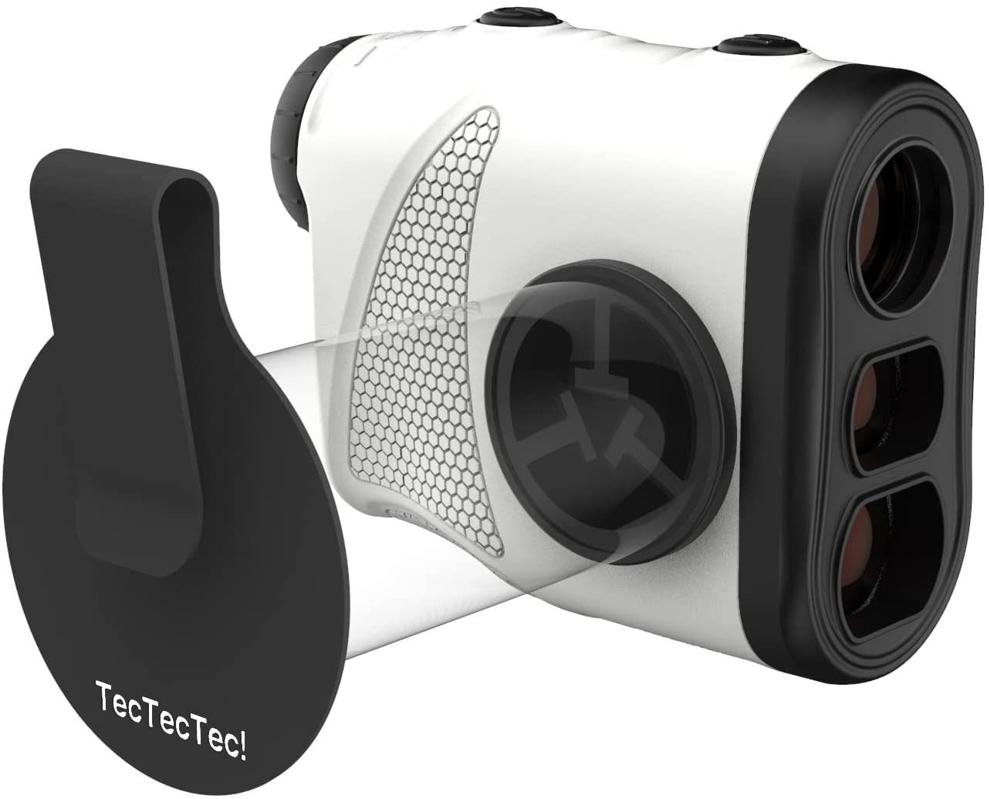 Accurate to within plus/minus 1 yard, the KLYR Rangefinder features a slope switch and can be toggled between yards and meters — not that you'd use the latter, unless you were playing in the UK. KLYR also has a scan mode to determine multiple distances.
There's no reason to waste precious seconds walking off yardages from sprinkler heads. Just point and shoot. $199.99.
Tiger vs. Phil: On those dreary, rainy days when even owning a Marmot Minimalist Pro Jacket can't convince you to tee it up, we suggest curling up in front of the fireplace with a good golf book. Tiger vs. Phil: Golf's Most Fascinating Rivalry is just the ticket.
The book examines the complicated rivalry and relationship between Tiger Woods and Phil Mickelson, dating back to their junior golf days. It was authored by Bob Harig, longtime golf reporter for ESPN, who has covered both players since the beginning of their careers.
What do the alpha and beta golfers of their generation really think of each another? Read Tiger vs. Phil and find out. On sale April 26. St. Martin's Press, $29.99.
Divot Board: Former PGA Tour pro Bobby Clampett says he can tell a golfer's handicap just by looking at his or her divot. Higher handicappers typically strike the ground well before the club contacts the ball, while the divots for tour players start an inch or two after contact.

The Divot Board is a portable swing trainer that instantly shows your contact point with the ball and the ground. This feedback helps you adjust your swing for better contact, which leads to improved distance and direction.
The Divot Board is designed to be used on carpet, grass or artificial turf. It costs $129.99 and the pad lasts between 1,000 and 3,000 swings. Replacement pads cost $49.99.
Wilson Triad golf balls: Wilson Golf's new premium Triad ball was designed specifically for the golfer who is striving to break 80 … which is about 95% of people who play the game.
The Triad is a three-piece, urethane-covered ball that moves weight from the core to the outer layers, resulting in lower driver spin for a more stable ball flight. Theoretically, at least, more fairways hit = lower scores.
In a news release, Wilson Golf general manager Tim Clarke said, "We are very excited to introduce this innovative golf ball for a growing community of competitive players who want to take their game to the next level. The competitive golfer striving to break 80 is who Wilson Labs had in mind." $39.99 per dozen.
Dave Pelz Putting Tutor: This handy putting trainer easily fits in your golf bag and teaches you to commit to a line and then start the ball on that line — two things that are easier said than done.
The Putting Tutor also teaches the golfer to square the putter face to the aim line and helps to improve stroke mechanics and green reading.
Mickelson, a longtime Pelz student, helped develop the Putting Tutor, which Pelz claims is used by more than 50 PGA Tour pros. $49.99.
GolfForever Swing Trainer: The GolfForever Swing Trainer is a tool that helps you safely improve three keys to gain distance and consistency: mobility, balance and speed.
The training tool consists of a multi-use, 44 1/2-inch bar, quick-interchange weighted balls and a 15-pound training cord and comes with a free 30-day trial to GolfForever, including full access to the GolfForever app and a customized daily golf fitness program.
You'll follow expert-recommended routines daily that are based on your personal self-assessment, with access to an extensive library of golf fitness videos. $199 for the training tool; after the free 30-day trial, subscriptions cost $16.58 per month (billed annually) or $24.99 per month (billed monthly).
On Par Engraving: Cartographer Andy Bartell of Sheboygan has combined his loves of mapmaking and golf to create one-of-a-kind, custom wall art.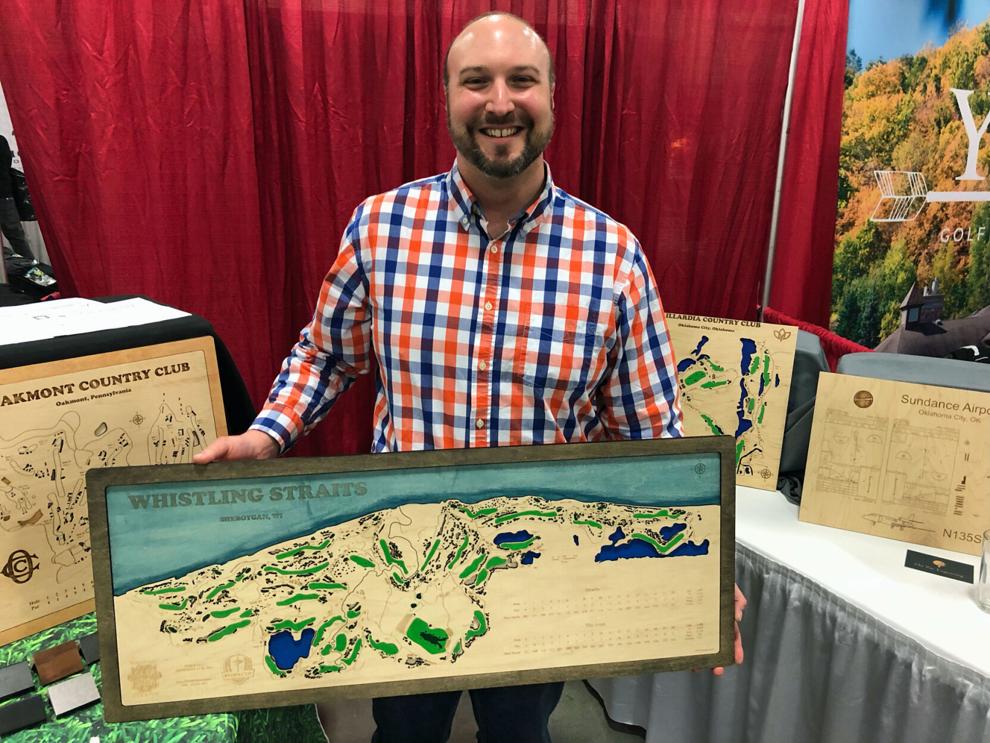 He uses cartography software and Google images to make laser-engraved course renderings on wood. Features such as fairways, greens and bunkers are hand-drawn, painted and stained. Every piece he sells can be personalized, at no extra charge, with such things as a favorite golf quote, a Bible verse or the date and specifics of a hole-in-one.
"Everything that goes out the door is custom," Bartell said. "It's not going to be replicated anywhere else."
The cost for an engraving of your favorite course is $345; customization and shipping within the U.S. are free.