D'Time with Gary D'Amato: Rating Wild Rock GC-Wisconsin Dells
| Category | Grade |
| --- | --- |
| Overall course conditions: | 9.5 |
| Quality of greens: | 9 |
| Aesthetics: | 10 |
| Playability: | 8 |
| Variety of holes: | 9 |
| Service: | 10 |
| Value: | 9 |
| Total: | 64.5 |
| | |
WISCONSIN DELLS — Within two miles in any direction of Wild Rock Golf Club, the kitschy wonders of Wisconsin Dells draw tourists like moths to a flame.
The waterparks, go-kart tracks, theme restaurants, zip lines, theaters, campgrounds, putt-putt courses … it's family sensory overload.
Wild Rock itself is part of the Wilderness Resort, 600 acres of family fun billed as "America's Largest Waterpark Resort!" (exclamation included).
Given all that, golfers who didn't know better probably would not take Wild Rock seriously. How could a great golf course take second billing to a waterpark?
"We might be in the Dells," said Pat Stein, the PGA general manager at Wild Rock, "but once you pull into the parking lot, you don't feel like you're in the Dells."
Stein is right. On the course, there's not a hint anywhere that a couple miles away, screaming kids are tubing down waterslides, Ducks are splashing into Lake Delton and harried parents are trying to corral their children at Knuckleheads before heading off to the Tommy Bartlett Show.
It's worth noting that the entrance to Pine Valley is near an old amusement park and that hasn't prevented it from earning a reputation as the best golf course in the U.S. Not that I'm comparing the two, but Wild Rock is a serious course with architectural bona fides, designed by Michael Hurdzan and Dana Fry and built as the two were completing work on Erin Hills, host of the 2017 U.S. Open.
It's an oasis of serenity in a concrete-and-neon jungle, a course with great bones, dramatic elevation changes and holes you'll remember long after playing them. Beginning with the l-o-n-g drive from the clubhouse to the first tee and for the next four hours, Wild Rock is simultaneously a rollicking adventure ride and an escape from them.
To be sure, the course is bigger, brawnier and more challenging than the typical resort course.
"When you're in a resort market like that – and there are going to be more golf courses in the future because there are going to be more and more water parks and hotels – you want a course that has some teeth," Hurdzan said. "Pete Dye used to say, 'Nobody flies across the country to play an easy golf course.'"
Wild Rock is strong enough to have played host to U.S. Open local qualifying, but there are five sets of tees starting at 5,132 yards and progressing to 7,414. Play it from the tees commensurate with your ability and you'll have a blast.
Fry and Hurdzan made great use of a ravine on the par-4 second and third holes and a stone quarry on the back nine, notably on the par-3 15th, an all-carry white-knuckler over a deep chasm of boulders, native vegetation and possibly Sasquatch's den.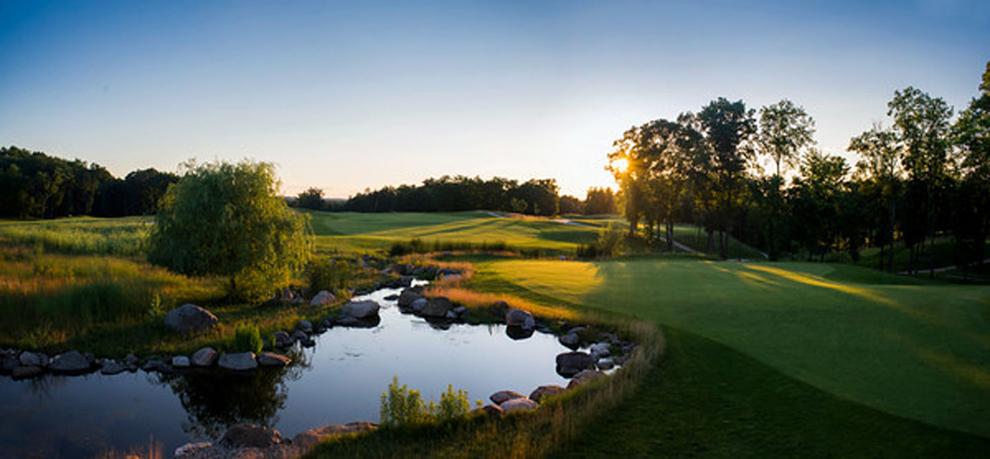 wild rock hole 1 2014.jpg
We didn't see big foot, but a doe and her fawn ran across the middle of the second fairway in front of our carts, momentarily distracting us as we prepared to hit our approach shots. Where is Stevie Williams when you need him?
On a clear day, the view from the elevated tee on the par-5 sixth hole is out of this world, with the Baraboo Range looming in the distance. The view looking back toward the tee from the 10th fairway is equally fantastic, though most golfers miss it.
"We had the quarry, the rocks and those wonderful off-site views," Hurdzan said. "It was a matter of not letting the golf course compete with all the natural assets that were there."
There are large bunkers squarely in the middle of the fairway on the par-4 fifth and seventh holes and on the par-5 10th. That may be off-putting to some golfers, but there is plenty of turf to both sides and no one in our threesome came close to hitting into one.
Though I could see how pace of play could become a problem on busy days, we breezed through Wild Rock in under four hours. Tips by the starter were helpful, as was GPS on the carts. A ranger passed us several times and gave us a friendly wave; it's good to know he was there if play stalled up ahead.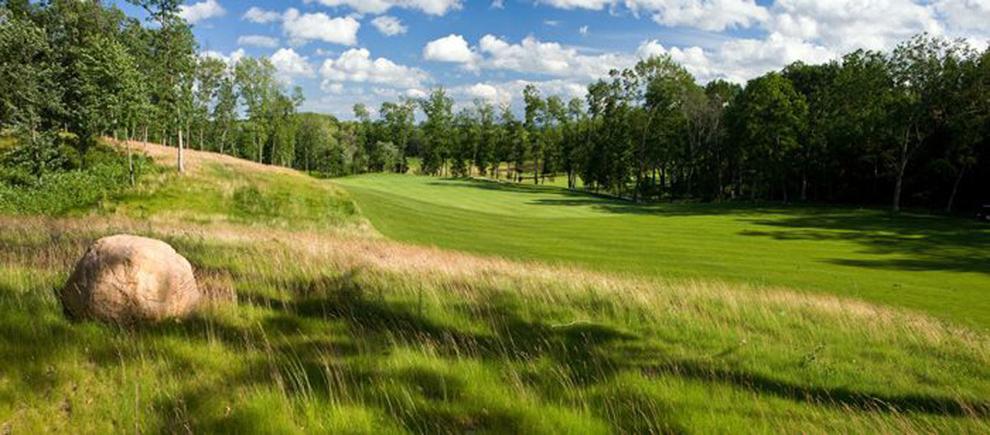 Wild Rock Hole 11 panoramic.jpg
I'd played Wild Rock previously but neither of my playing partners had, and they were impressed. My brother, who lives in Florida, said, "It's amazing how many great golf courses are in Wisconsin that nobody even knows about."
Word is getting out about Wild Rock, which opened in 2007. Rates for online tee times range from $59 to $95 per player, depending on the day and time.
"I would say 10 years ago the percent of resort play to public play was probably 60-40, but over the last five years public play from outside the resort has passed resort play and it's probably 60-40 the other way now," Stein said. "We've worked hard to get the message out that even though it's a resort course it's not your typical resort course. It's something special.
"I think word has gotten out and we're starting to make those lists of golf courses that people should play when they come to Wisconsin."