PEWAUKEE – It has been two years since Martha Nause last competed in a golf tournament. In the time since, she has traded swinging a club for swinging a hammer as a volunteer for Habitat for Humanity and as a fixer-upper on the house she purchased in Phoenix. She swings a mean pickleball paddle, too.
On this day, though, Nause is at Western Lakes Golf Club, demonstrating "specialty shots" she learned from Manuel de la Torre to a group of the late teacher's devotees, who meet annually to brush up on his swing concepts and trade ideas and stories.
You expect to see a little swing rust, but Nause's classic move is effortless and graceful. She hits shots from sidehill and downhill lies; with balls buried in deep rough; with balls under tree limbs or up against the trunk – the latter with just her right arm and backhanded – and from "fried egg" lies in bunkers. She makes these shots look easy. Any golfer will tell you they're not.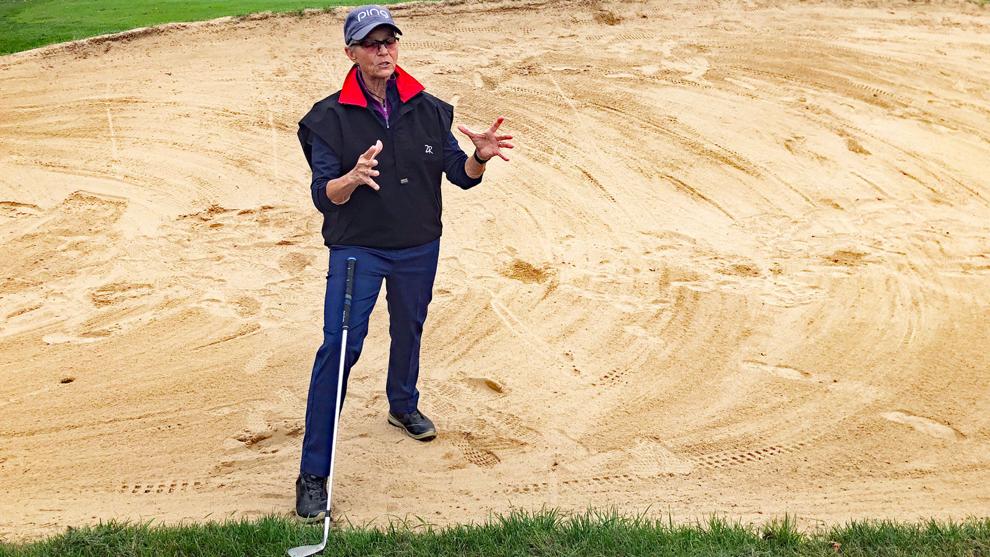 If she were so inclined, Nause, 67, could still tee it up on The Legends Tour, the handful of tournaments conducted annually for women 45 and over. But the Sheboygan native plays only recreationally now.
"Two years ago, I played the (U.S.) Senior Open and the Senior LPGA Championship," she says. "I worked really hard on my game, but when you don't compete it's hard to go into a big competition and be able to easily handle the anxiety and all the challenges. I was like, 'I don't want to do this anymore. I don't want to practice. I'd rather play pickleball.'
"There were a lot of other things in life that I wanted to do. I'm doing a lot of traveling. I've got family things that I'm involved in. I'm helping taking care of my disabled sister. So, that's it. I didn't feel like doing it anymore."
Nause won three times in 22 years on the LPGA Tour, including the 1994 du Maurier Classic, a major championship. She was the first woman inducted into the St. Olaf College Athletic Hall of Fame and was inducted into the Wisconsin Golf Hall of Fame in 1995.
But she became a touring professional almost by default, and if not for the encouragement of friends and her parents to try something totally off the wall, she might be studying whales somewhere off the Alaskan coast – which is what she did for the entire summer the year before she turned pro.
You won't find many stories like Martha Nause's in pro golf these days.
* * * 
Nause was raised in a golfing family. Her parents, Bud and Becca, were members at Pine Hills Country Club and were good players. Becca was a Northeastern Wisconsin Golf Association (NEWGA) champion and was a 12-time club champion at Pine Hills.
Martha played in her first tournament at age 10 and won the Wisconsin Women's State Golf Association Junior Girls' title in 1972. There was no girls' golf team at Sheboygan North High School, and some of her friends told her she should try out for the boys' team. Word got back to her that if she made the team, all the boys would quit, so she didn't pursue it.
At St. Olaf, she played basketball and volleyball. During her senior year, the men's golf coach started a women's team, so she played one year of college golf.
In the weeks leading up to graduation in 1977, Nause's parents kept asking about her plans. She had none. She'd spent the previous summer studying whales in Alaska as part of a college program, so maybe she'd go to graduate school for marine biology.
Then, one day, she was leafing through brochures in the career counseling office and came across one for the PGA Tour.
"Of course, I wasn't going to do that, but I knew there was an LPGA Tour," she says. "What I knew was that women's professional golf was very marginal. Nobody was making a lot of money. I didn't know a whole lot about it. There weren't many tournaments. I think the Colgate Dinah Shore was on TV but that was it. There was never anything in the papers. So, I didn't really know anything about it.
"But I thought to myself, 'Wouldn't it be cool to be a professional athlete and you get paid for playing sports? That would be amazing!'"
Later that day, she told friends that she was thinking about trying to qualify for the LPGA and expected to hear laughter in response. Instead, they all encouraged her to go for it.
"I know exactly what would have happened if they had laughed," Nause says. "I wouldn't have done it. I didn't have enough self-confidence to say, 'Well, I'm going to do it, anyway.' I called my mom and dad and said, 'I think I know what I want to try.' They said, 'What?' I said, 'I want to try to get on the tour.' Again, I thought they'd be like, 'You're ridiculous.' And they went, 'That's great! We'll help.' So, they were immediately behind me."
The next step was finding a teacher who could help prepare Nause for a shot at the tour. Her parents reached out to Bob Toski, a former PGA Tour player and at the time one of few nationally known instructors. Toski told them to enroll Martha in one of his camps, but she wanted and needed individualized instruction.
Nause's parents knew of de la Torre, the respected Milwaukee Country Club teaching professional who had worked with future World Golf Hall of Fame member Carol Mann, among others. They were in luck – the always-busy de la Torre had two half-hour weekly slots left for the summer.
"The first lesson I had with him was just mind-blowing to me," Nause says. "It was so hard, because he asked all these questions that you didn't know the answers to. But when I left there, I was on Cloud Nine because he made it so common sense. When I got home, my parents said, 'What did he say?' I'm like, 'It made so much sense. He told me this and this and this.' Any little idiosyncrasies that I had in my swing at the time, he took them out and simplified it."
In early 1978, Nause entered LPGA Tour qualifying. If she didn't get through, her plan was to try one more qualifier later in the year. If she didn't make it in two tries, she likely would have gone down an entirely different career path. She made it through on her first attempt.
"I called Manuel up and I said, 'Manuel, it's Martha. I made it!'" she says. "He said, 'You made what?' I said, 'I made it on the tour. I qualified!' There was a moment of silence and then he said, 'I didn't know you were going to do that right away. I thought maybe you'd practice for a couple years and then try.'
"I said, 'No, Manuel, I made it now. And now what do I do?'"
In order to keep her playing privileges, she needed to earn a certain percentage of the LPGA Tour's total prize money for the year. It came out to be about $1,800. With a handful of tournaments left in the season, Nause had earned exactly $0.00.
"I missed cuts, or if I made a cut, at that time we cut to 70 players but sometimes they only paid 60," she says. "And I just wasn't very good. I had no experience playing stroke play. And remember, the summer before that I hadn't played at all."
To this day, she can remember the size of her first paycheck, down to the penny: $220.56.
"I still had to make $1,800, but I knew I could make it," she says. "I was missing all these cuts but I could see by watching other players that, I can do that. Sometimes I would look at the scoreboard at the end of the tournament. If I played poorly, I would say, 'How did Sally Little do on this nine? I beat her! I beat Sally Little on that nine.' So, I just found any way to give myself some confidence.
"I think I had five tournaments to go in the year and I was out in the Bay Area. I don't remember the golf course. But I shot 68 the first day and I was leading the tournament. I was like, 'I'm what? I'm leading the tournament?' The next day I shot 82, but I made the cut, which meant I was going to make money. And that was the tournament that I made enough to go over the $1,800."
Steady improvement followed, but she didn't win until her 11th year on Tour, finally breaking through in the 1988 Planters Pat Bradley International, which used a Stableford scoring format.
Three years later, Nause won the Chicago Sun-Times Shoot-out, closing with a 65. She trailed Kris Monaghan by four shots with four holes left but incredibly finished birdie-birdie-birdie-eagle, holing out from 107 yards with a sand wedge on the par-5 18th. She is one of few golfers on any of the major professional tours who have won by holing out from the fairway for an eagle on the final hole.
Nause's mother died shortly after that tournament and then she got sick in 1992. A viral infection in her ear affected a nerve and caused her to have issues with her balance. She had to re-learn how to walk and swing a golf club.
"It took me a year and a half to recover from it," she says. "Starting the '93 season I had a little bit of a relapse and the doctor said to me, 'You know, there is a chance you won't be able to play on the tour anymore.' I was like, 'I think I'll be able to. Watch this.' So, I recovered through '93 and then in '94 I wasn't playing well, but that's when I won the du Maurier. That was pretty spectacular."
The du Maurier Classic was a women's major from 1979 through 2000 and is now the Canadian Women's Open. The list of champions includes Pat Bradley, Jan Stephenson, Amy Alcott, Hollis Stacy, Juli Inkster, Sally Little, Laura Davies and Madison's Sherri Steinhauer.
Nause's last year as a fulltime player was 1999. She then retired and became the men's and women's golf coach at Macalester College in Saint Paul, Minn. In 2006-'07, she was named MIAC Women's Golf Coach of the Year. She coached until 2012.
She also played on The Legends Tour during that time, won the 2006 Hy-Vee Classic and led the tour's money list that year.
In her prime, using persimmon woods and a balata ball, Nause hit her driver about 225 yards, but was consistently in the fairway. Chipping and putting were strengths.
She marvels at the athleticism and power of LPGA players today.
"The amount of talent on the tour is unbelievable," she says. "Those women are so good, so I'm really proud of that. The infusion of foreign players, especially the Korean players, has been great for the tour. They brought a work ethic to the tour that made everybody else work harder.
"It's sort of like when Annika (Sorenstam) first started dominating. She was doing things that the rest of us weren't doing, necessarily. And in order to keep up we all had to start working out and doing the sports psychology. Annika started that and the Korean women have taken it to the next level.
"I'm happy for the growth of the tour. I'm disappointed that it's still so far behind the men. When I started on the tour, the men's purses were pretty much double what the women's were and now they're, I don't know, five or six times what the women's are. So that's disappointing to me."
Nause dabbles in golf instruction a bit these days, working mostly with golfers who have discovered that she teaches de la Torre's simple but proven principles, which are rooted in the concept of swinging the club in the direction of the target.
Otherwise, you can find her on the pickleball court, or swinging a hammer.
She always hits the nail right on the head.