KIAWAH ISLAND, S.C. – Oakmont keeps its greens at freeway speed for member play and turns them into the Autobahn for major championships. Augusta National has Rae's Creek and the ghost of Bobby Jones. Winged Foot was the scene of a massacre in '74. Pebble Beach in the wind can be as cold-blooded as an IRS auditor.
Those courses, and a few more, often lay claim to the title of "toughest major venue." But they are not the Ocean Course at Kiawah Island, the hardest, meanest, most unforgiving venue in golf.
It has unrelenting length. It has unremitting wind. It has sandy waste areas and gnarly rough, where middling shots go to die. It has an intimidation factor straight from the playbook of the late Pete Dye, who enjoyed watching professional golfers squirm and weekend hackers suffer.
If a golfer is not on his game, the Ocean Course will expose him, lay bare his weaknesses, strip him of confidence, leave him neck-deep in bogeys.
"This is the most difficult course that I've played on Tour," said Bryson DeChambeau, absent his usual braggadocio. "That is a straight-up fact for me."
Phil Mickelson, the co-leader at the halfway point of the 103rd PGA Championship, shot a 3-under 69 on Friday and it felt like 63. Brandon Grace played flawless golf for 16 holes and had the lead before rinsing his tee shot on the brutal par-3 17th and walking off with a double-bogey. Then, for good measure, he bogeyed 18.
"Yeah, just trying to stay alive out there, to be honest," he said.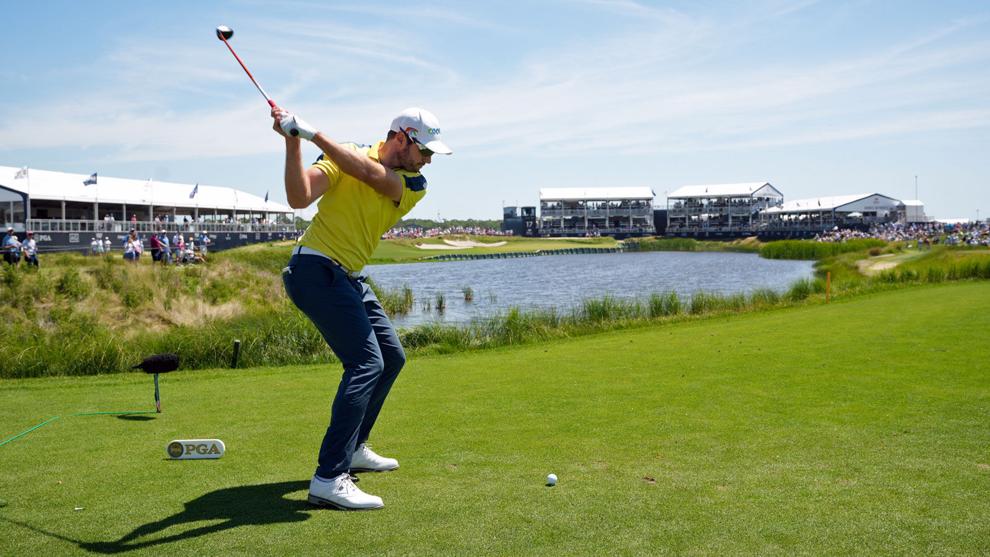 Corey Conners shot a 67 in the first round and made seven bogeys in the second. Matt Fitzpatrick made six birdies and an eagle Friday; unfortunately, he also made five bogeys and a double. Carlos Ortiz played an eight-hole stretch in 6-under, before the Ocean Course exacted revenge in the form of a double on No. 15 and a triple on 17. Adios, Carlos.
On and on it went. Nobody plays 72 holes here without experiencing some sort of self-inflicted disaster. Check that. Rory McIlroy shot 13-under to win the 2012 PGA, but he did it on fairways drenched by rain and on greens as soft as pudding. And he won by eight.
It's a good thing the PGA of America has kept the greens from turning to concrete this week or, as 2019 British Open champion Shane Lowry said, "this place would be literally impossible to play golf on."
Like crashes in NASCAR, we love watching this stuff, as long as no one gets hurt. The best players in the world can have their pride restored at the next run-of-the-mill PGA Tour stop, where they'll make birdies by the fistful and get to 20-under faster than you can say Christiaan Bezuidenhout.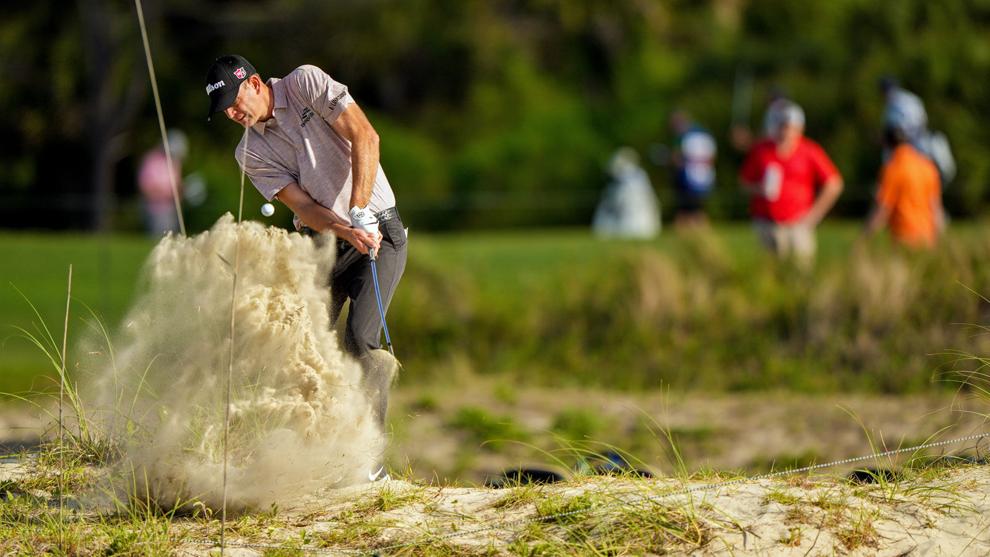 Here, they're in survival mode. At 7,876 yards, the Ocean Course is the longest-ever major championship venue. The back nine is 69 yards shy of 4,000. Typically, nine holes play downwind, the other nine straight into the fan. The finishing stretch, hole Nos. 14-18, play into the teeth of the prevailing wind, which blows at 20 mph on a calm day.
Strap in and hang on, because the ride is about to get rough.
"I got to 13 and there was a scoreboard in the distance, and it was ironic," said Ian Poulter. "It says, 'Ian Poulter, 6-under through 12 and chasing down a course record,' and I just started laughing to myself, like, who in the world would write that and put that on a board with that last five holes to play?
"It's a brutally difficult finish. You're aiming at targets which, if you pull it very slightly, you're in the dunes, and if you cut it, you're wet or on the beach. … It tests a different part of the brain that gets switched on, which I don't get to use that often."
For the record, Poulter played the last six holes in 4-over.
Through two rounds, Nos. 14-18 are playing a cumulative 2.197 strokes over par and are responsible for 493 bogeys, 103 doubles and 26 "others." Nos. 17 and 18 rank as the two toughest holes on the course. Somehow, Harry Higgs birdied both of them Friday. Give that man a Kewpie doll.
But, actually, the fun starts about four hours before the players get to the 14th tee.
"It starts on the driving range," Lowry said. "You're standing there, and you're hitting your driver, and your numbers are on the screen and the driver has gone 240 (into the wind) and you're like, it's going to be a long day today. Yeah, look, it's just hard."
All of that, though, only begins to describe what makes the Ocean Course – with a nod to Mike Tyson – the baddest piece of golf real estate on the planet.
"It's one of those golf courses where you've got to get a little bit lucky if you hit a poor one," said Lucas Herbert. "I hit a couple of poor ones coming in on 15 and 16 and I got away with bogeys there, whereas you make those bad swings at a different point in the round and they can be a triple straight away."
No other venue draws such a fine line between an acceptable outcome and a disaster.
Take Daniel Berger's second shot on the par-5 11th hole Friday, which settled into an impossible lie just left of the green. He faced a chip that would make a high-handicapper break out in hives.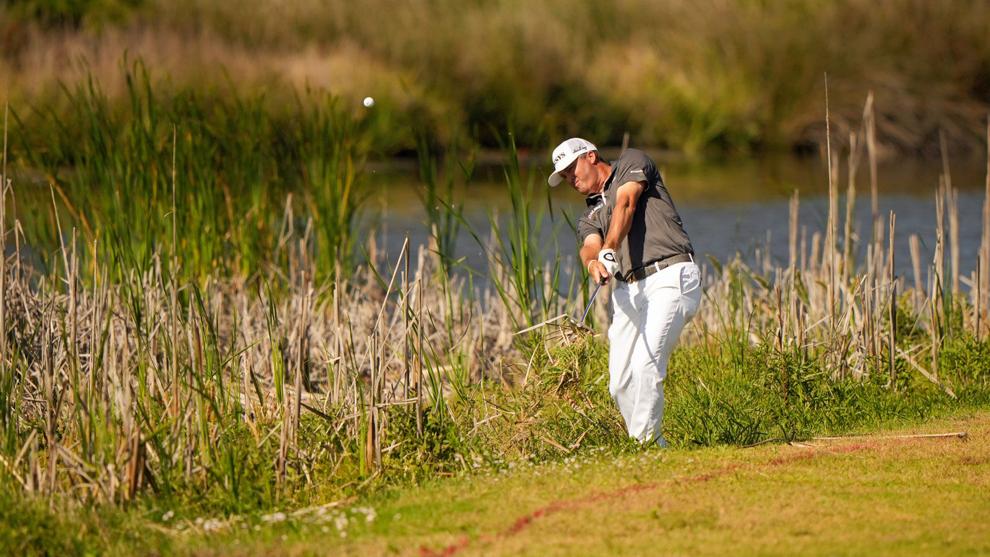 His ball was nestled in the rough, on a downhill lie. The green, just a few paces away, was elevated some 12 feet above him. He was short-sided to boot. Not even Seve Ballesteros could have gotten the ball airborne and stopped it within 10 yards of the hole. In terms of degree of difficulty, this was the Produnova vault, the reverse 4½ somersault in the pike position.
Berger elected to bump his ball into the steep hill. If judged correctly, momentum would carry the ball up onto the putting surface. He almost succeeded. The ball came up short by no more than three inches, stopped on the precipice for a tantalizing second, teetered in the wind … and then, as the gallery groaned, slowly trundled backward down the hill.
Berger's goal now was to avoid establishing temporary residence in the collection area. Ensuring that the ball would not again return to his feet, like a scene out of "Groundhog Day," he blasted it some 40 feet past the pin. Under the circumstances, this was more than acceptable.
That kind of scene repeated itself over and over. In the first round, George Coetzee's tee shot on the par-3 eighth dribbled over the green and into a lie so confoundingly difficult, he had to play his next shot left-handed, with his club turned upside down.
On Friday, Lowry found himself on the beach – like, the actual beach – after blowing his tee shot wide right on No. 16.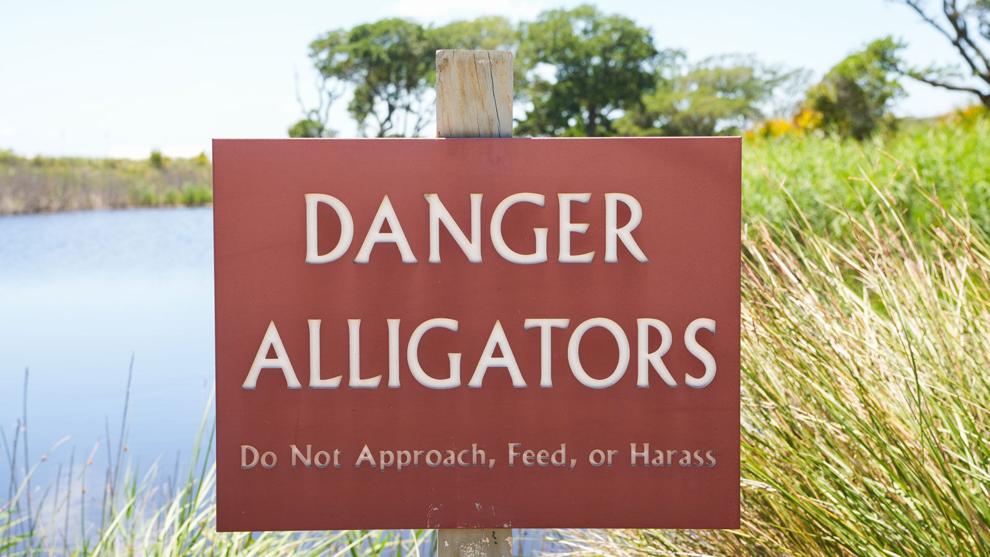 "I seen a picture of Rory out there in the practice rounds and I was trying to figure out where it was," he said. "Then, obviously, I found out where it was. … Look, I got very lucky there because where I hit my provisional wasn't very good, either. It could have been anything. I got lucky and managed to make an unbelievable par."
The weekend promises to produce more spills and chills. Somebody is going to win the 103rd PGA. It's going to be the guy who avoids the wreckage in Turn 3, steers clear of the pileup in Turn 4 and gets across the finish line with both hands gripped tightly on the wheel.
The spectators are going to love it. The players? Well, that's another story.