BLAINVILLIE, Quebec — Things I learned from two weeks on tour in Canada. ...
You can't get away from LIV Golf, even at a PGA Tour Canada event, which is near the bottom rung on the professional golf ladder. My threesome didn't make it through the first nine holes of the first round at the Omnium du Quebec — Quebec Open or QO if you want to sound like a real insider — before discussing LIV Golf. It was a short conversation, actually, because Michael Sakane, who turned pro this summer after playing at Florida State University, nailed the point by saying, "LIV Golf is great. There are more opportunities for us as guys keep leaving and getting pushed up." Thomas Giroux, also a newly minted pro after playing college golf at Oakland University, nodded in agreement.
It's an obvious point but people focus on the departees who jumped to LIV Golf, not on the remaining players. Pro golf is its own food chain. For every player with PGA Tour status who left for LIV, there's an opening to be filled by another PGA Tour or Korn Ferry player. Somebody moves up, as Sakane said. In turn, that creates openings on the KFT for PGA Tour Canada and Latin American players. So, of course PGA Tour Canada players love LIV Golf. It slightly improves their odds of moving up the food chain toward the serious money. Keep those defections coming. ...
I was part of an All-Cheesehead pairing at the Sotheby's International Realty Canada Ontario Open final round played north of Toronto at Woodington Lake when I got paired with Jordan Hahn from the University of Wisconsin. I'd heard about Jordan's legendary long drives but I'd never met him. He's only been pro for a year or so while I played at MU, geez, 13 years ago. It was a fun pairing, we talked a lot about Wisconsin, also because his caddie, Tommy Longbella, is from Chippewa Falls. Tommy played college golf at Minnesota and had a couple of top-10 finishes on PGA Tour Canada recently but missed the cut in Ontario and offered to caddie for Jordan on the weekend. I was impressed because Tommy had played in the Ben Sieg Memorial at Osseo Golf Club, a fundraiser for my former MU teammate who passed away earlier this year. It was a nice gesture by him, proving we're all brothers in golf. Anyway, Jordan is big, about 6 feet 6 inches, and launches the ball a mile. He shot 70 the last day and finished 41st. Our last hole was a downhill par 4 with a 340-yard carry over water. Jordan knocked his tee shot just off the back of the green and made birdie. Unbelievable. In fact, I think he took a little something off that shot. Is he longer than me? Hell, yeah. He's longer than most sentient beings. ...
Maybe Phil Mickelson wasn't wrong. At least, not about the part that LIV Golf was going to mean more money for everybody. Look how much the PGA Tour has already jacked up its purses in response. I don't blame anyone for taking big money. Nobody on PGA Tour Canada would turn down a six-figure deal. Not even a five-figure deal. I'm not a PGA Tour Canada regular, I'm a golf instructor making a guest appearance, but I'd take a deal like that. I wrote a letter (in a humorous tone) to Greg Norman applying to be on LIV Golf months ago when it looked as if LIV wasn't going to land any star players. I never heard back. Phil also did the lesser tours a favor because in response to LIV, the PGA Tour is changing Q-School. I played in the last two Q-Schools where you could earn one of 25 PGA Tour cards coming right out of college. Then they changed Q-School so it only got you on the Web.com (Korn Ferry) Tour and there was no direct path to the PGA Tour. Starting in 2023, the KFT Q-School will give out PGA Tour cards to the top five finishers. It was short-sighted, maybe even unfair, when collegians' best option was at least a year's apprenticeship on the KFT. It's a small step but it's something. So thanks, Phil, I think. ...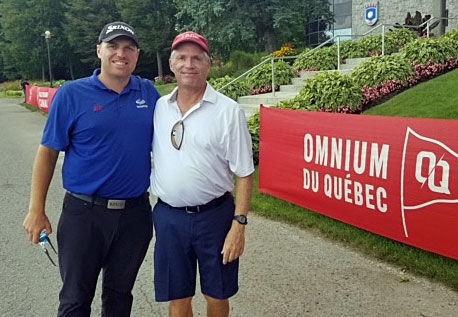 We drove nine hours from Pittsburgh to Montreal for the Quebec Open. My dad, Gary, a longtime Sports Illustrated golf writer, went with me. It's a nine-hour trip unless you stop for frivolous things like food, drinks, bathroom breaks and Canadian Customs. The latter was a breeze, by the way, at the somewhat remote Thousand Islands I-81 entry point in northern New York. We crossed two big bridges over Wellesley Island into Ontario. Anyway, the customs people must know golfers are harmless. Once we told them we were going to play golf for the week, we had to answer only a few easy questions. Hey, we're coming to spend money in your country –how's that sound? Good, eh? I suggest that golfers should have their own E-Z Pass lane at the border. ...
You're not officially in Canada until you visit a Tim Horton's. It's like Dunkin Donuts in the U.S. only it's named after a hockey player instead of fried dough. Michael Jordan is considered the king of sports endorsements but he doesn't have a donut shop/café on every other street corner in Quebec and Ontario and probably every province in Canada. Horton does. I looked him up online and learned he was a star defenseman for the Toronto Maple Leafs. I was shocked to see he died in 1974 in a drunk-driving accident at the age of 44. Anyway, the main reason to hit Tim Horton's (besides frosted donuts) is The Chocolate Chill, a drink that is what you'd get if a milkshake and a Slushie had a baby and that baby was delicious. We stopped at a Tim Horton's in Blainville, site of the Quebec Open, and I tried to order one but the non-English-speaking counter clerk was baffled. When I said "chocolat glace," which means chocolate ice, he got it. I was proud that he understood after I used one of only about 19 words in my French vocabulary. I felt humbled and embarrassed the whole time I was in Quebec because I didn't speak their language. Feeling like a foreigner sucks, especially when you are one. ...
I played in Canada in 2015 and '16 and seven years later, some things haven't changed. The purses are still small — $150,000 in U.S. dollars — and the travel is difficult. Most of the provinces are bigger than Texas so trying to drive from tournament to tournament is impossible at times. There's also the acknowledgment that you're supposed to play your way off this tour and onto a better one, just like you land a starter position at Burger King but it's not supposed to be a career. At both tournaments I played, I heard the same story about this year's Player Orientation Meeting in British Columbia before the first PGA Tour Canada event. The players were jammed into this room and when the big-deal tour official arrived, the first thing he said was, "Just so we all know where we stand, you need this tour a lot more than this tour needs you." I suppose he said that to minimize bitching about the prize money and the travel schedule, but a lot of players felt disrespected. "So, you're saying you don't need the $2,600 every player paid to enter your qualifying tournament?" Somebody needs a class in public relations.
Well, I enjoyed playing the two tournaments. I Monday-qualified for the Ontario Open and shot 66 in the final round to tie for 18th. A top-20 finish earned me a spot in the Quebec Open. There, I apparently lost the ability to read greens and despite hitting the ball pretty well, I holed nothing and finished a disappointing 46th. The events are organized, well-run and fun. The next PGA Tour Canada event is conveniently located in Manitoba. Count me out for the Monday qualifier. ...
There's a learning curve for the guys recently out of college trying to figure out how to travel and play tour golf. At the Quebec Open, a player told me he was accosted on the putting green by another player for putting to that player's cup and because his shadow was bothering that guy. Well, it was 7 o'clock in the evening so shadows were long and there were only five holes cut on the green. Add sharing to the list of things some players should learn.
Also, All-Americans show up not realizing the tour is already full of players just like them and they're not special anymore. It's a brand new day. One other thing: Golf is also entertainment. We didn't get many spectators at the Quebec Open but I signed almost a dozen golf balls during the week and gave them to the kids who were there. I didn't see any other players do that. I also made sure I signed my name legibly, one of Arnold Palmer's absolute rules. I didn't see other players do that. A shorter last name would make autographing balls easier, though. ...
Golf is a humbling game. I was in line to miss the cut in Toronto until I made a birdie putt on my next-to-last hole and said out loud, "Thank god I'm not going to have to drive five hours home tonight." Then I birdied the ninth hole, too, and had a good weekend but it could've gone the other way, like it did in Quebec to a guy in my group, Thomas Girous. Michael Sakane and I were at 2-under, the projected cutline, on our last hole and Giroux was 3-under. Both guys plan to go to Q-School, which has three stages, but they also have to play in a preliminary stage because they're first-timers. That's how the tour weeds out weekend hackers or dreamers who can't break 80 but are willing to drop several thousand dollars to prove it. However, you can skip the prelim stage by making a cut in a PGA Tour-sponsored event like PGA Tour Canada. So, our 18th hole was big. Michael made par but Thomas found the left rough off the tee, then blew his approach into a bunker over the green. His sand shot ran off the sharply sloped green. All Thomas needed was a bogey. He could've putted it through the three feet of fringe fairly easily and made bogey. He chipped it instead, maybe trying to hole it, and jammed it six feet above the hole. That left a nasty downhill breaker, which he lipped out. That double caused him to miss the cut and keep the prelim stage, an extra week of grinding and another two grand in expenses, on his schedule. I'm sure he was disappointed but one thing you learn on tour is sometimes when you need a par or bogey, making one is just as good as making a birdie. ...
I slept in my car once during the Ontario Open. It's not as bad as it sounds. Look, I didn't finish my second round until 8:30 p.m., and was exhausted after shooting 67 in a howling wind to make the cut. I didn't have a hotel booked, rooms were $200 a night and 45 minutes away. So, I drove my car into the field marked General Parking and parked for the night. I felt safe enough. I'm pretty sure bears can't open a locked car door. (They can't, right?) I slept OK but it's not something I'd do two nights in a row. I showered in the clubhouse the next morning, if you were wondering. Also, I made a tactical mistake because I unwittingly parked close to the maintenance shed. The grounds crew fired up the mowers at zero-dark-thirty. I had an early tee time that morning but not that early. I forget which Japanese admiral in World War II said after Pearl Harbor, "I fear we have awakened a sleeping giant." Ha-ha, if only. I was 3 under par through seven holes but ended up shooting 71. Tora! Tora! Bogey! ...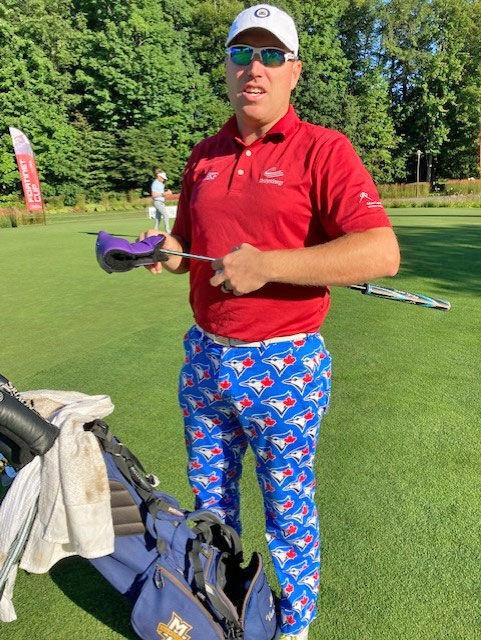 I wore my Maple Leafs, Blue Jays and Canadian flag pants (by Loudmouth) during the Ontario Open. They get people talking. A shuttle driver named Susie, an Asian lady, liked my loud pants and we had fun chatting all week. When we made the turn in the last round, our walking scorer sat down in Susie's cart to get a ride to the 10th tee. Then Susie saw me heading toward her and told the scorer, "Can you get out? That's my friend coming!" Even though she got kicked out of the cart, the scorer thought it was pretty cute. ...
A Monday qualifier for PGA Tour Canada isn't any easier than one for the Korn Ferry Tour. The week before the Ontario Open, I tried to qualify and shot 64, 7-under. That got me in a playoff, seven guys for five spots. I lost. The first hole was a par 5 and there was one eagle and four birdies. I made par after driving it into a bad lie in the rough. If you're a pro in a playoff on a par 5, you have to make birdie. I didn't. I can just hear my old Marquette coach, Tim Grogan, saying, "You can't do that." And he'd be right. ...
Just play better. That's always the answer when any golfer sounds like he's complaining about his situation. But PGA Tour Canada is not the place to make a lucrative living. For example, I won $2,700 (Canadian) for finishing 18th in the Ontario Open. The Canadian government takes 15 percent for taxes and its dollar is worth only about 75 cents compared to a U.S. dollar. That turned my $2,700 into less than $1,700. It's a good thing I didn't have to pay a caddie, too. My dad looped for me at the Quebec Open, which was big because I felt pretty ill in the second round. If I'd carried my own bag, I probably wouldn't have made the cut on the number, or maybe not even have finished. I bought my dad lunch in the clubhouse twice. Don't tell him my meals were free, a rare players' perk courtesy of Club de Golf Le Blainvillier, our host. Let him think I'm a big spender. Nah, never mind. He knows better than that.