I'm all dressed up with no place to golf in Pennsylvania. It was one of the early states to shut down courses due to the coronavirus. The irony is that spring has busted out unusually early here, yet we're in a dreaded no-golf area.
So I'm taking action and creating my own Zone Of Golf (or ZOG as insiders call it here at the Fortress of Solitude – Pittsburgh Campus).
You can do the same, wherever you are. Here is my step-by-step plan:
Step One. Find a location for your ZOG. A Smurf could swing a golf club in my basement but the ceiling is too low for me. The foyer at the front door entrance has a grand high ceiling but, yeah, the boss isn't going to let me set up a golf range right by the front door. It'd be in the way of the Easter decorations, among other things.
So I'm going to the back end of the garage, beyond the low-hanging reach of the garage door rack. My garage has a high-high ceiling so there's no chance of me dinging it on a backswing. Breaking a window? That's a possibility but not a ceiling-bash.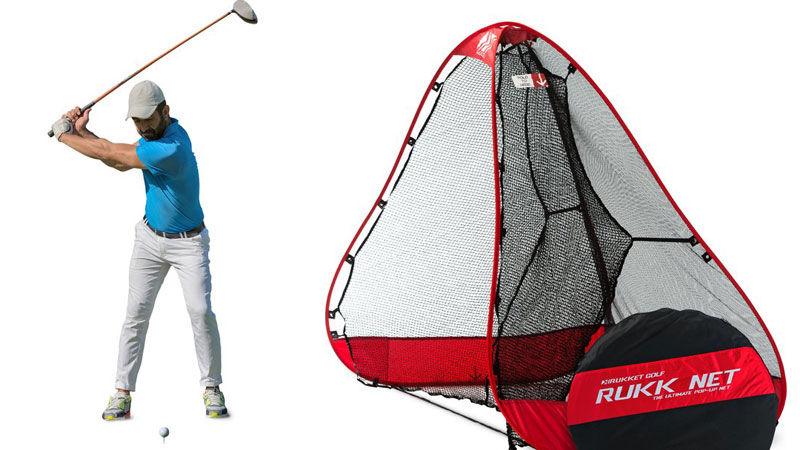 Step Two. Find something to hit into. There are a million nets out there in the naked city but I want something that sets up in 15 seconds. I went online and found the RukkNet Popup Golf Net ($169) and ordered it from Amazon while it was still available there because Rukket.com reported it as unavailable, though they expect it to be restocked in the next week or two. It's a three-sided, pyramid-shaped net, 10 feet by 7 feet by 5 feet, that appears to be good quality. I watched an instructional video on the site that shows how simply unfolding the RukkNet slightly lets it pop open immediately. That's what I want, something stupid-proof.
A second good option is the Quick-Up Driving Range, which looks as easy as opening and closing an umbrella. It's available in two sizes, 8 feet by 5 feet, $200; 10 feet by 7 feet, $300.
Step Three. Find something to hit on. If I move my net outside, I can hit off the grass in my backyard. Except that grass is thin and spotty and is not like hitting out of crummy rough. Plus, I'd be tearing big divots out of my lawn. I plan to use this in my garage so I need a practice mat.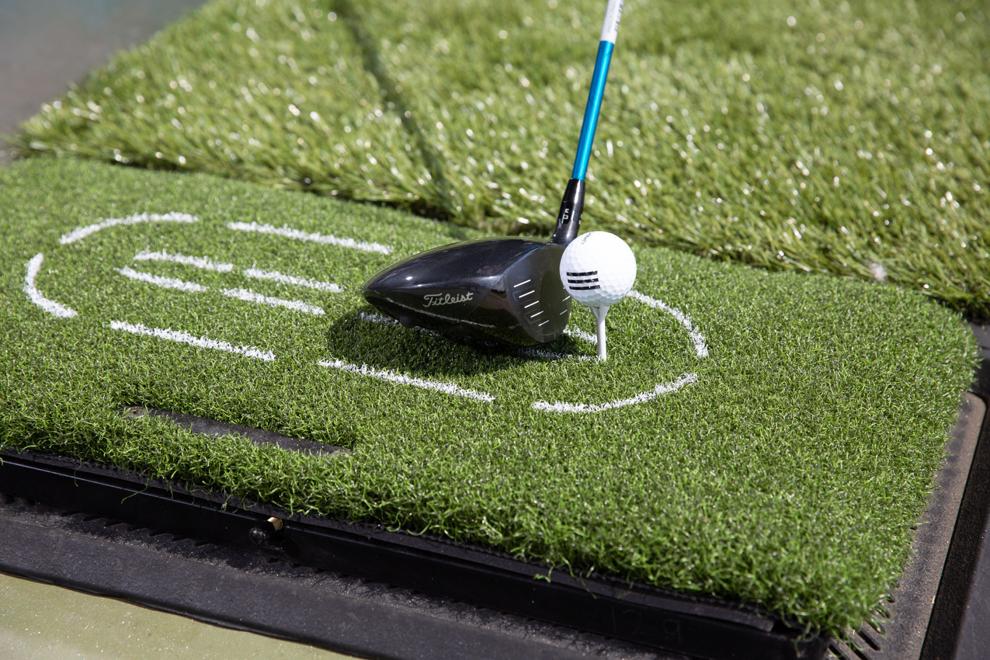 Enter the StrikeAbsorber 180. It is a mat with an air-filled bladder surrounded by a nylon-injected base. The bladder means the mat has a little bit of give, like real turf, so if you chunk one, you don't break your wrists or blow out an elbow like you do when you hit off a worn mat on a concrete slab at your average public driving range. It's a plus that you can easily stick a tee into the StrikeAbsorber and hit driver.
The StrikeAbsorber 180 ($224) is 12 inches by 26 inches and 2¼ inches high. I'll need a matching mat to stand on at the same height to hit balls, so the StrikeAbsorber 180 Stance Mat with ball tray ($224) it a must. You can buy the combo for $424.
Step Four. Hitting balls into a net gets tedious in a hurry. Like, immediately. I need to turn my ZOG into a poor-man's simulator. I got hooked on simulator golf at my health club over the winter. It's fun and the launch data feedback is helpful. One way I can bring screen golf (simulator golf) to my ZOG is with OptiShot2 ($379, OptiShotGolf.com), a software program that connects the launch pad hitting mat to a laptop or another viewing screen. Take a swing and the result is displayed on the screen. I'll use my laptop but if I had a spare 40-inch TV screen, I'd hook that up. Hmmm .... Random related thought: Garages are wasted on cars.
OptiShot2 comes with 15 pre-loaded courses for play on-screen, including Torrey Pines, Cog Hill and Royal Lytham & St. Annes. Additional courses are available at $30 a pop or by purchasing a season pass, $60 to $120 depending upon the package.
Another option is Flightscope's Mevo+ launch monitor (FlightScopeMevo.com). I already own the regular Mevo ($499), which uses radar telemetry to track the ball. It's a great tool to fine-tune how far you hit each club, since most of us regular hacks hit balls at practice ranges that are mis-marked or aren't on level ground. For serious players, it's worth the price. The Mevo+ adds a simulator function and five pre-loaded courses, including Aviara and The Belfry, and provides additional shot data. It costs $1,999 and shipping may take four to five weeks; both of those are dealbreakers for me.
Maybe the best option of all is OptiShot's Golf In a Box. It's the whole ZOG, more or less. The basic version is $799 and includes OptiShot2, 15 simulator courses, a hitting mat and a net. There's an upgraded $1,200 model, while Golf In a Box 3 includes a high-definition projector and mounting bracket for $2,800.
Step Five. What are you going to hit off the mat into the net? I plan to use real golf balls, mostly ones from my shag bag of cut and scuffed used balls. If hitting real balls proves to be too loud – the master bedroom where The Boss lives is directly above the garage – or too risky (from stray shots) in my ZOG, I've got several dozen almostGOLF balls as a backup plan. They're compression molded rubber surrounding thousands of pressurized bubbles so the ball has a firm reaction at impact but is lightweight, travels one-third as far as a real ball and won't bust a window.
I wasn't able to order balls from almostGOLF.com so I suspect it's out of production. I found a reasonable facsimile at GolfGalaxy.com with the Maxfli Performance Series High-Impact Foam Practice Balls, $12.99 per dozen.
Soon, I will be playing some form of golf in my ZOG, the artist formerly known as my garage. It's up to the delivery trucks now.