SAN DIEGO — If anyone knows how to work a room, it's Jim Gaugert.
The Madison native and longtime Lake Geneva club professional has spent nearly a decade as a sales representative for Harris Golf Cars, which has one of its four Midwest offices in Sturtevant in southeast Wisconsin. Gaugert, one of the more personable golfers in the Wisconsin PGA, had a big room to work at last week's Golf Industry Show at the San Diego Convention Center, but he had products — Yamaha golf carts for virtually any function — that attendees clearly wanted to see.
While the PGA Merchandise Show two weeks earlier in Orlando was geared toward club professionals and club managers, this 90th gathering — presented by the Golf Course Superintendents Association of America and the National Golf Course Owners Association — was geared toward those in the business who labor behind-the-scenes to make your golf experience what it is.
"It's really geared toward the superintendent, so it's an opportunity for us to see more (of them)," Gaugert said. "My job ... in sharing information ... about the Yamaha products is to build those relationships with the superintendents. A lot of times in my business I get to deal with the golf professional and the club manager. More and more, they're allowing the superintendent to get involved in the decisions on golf cars and utility cars."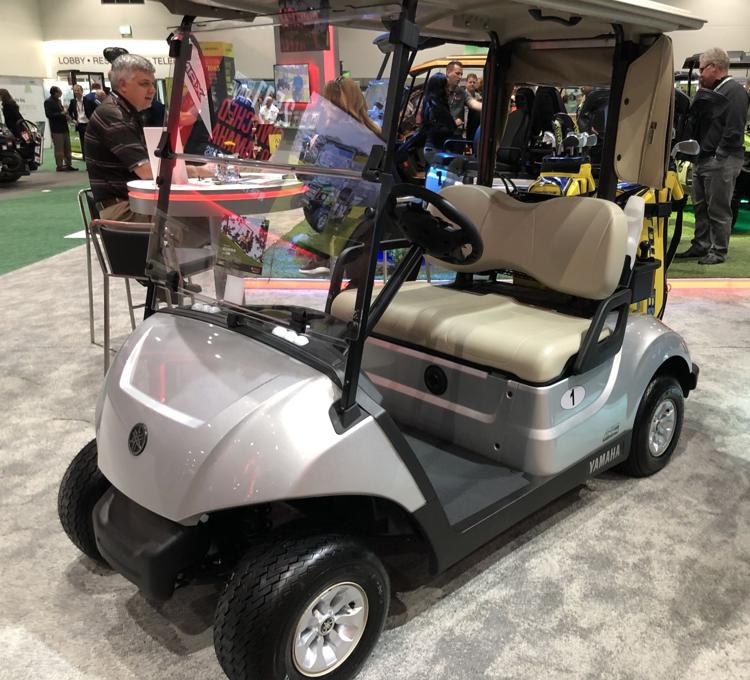 In fact, as we talked last week on the trade-show floor, Gaugert was sitting in the passenger's seat of the UMAX Rally 2+2 — a sleek utility cart with a deep rear compartment that most of us see in use Saturdays and Sundays in the fall hauling injured college and pro football players back to locker room.
"You're seeing more and more Yamaha vehicles at those events," Gaugert said, apologizing for sounding like a salesman. "We really have established ourselves as a great option or a great choice. You would see a golf cart like this with no seat in the back — it would be a flat-bed — with all the emergency stuff available for if, like you said, somebody gets injured.
"Our utility lineup before was OK, but now it's really good."
Then again, golf carts in general have come a long, long way from the days of the three-wheelers with the metal steering bar in the middle. 
Yamaha unveiled its first golf cart in 1975, described now in a timeline in its fleet brochure as a "powerful unit (that) was compact, lightweight and served as the bedrock for more things to come." Forty-four years later, they are loaded with more features than my 1979 Ford Fairmont.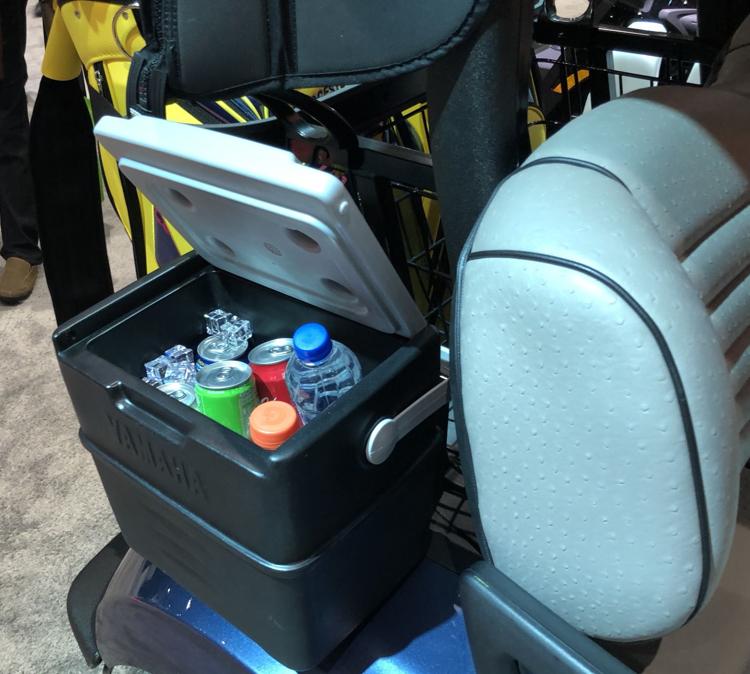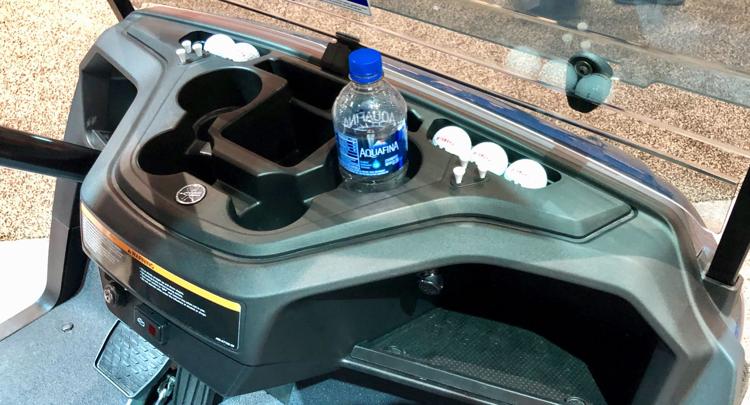 For years, many have come equipped with ball washers, grass seed containers and coolers to chill drinks mounted on the back. Up front, they continue to re-engineer the dashboard area to accommodate drinks, cell phones, wallets, range-finders and all those lost balls others have left behind.
This year, Gaugert said, many options in the Yamaha fleet come with USB plug-in so golfers don't drain the batteries of their cellphones using it for GPS or to crank the tunes through Apple Music or Pandora. Of course, if price isn't an option, a Bluetooth audio system is always an option.
"The standard features and benefits have changed," Gaugert said. "USB ports is almost a standard item on any golf cart these days. Suspension has changed a little bit. Sport steering wheel. There is some tracking devices.
"But the trend is maybe toward GPS. Lithium is coming somewhere down the line. I relate lithium to, like, big-screen televisions where you used to buy them for $5,000 and now you can get them for $1,000 or $800. Trend-wise, it's (all about) comfort or convenience. ... A lot of neat things."
As someone who imagines one day using one to get here-and-there in an over-55 community, I'm a huge fan of advances in golf carts and the features they offer. However, I did tell Gaugert there is one feature I hope we never have to see on the front of one of his vehicles to maximize the length of Wisconsin's golf season: A snow plow.