Round of the week
Max Schmidtke, Sheboygan North. There were 1,682 golfers who started the WIAA tournament series this week, but only one of them broke 70. That was Schmidtke, the Golden Eagles senior headed to NCAA Division II Illinois-Springfield this fall. He made five birdies and four bogeys in a 1-under-par 69 at Ozaukee Country Club Club in Mequon and won the WIAA Division 1 boys golf regional by five strokes over Josh Teplin and Christian Staudt of host Homestead. Schmidtke began and ended his round with birdies in helping North fire a 319 and finish second to Homestead (303) in the team chase. For Schmidtke, it was the third victory in his last four WIAA starts around a tie for 28th at the 2018 WIAA Division 1 state tournament. In seven regional and sectional starts, Schmidtke has recorded six top-10 finishes entering next week's Sheboygan North sectional on the Irish Course at Whistling Straits.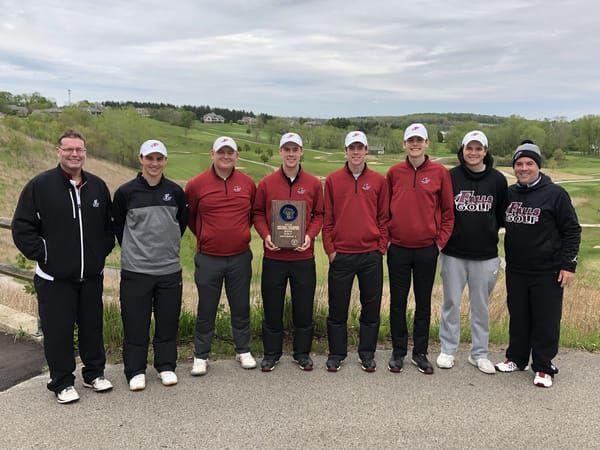 Team of the week
Menomonee Falls. Defending WIAA Division 1 state champion Milwaukee Marquette shot 299 at a Greenfield regional in which four of the five teams that posted a score advanced to the Marquette sectional. That made the 299 Menomonee Falls shot to win the six-team Brookfield Central regional a bit more of a statement if for no other reason than it showed 2018 behind the Indians, the hard-luck team of a previous geographical grouping that allowed a team 319 in the regional and 301 in the sectional, yet still not have so much as an individual representative at University Ridge Golf Course in Madison for the state tournament. What made Menomonee Falls' work impressive at Morningstar Golfers' Club this week was that all five of its golfers broke 80 led by UW-Parkside-bound brothers Steven and Danny Sanicki, who shot 71 and 74, respectively. No. 3 golfer Marty Swab shot 76, No. 4 golfer Nathan Coad shot 78 and No. 5 golfer Charlie Pietz shot 79 as the Indians knocked off host Brookfield Central by nine shots. All that stands between Menomonee Falls and its first state berth since 2012 and 10th in school history is a top-two showing at the Brookfield Central sectional, which will be played at Wanaki GC in Menonomonee Falls where the Indians shot a 307 in the second round of the Waukesha County Championship to finish second to Hartland Arrowhead with a 36-hole total of 603. 
Conference of the week
Greater Metro Conference. The Classic Eight boasted four regional champions and seven sectional qualifiers, the East Central advanced six of its eight teams and the Trailways South was the only conference in the state to bat 1.000 in qualifying teams to the sectional (full disclosure: it only has four to begin with), but the most impressive performance of the opening week to the WIAA tournament series belonged to the Greater Metro. It not only crowned two regional champions in Menomonee Falls and Milwaukee Marquette (the only two teams in the state to break 300), but it also advanced seven of its eight teams onto the sectional competition next week. In a week when seven of the 16 Division 1 regionals were won with a score of 319 or higher, four of the seven Greater Metro teams to advance did so by bettering that score. In other words, the conference has once again prepared its ranks for postseason competition and, for the third time in the last four years, the Greater Metro very well crown the Division 1 state champion.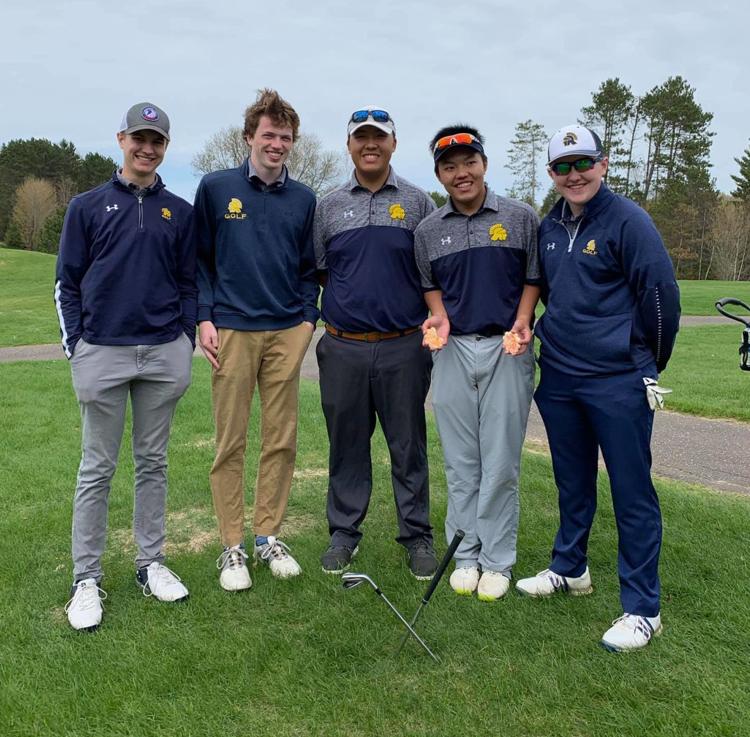 Comeback of the week
Jordan Yang, Wausau West. The Warriors senior was nine holes from the end of his career Tuesday at Bass Lake CC near Antigo when he uncorked a rally to remember. After struggling to a 44 on the front nine where he was 7-over after six holes, Yang shot 1-under 34 on the back nine, fueled by an eagle on the 13th hole, to shoot 78 and finish alone in third place, five shots behind Merrill junior Russell Dettmering. More importantly, Yang's round helped the Warriors reverse their fortunes, too. After sitting in fifth place after nine holes behind Antigo (168), Wausau East (170), Stevens Point (172) and Marshfield (173), Wausau West (176) rode Yang's 10-stroke improvement to a third-place finish and a spot in next week's New Richmond sectional. The Warriors finished with a 356 to finish ahead of both Antigo (fourth) and Wausau East (sixth), who were 1-2 at the turn.
Shot of the week
Mitchell Stary, Green Bay Southwest. According to the WIAA Website, the Fighting Trojans senior holed his second shot on the 354-yard seventh hole at Royal Scot GC in New Franken for an eagle. That helped Stary scramble for an 88 and earn the third of four individual berths in next week's Division 1 Green Bay Notre Dame sectional.
Stat of the week
Drought-breakers. Jack Christen sure picked a great time to be at his very best. The Tomah sophomore shot a career-low 80 to earn a share of second place Tuesday at the Division 1 regional his team hosted at Hiawatha Golf Club and the Timberwolves won their first regional championship since 1986 — "Tomah competed in the South Central Conference, and the WIAA used letters, not numbers, to identify its enrollment divisions," Tomah Journal editor Steve Rundio noted in his story — to lead the qualifying for next week's Wisconsin Rapids sectional.
Feat of the week
Racine St. Catherine's wins playoff for final sectional berth. When the Angels paid a visit April 13 to Broadlands GC in North Prairie, they shot a 439 and finished 14th out of the 15 teams that posted a score in the Waukesha Catholic Memorial Invitational. It was a much different — and downright exciting — story at the Division 2 Waukesha Catholic Memorial regional Wednesday. Senior Grant Wininger earned medalist honors with a 75 as St. Catherine's shot a 390 — a 49-shot improvement over its previous outing at Broadlands — and won a playoff over East Troy for the last of the four team berths in its own sectional at Meadowbrook CC in Racine. Wininger, who told the Racine Journal-Times recently he hopes to walk-on to the Kansas University men's golf team, did much of the heavy-lifting, but there were two unsung heroes of note: Jackson Bandkowski, a senior who shot 110 (39 shots better than his 149 in April) and had the fourth counting score; and junior Traykiese Gillentine, whose 113 during regulation didn't count in the Angels' team score during regulation, but who gave the Angels a huge boost in the playoff with a bogey 6 to help St. Catherine's go 5-6-7-7 and edge East Troy 25-27 to advance.
Prediction machine
Crystal clear crystal ball. Give me a few more years and this prediction thing might get me banned from Las Vegas. We were slightly better this year (145 of 160) than we were a year ago (139 of 160) on projecting teams through to the sectionals. I bettered my effort across the board nailing 59 of the 64 teams in Division 1, 43 of 48 in Division 2 and 43 of 48 in Division 3. I have no comment on the direction my efforts went individually where I was right on 106 of the 160 solo qualifiers (down 10 from a year ago).
Crossing the tees
Madison Abundant Life/Country Day, a popular pick to win the WIAA Division 3 state title, survived arguably its toughest test on the tournament trail at the Cambridge sectional where the Challengers shot 367 and finished a distant third to the host Bluejays. ALCS/Country Day was forced to count a 109 in that total playing without No. 2 golfer Jack Rollins, who was wrapping up International Baccalaureate testing at Country Day School. Challengers coach Rick Zierath confirmed on social media that Rollins will be back for the sectional it hosts Tuesday at The Oaks GC in Cottage Grove. A year ago, Rollins averaged 78 during the four legs of the WIAA tournament series for the ALCS/Country Day, which finished second to four-time defending champion Fond du Lac St. Mary's Springs at the state tournament. "We got 30 strokes better overnight," Zierath said of Rollins' return. ... At least a half-dozen girls made it through the regional qualifying led by Fall Creek junior Ariel Heuer, who shot 81 at the Division 3 Cadott regional and earned the first of the four individual sectional berths. ... Two-time defending WIAA Division 1 state champion Piercen Hunt of Hartland Arrowhead shot 1-under 34 the hard way Tuesday during the Division 1 regional at the Fairways of Woodside GC in Sussex. He opened birdie-birdie and had four birdies on the front nine to offset a triple-bogey 6 on No. 3 en route to a 75 that helped the Warhawks junior and University of Illinois commit nab medalist honors at the Sussex Hamilton regional. ... Four is usually a pretty safe score on a hole during the WIAA tournament series. Brookfield Central's Jack Anderson made 4s on 12 of his last 13 holes to shoot 70 and earn medalist honors at the regional his team hosted at Morningstar Golfers Club in Waukesha. Beaver Dam's Zak Kulka, a UW-Green Bay recruit, made 4s on 10 of his first 11 holes on his way to a 78 that left him alone in second behind Hunt at the Hamilton regional. ... There is something to be said for consistency and Hudson had it Tuesday at the Division 1 Superior regional. Playing on a Nemadji GC that had snow fall on it just days earlier, the five Raiders golfers all shot between 78 and 84 with no nine-hole round lower than 37 or higher than 42. ... Twenty-four of the 25 golfers who teed it up in the Division 1 Greenfield regional advanced to the Milwaukee Marquette sectional, including 14 golfers who did not break 100.