RANCHO MIRAGE, Calif. — As recently as a month ago, Tess Hackworthy wasn't sure she even wanted to enter LPGA/Symetra Tour Qualifying School.
As recently as Saturday, the University of Wisconsin golfer from Madison wasn't even sure she wanted to turn professional next year after her fifth season as a Badger. And that was saying a lot because Saturday might just have been the most significant day that Hackworthy has ever spent on a golf course — and not just because she shot 4-under-par 68 on the Faldo Course at the Marriott's Shadow Ridge Resort in the third round of the final stage of Q-School, holing a chip for birdie on her final hole to qualify for Sunday's final round at Mission Hills Country Club's Dinah Shore Course on the number.
All of a sudden, Hackworthy's future just got a little more interesting.
The three-time defending Wisconsin State Women's Open champion is one of 151 golfers to make it to Sunday where at least the top 95 players and ties will advance to the second stage, which is Oct. 14 through 17 in Venice, Fla., on the Panther Course and Bobcat Course at Plantation G&CC. Hackworthy, who is competing as an amateur this week, will be just three shots outside of the top 95 when she tees off Sunday at 10:25 a.m. CST off No. 10.
"It obviously took a lot of thought, a lot of discussion," Hackworthy said of her decision to come to the Coachella Valley a week before her senior year at UW with an eye toward gaining at least Symetra Tour status if she decides to turn professional after graduation in May. "I talked to a lot of my mentors about this decision. It wasn't an easy decision, but what really was the 'yes' was the fact I was thinking about it and I didn't want to regret not at least trying.
"I think this is the perfect time to try. To get out here, see what it's like and experience. Compare my games to people that are already out here."
It didn't take Hackworthy long to realize that comparison can change daily.
Photos: Heat is on Saturday as Madison's Tess Hackworthy, Jessie Gerry & Kohler's Jenna Peters compete at LPGA/Symetra Tour Qualifying School in Rancho Mirage, Calif.
Even against Jessie Gerry of Madison and Jenna Peters of Kohler, Hackworthy found herself looking at her fellow Wisconsin golfers from different directions each day on the leaderboard. Her opening 74 left her in between Gerry (71) and Peters (75). Her second-round 80 dropped her behind both (Gerry shot a 77; Peters a 74). But her 68 moved her past Peters (75) and Gerry (83) and left Hackworthy as the only Wisconsin golfer left in the 354-player field.
But the most important person that Hackworthy beat Saturday was herself.
Even she recognized the significance of a 68 under these conditions, figuring she has broken 70 "a dozen (times), if not less."  In the six rounds that produced her three State Women's Open titles, she has averaged 72.5 and never shot better than 70 (twice). Or how about this? In 42 career rounds for the Badgers, Hackworthy owns a 76.14 average with a low of 70 (once). 
"Not often," Hackworthy said. "One thing that has helped my game in the past few years is I have been able to get comfortable being under par. That is, mentally, very tough. Once you get under par, that's a great place to be but can you mentally handle it? Do you have that drive to go even lower?"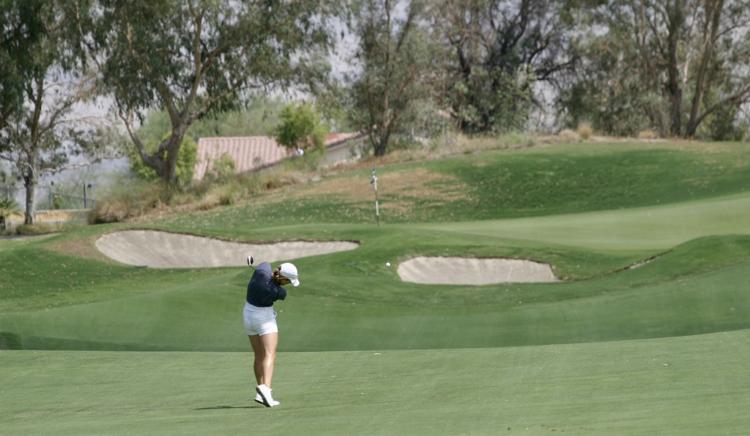 RANCHO MIRAGE, Calif. — Jessie Gerry started strong Saturday. Jenna Peters ended that way.
The answers Saturday? Yes and yes.
Starting on the back nine, Hackworthy birdied Nos. 11, 13 and 16 to get to 3-under after just seven holes. A bogey at the par-3 17th hole might've raised suspicion about whether she was indeed ready to handle the moment, but Hackworthy answered those with a two-putt birdie at No. 6, her chip-in at No. 9 — "I wanted her to putt it and she said 'If I'm going to make it, I have to chip it,'" said Dave Hackworthy, who has served as his daughter's caddie —and watched at least three other birdie tries on her final nine barely miss.
"My mental game has finally gotten to the point where I have the urge to go lower and lower once I get there vs. being on the defense and just trying to hold (onto) what you already have," Hackworthy said. "That's how my game used to be. ... Now, I'm working on offense and I want to go lower and lower, shoot at more pins and make more putts. It's like (PGA Tour golfer) Justin Thomas said the other day, he wanted to keep playing; he felt he could go even lower. That's how I felt (Saturday); I wish there were more holes."
Her chip-in bought her another 18. But the big question is will there be many more than that if Hackworthy does indeed opt to play golf for a living? 
She had already begun doing her due diligence on finding the answers to that question. In fact, there are two former Badgers who can provide dramatically different perspectives on the virtues of chasing small purses in odd places on the Symetra Tour — Gerry, whose 2020 season will be her seventh season on the LPGA's developmental circuit and Lexi Harkins, who survived the Stage 1 last year and lasted five events on the 2019 Symetra Tour schedule before calling it a career, returning to Madison and taking a job at Epic Systems.
"After talking to Lexi, it seemed she really liked it, but it wasn't for her," Hackworthy said. "That's how it is for a lot of people. Some people really enjoy it; some people don't. I give her a lot of credit for at least trying.
"What I learned from Lexi after talking to her about it, is managing it. It seemed like she was driving by herself a lot. She made some really good friends out here, which I'm excited to do if that's the path that I try to take. But I'm real fortunate that, if I do take that path, I won't be alone; I'll have my dad with me. We talked that ... he'll be with me every step of the way."
Gerry said she'd be among Hackworthy's biggest fans if that is the case.
"She's obviously talented and certainly has the game to go hang with those girls," Gerry said of her fellow Badger. "My recommendation to her would be go after what you're passionate about with all of your heart. If she wants to play the game at the highest level, now is the time in her life to give it her best shot and leave nothing behind. If she decides to pursue it, I'll be cheering for her and always available to offer any advice from what I have learned."