In the long history of golf, a husband and wife making holes-in-one on consecutive swings likely has occurred a few times. Perhaps even many times.
But from the same tee box, and with the same club?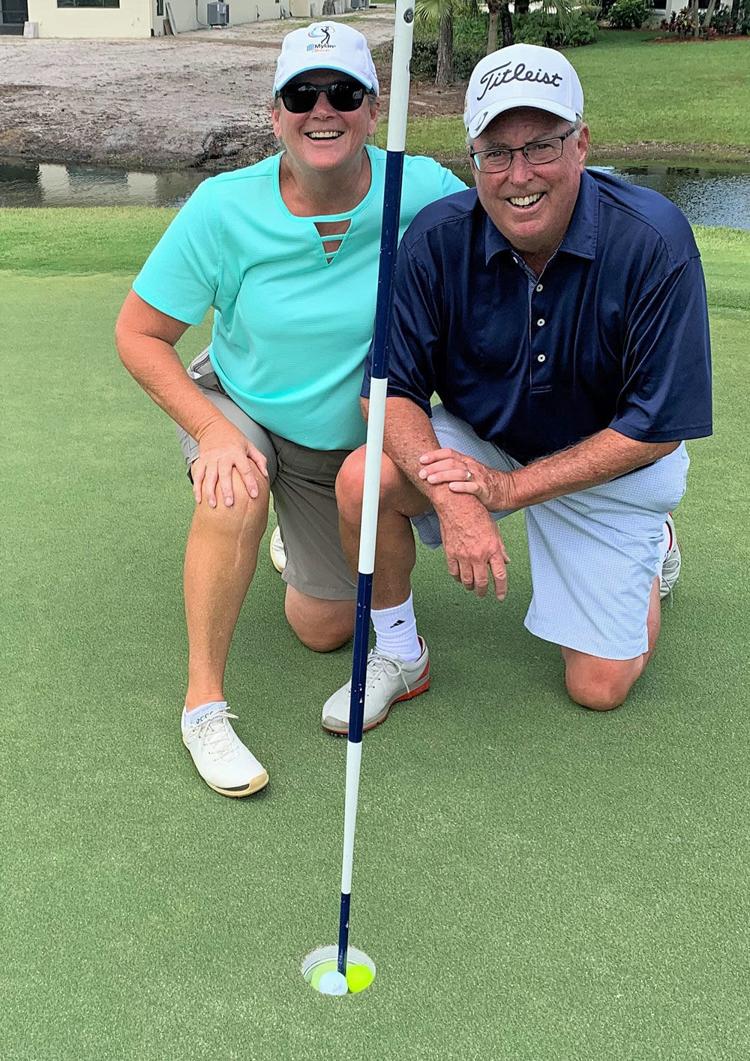 "I've never heard of it before," said Steve Howe, "and I've been around for a long time."
Howe, and his wife, Carolyn Barnett-Howe, PGA Life Members from Appleton, pulled off what could be an unprecedented feat last Wednesday when they aced the 158-yard sixth hole on The Dye Course at PGA Golf Club in Port St. Lucie, Fla., on back-to-back swings. Both used a 7-iron.
"That was a moment for sure," Barnett-Howe wrote in a text message to Wisconsin.Golf. "I have never been an athlete that pointed to the sky; I have always thought God was busy with more weighty issues. That being said, I do acknowledge that He is in control. I think he was bored the other day and said to the angels, 'Hold my beer.' … It was certainly fun!"
It was the 10th career ace for Steve, 69, who served as president of the Wisconsin PGA Section from 1984-'86. It was the fifth ace for Carolyn, 57, a four-time Wisconsin Women's State Open champion. But it was only the second time either made an ace while playing in the same group.
The couple has spent winters in Port St. Lucie, where they own a condo, since 2010.
Steve was first up on the tee and his shot never left the flag. It landed about eight feet short of the hole, took one bounce and rolled in. As Carolyn teed up her ball, Steve said, "You might as well put it right on top of mine."
Her shot was a slight draw that started right of the flag, landed about 15 feet short of the hole, kicked left off a mound and trickled into the cup.
"We could see both balls go in from the tee," Steve said. "We've got those Styrofoam pool things in the cup, so you could see both balls. Half the ball was above the lip of the cup. I had a yellow ball, she had a white ball. Of the 10 holes-in-one I've made, that was only the second time I actually saw the ball go in the cup."
The Styrofoam ring in the hole follows COVID-19 safety guidelines to prevent golfers from touching the flagstick. Steve and Carolyn were driving separate golf carts in accordance with those guidelines.
To add to the incredible circumstances, their playing partner, Fred Gipp, a retired PGA professional from West Sayville, N.Y., was celebrating his 74th birthday. Gipp, playing the hole from a forward tee box (130 yards), knocked his 9-iron shot to within five feet of the hole and rolled in the putt for a birdie.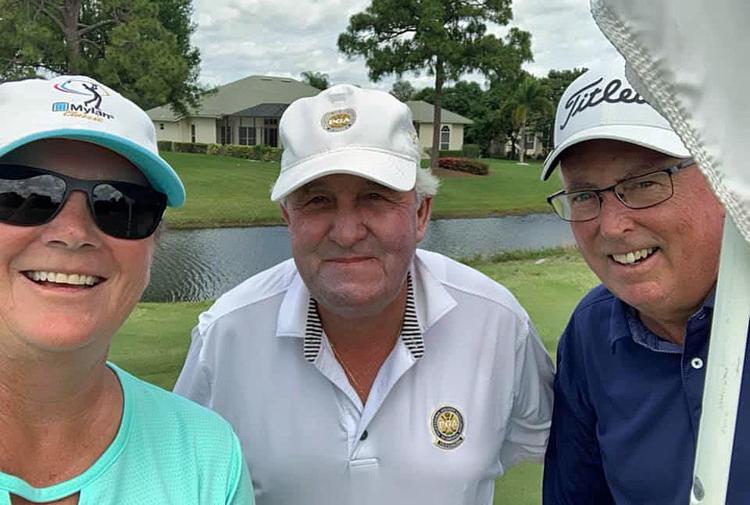 "Freddy is the biggest cheerleader you'd ever want to play with," Howe said. "He's just a great guy. We made the back-to-backs and celebrated for about five minutes and he finally got to hit his shot. He hit a great shot, about five feet short going right up the hill toward the cup. He stepped right up and made the putt."
The team score on the hole: 1+1+2 = 4.
"I've made 14 holes-in-one, but I've never seen anything like it in my life," Gipp said in a story on pga.com. "It was my birthday present. That was two for the Gipper."
The three were playing in an informal event with a group of PGA professionals who tee it up four days a week at the club. They won the event with a team score of 7-under par. Neither Steve nor Carolyn could claim a big skin, however, because their aces canceled each other out.
The consolation prize? Both collected $525 from a hole-in-one pot at the club.
"It was very exciting," Steve said. "And to do it with a bunch of friends and celebrate with them, that made it really special. It was a good day."