This just in: Golfers hit the ball too far.
Good to know. You had no idea, right?
The United States Golf Association and Royal & Ancient Golf Society released results of a two-year study that concludes golfers continue to hit the ball too far, it's not good for the game's future and – attention, shoppers! – it must be stopped.
That was the sound of the other shoe finally dropping.
Let's overlook the fact that this conclusion has been blindingly apparent for two decades. Tour players routinely smash 3-woods over 300 yards these days – 3-woods! – and 88 players averaged more than 300 yards per drive last season on the Korn Ferry.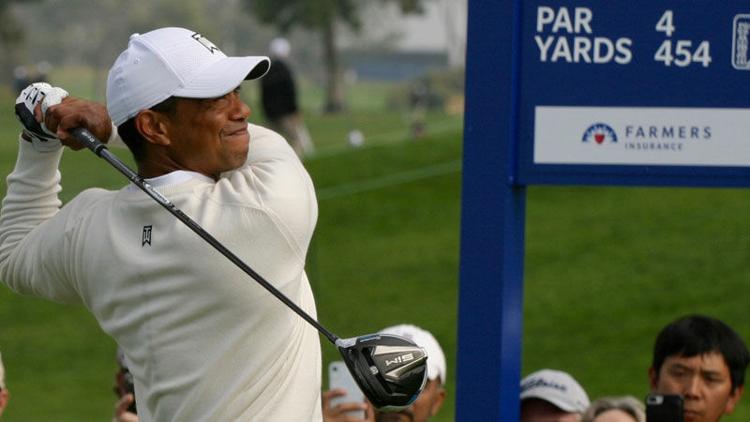 We didn't need a two-year study with extensive data, we already had our eyeballs. In 1997, the average driving distance on the PGA Tour was 267.7 yards. Last year, it was 293.8 yards (but 302.2 on its subsidiary Korn Ferry Tour). Golf's Big Three – Arnold Palmer, Gary Player and Jack Nicklaus – harped on reigning in the golf ball for years. They were finally, belatedly, heard.
"This has been an important topic to me for years, if not decades," Nicklaus tweeted Tuesday. "I applaud the USGA and R&A for their comprehensive research. … Pleased the process has started."
Let's just move on to the best part of this new mission. The USGA and R&A meticulously collected data (even if we knew what it was going to say) before charting a course toward potentially major changes. That was unlike its process with the Anchored Putting Ban, a knee-jerk reaction that included minimal (if any) study on whether anchored putting improved performance. Hey, the USGA is getting better at this.
What's next? The governing bodies will identify specific topics of further research within 45 days, then spend approximately nine months to a year discussing potential solutions with all parties involved – equipment manufacturers, golf course architects, golf course superintendents and golfers of all levels.
"We identified a long-term problem that needs to be solved for the long-term health of golf," USGA chief executive officer Mike Davis said in a press conference. "Increasing distances and corresponding course lengthenings have been going on for a hundred years and will continue without future action. We're not going back to some bygone era, we're going to build on today's game."
Martin Slumbers, the R&A's chief executive, said the study found that ongoing distance gains have been caused by equipment innovation, improved course conditioning and increasing player athleticism. "We believe these distance increases are undesirable and detrimental to golf's future."
Slumbers also said, "Golf is a game a skill, a broad range of skills, and no one skill should dominate."
Instead of bomb and gouge, how about fairways and greens? That would be novel.
This seems like a happy day for all those who believe distance has gotten out of control in the pro game. But solving that dilemma will be sticky because no matter what is done, some parties will be left extremely unhappy. And that could potentially include all of us amateur hackers.
What are the potential solutions?
Bifurcation is an obvious one. That would entail separate equipment rules for pros and amateurs. Equipment for the pros could be restricted further, reducing how far they could hit it, and a ball that flies less far could be employed. Meanwhile, manufacturers would be free to resume innovating hotter drivers and balls that fly farther for amateurs, most of whom don't have a problem with hitting it too far.
But not so fast. Davis said the governing bodies are committed to having just one set of rules for amateurs and professionals. Curiously, he also brought up the possibility of allowing a Local Rule that would restrict equipment and reduce distance. It could be a Local Rule for a major pro tournament – using a reduced-flight ball for, say, the Masters – or a Local Rule at a public golf course that is cramped for space and wants to make its 4,800-yard course play a little more challenging.
Here's another round of applause for semantics. A Local Rule restricting equipment would be the equivalent of bifurcation on a temporary basis. Bifurcation by any other name is still bifurcation. I'm in favor.
Equipment restrictions will be on the table. The ball is going to have a big X on its back; it's the quickest fix. We could just go back a few generations in ball technology to take the edge off the ball's current distance. Other options might be to enlarge the ball slightly – more friction means less distance – or create a standardized dimple pattern or a maximum number of dimples.
It will be more challenging with clubs. Would the USGA reduce the COR (co-efficient of restitution) or MOI (moment of inertia) restrictions already in place on drivers? That would obsolete a lot of current drivers.
And if clubs are rolled back – Davis promised no "significant reduction" in distance – then there's the problem of telling the general public, who seem to be less hooked on playing golf than ever (total rounds played are now back to 1995 levels, more or less), that they are going to give up even some of their distance gains technology gave them in the 2000s. That's going to be a tough sell.
"Golfers shouldn't be talking about how far they hit a drive at the 15th hole," Slumbers said, "they should be talking about what score they shot or whether they won their match."
I agree with Slumbers. However, the equipment industry has made distance the biggest and only selling point for woods and irons for decades. It's going to require some brilliant promotion to convince the golfing public that shorter is better and it's good for the game even if it may not be good for their individual game.
Here comes the irony. While the best golfers are hitting the ball too far, the governing bodies' study found that amateurs are playing courses that are too long. Davis and Slumbers stressed that amateur's tees should be moved forward. Shorter courses would mean better scoring, more enjoyment, potentially faster play (maybe), lower maintenance costs with less area to maintain, and reduced use of water and chemicals.
I am in agreement on these ideas unless someone tells me that environmental reasons are why I have to accept driving it shorter in this coming new age, especially when bifurcation would mean I wouldn't have to give up anything. Are golfers totally selfish? Nahhh, not much.
"What irritates me and all amateur golfers is that the USGA focuses only on a few PGA Tour pros and their distances," said Dean Knuth, founder of Knuth Golf and maker of High Heat woods and hybrids. "There are no amateurs who think they hit the ball too far. It's just the opposite. And golf is 99.9 percent amateur golfers."
Remember when the USGA banned square grooves in 2009? That ban actually led to distance gains with irons because shots flew higher and farther with V-shaped grooves. That's the Law of Unintended Consequences.
Tuesday's announcement was the first day of the rest of our golfing lives. The governing bodies are going to take action. What action, we won't know for months, but courses, not just players, will be affected.
"I look at every one of my clients (courses) as a small business and this will impact the economics of every course," said Jan Bel Jan, president of the American Society of Golf Course Architects. "Every one of them will have a chance to be more successful if they're not obliged to add more distance or yet another set of back tees to their courses. Elite players are hitting the ball longer but we're actually adding more shorter tees within courses because there are far more average golfers than elite players. Thinking in terms of all players is important."
Every faction in golf will have a chance to give input during the collaboration that will lead to new rules on distance. The days of paralyzed inertia at the USGA and R&A are over on the subject of distance.
Let's celebrate because late is better than never.