TWIN LAKES – Now and for the foreseeable future, if you play golf from a motorized cart there's no one sitting in the seat next to you, unless it's a family member.
At some point, however, when the worst of the coronavirus pandemic is behind us, golf will return to two riders in a cart.
When it does, will you feel safe?
Twin Lakes Country Club, located a few miles east of Lake Geneva, has collaborated with Five Star Fabricating of Twin Lakes on a product that should help ease golfers' concerns about sharing a cart.
The Safe Wedge is a clear polycarbonate partition that attaches to the cart and effectively separates driver and rider. Chad Cantwell, whose family has owned Twin Lakes CC since 1982, has ordered 50 of the Safe Wedges for his 75-cart fleet.
"It's going to give the golfer peace of mind and it's going to give me peace of mind that I'm providing an extra layer of safety," Cantwell said. "Most golfers are in that high-risk category of 60 and over (for serious complications from the virus). Eight of 10 of my golfers are in that category.
"This puts them back in the game, safely."
Cantwell, 43, said he reached out to an old Wilmot High School classmate, Corey Schultz, whose family owns Five Star Fabricating. The two talked about the concept of a protective partition that could be easily installed in a cart.
According to its website, Five Star designs and manufactures composite, polycarbonate and plastic components for heavy equipment, transportation, automotive and architectural applications. It is a division of Five Star Race Car Bodies, the exclusive provider of race car bodies for NASCAR.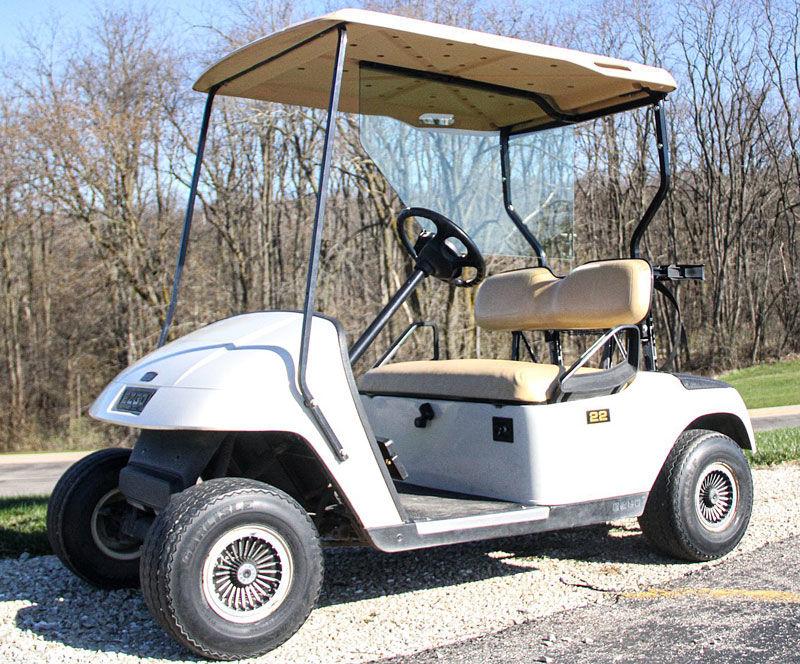 "We met Friday morning (April 17) at 8 o'clock and by 10:30 we had a prototype built," Cantwell said. "It's totally shatter-proof. It's scratch-resistant. It's not something a golfer can break with a club. It's the stuff they make the windshields out of for NASCAR."
The Safe Wedge (safe-wedge.com) installs in a cart in about 10 minutes. There are brace adaptations for carts manufactured by EZGO, Yamaha and Club Car.
"We've had a lot of golf outings and leagues delayed and canceled or rescheduled (by the pandemic)," Cantwell said. "This could be the game changer, the difference between saving your season or not. We can get more golf outings back on the course."
He said he would feel safer riding in a cart with another golfer if they were separated by Safe Wedge.
"My golf partner in my league, I haven't seen him since November," he said. "I know the guy really well but I don't know where he's been. I don't know who he's living with."
John Burch, a member of the semi-private club, strolled over from the practice putting green last Friday to examine a prototype Safe Wedge installed in a cart and displayed near the first tee.
"It's fantastic," Burch said. "It makes me feel safer and it will allow more people on the golf course. There aren't enough carts for everybody who wants their own cart."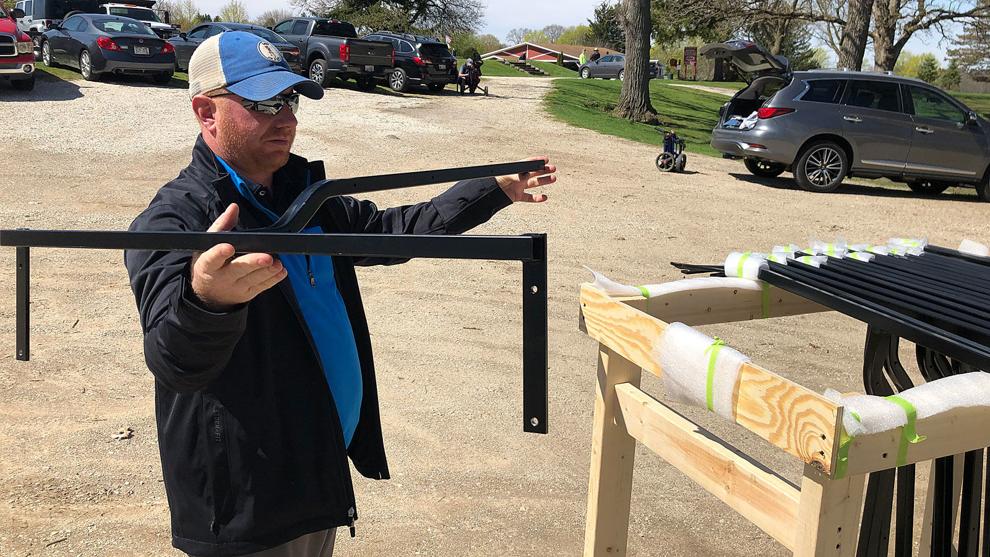 The Safe Wedge can easily be removed, but even after golf gets the green light to allow two riders to a cart, Burch said, "there's no reason to take it out."
"I play with guys who have bad breath," he joked. "This would help."
Cantwell said other members who have seen the prototype also have approved.
"It's been 100 percent positive feedback," he said.
Twin Lakes took delivery of 50 Safe Wedges last week. Cantwell said 25 of his carts would not be equipped with the shield because "some families can ride together and they're not concerned about it."
Twin Lakes will be the first course with Safe Wedges installed in its carts, but more courses could follow.
"If we can take the fear out of the golfer, the nervousness, to let you relax for four hours and think about nothing but hitting your golf shot, that's a good thing," Cantwell said. "You don't have to worry about the guy sitting next to you."