ORLANDO – With 1,100 exhibitors, 1 million square feet to explore and crowded aisles to navigate, the PGA Merchandise Show can be a mind-numbing, and foot-punishing, exercise. After a while, the booths go by in a colorful blur. Nothing really stands out.
And then you stumble upon the Big Tilt Pro Max.
It's your "aha" moment. Big Tilt is a putting training system, but that's like saying Jack Nicklaus won a few golf tournaments. Debuting this week at the show, it's an app-driven interactive putting platform that tilts from 0 to 5 degrees in either direction. Thus, you can recreate virtually any sidehill putt you would face on a real course, up to about 15 feet.
But that's not all. Laser projection displays the fall-in line (for conservative putters who try to die the ball into the hole), the optimal line and the aggressive line (for putters who minimize break with speed). The lines adjust automatically to the inclination.
I've seen all kinds of putting training aides and mats, but nothing like this. At 7 by 17 feet, it looks like an over-sized pool table, with the putting surface raised about a foot off the floor. The platform is incredibly stable and the turf is without the bumps and ripples so common in cheaper putting mats.
Big Tilt helps golfers intuitively improve their speed control and aim. Just practice on it and you're bound to get better, but there are also training programs and drills on the app. I spent 3 minutes on it and was convinced I'd become a better putter if I had one in my house.
Alas, that's the hang-up. Big Tilt sells for $15,000 and ships from France. It would be perfect for a college golf team's indoor training facility or for a golf course with the capital to make such an investment. If the ROI is better putters at your club, then it practically pays for itself.
Big Tilt is made by Wellputt. The inventor, Boris Pansart, and his wife, Heike Luck, plan to move to Florida this summer to concentrate on growing their business in the United States.
In August, Wellputt signed a three-year contract with Cameron McCormick, Jordan Spieth's coach, to develop teaching and training programs and to help with product development.
THE PLANE TRUTH
I stopped by the Tour Striker booth to see Martin Chuck's newest swing training aide, PlaneMate.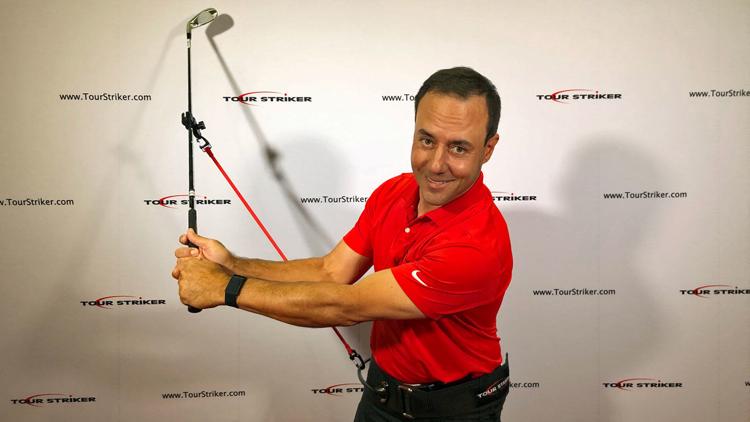 It's a cool device that consists of a belt and a tension cable that clips to a golf club and a sliding track on the belt. If you learn by feel, this is a swing trainer worth exploring because it provides the feel of a professional takeaway and transition.
Chuck, a swing coach who collaborated with longtime friend David Woods to invent PlaneMate, strapped me in and gave me a quick tutorial.
By adopting the sense of resisting the tension cable early in the backswing, you train your body to take the club back properly. Then, by relaxing your arms and wrists when the tension starts to build, the club will shallow onto a powerful plane, producing an inside-out strike.
One tension cable is used for practicing without a ball – I started to fatigue after just a few swings – and a second cable provides less resistance and can be used while the golfer hits balls. Chuck removed the belt, handed me a club and asked me to make a swing; it felt like my hands were flying outward at the top of my backswing.
"Strange feeling, isn't it?" Chuck said. "That's how it's supposed to feel."
You can check out PlaneMate at tourstriker.com. It retails for $162.99 and comes with a seven-day protocol for building a better swing. PlaneMate was such a hit at the show that it's already sold out. New orders are expected to start shipping in late February.
STAND BY ME
Larry Bischmann, president of Bloodline Golf, says that out of 1,500 amateur golfers, only 10 will have perfect alignment with their putters. That may be an exaggeration but there's little doubt the vast majority of golfers don't realize their alignment is off.
I always thought I was aimed at the hole, until Bischmann put a Bloodline putter in my hands and asked me to set up as if I were going to roll in a straight 10-footer. When I was ready to stroke the putt, he told me to step away from the putter – which stands up on its own – then get behind the ball and tell him what I saw.
It was shocking how poorly I was lined up. My putter pointed several inches to the left of the cup. That told me that when I make a putt, I'm actually pushing it – not exactly the recipe for consistency.
Bischmann then told me to re-align the putter from behind until the face pointed directly at the hole. Once I did that, he told me to set up again over the ball. I couldn't believe how far right it felt I was aimed.
"This putter gives you the ability to self-diagnose," Bischmann said.
Bloodline stands on its own because of a patented technology in which 100 grams of weight is removed from the shaft and grip, which moves the balance point low on the shaft, close to the putter head. It conforms to the Rules of Golf.
There are six models of Bloodline putters, all of which retail for $499.
PLANTING A SEED
People subscribe to streaming services, gym memberships, water delivery and perhaps even a good old-fashioned newspaper. How about golf balls?
Seed Golf, based in Ireland, is banking that its subscription service will take off. The company offers what it claims are three models of high-performance balls at half the price of tour-quality balls found in golf shops and big-box stores.
First, you pick out the model, then you designate the frequency of delivery (a dozen balls a month, two dozen every three months, etc.). You can change the model or frequency of delivery, or cancel your membership, at any time. There are no contracts, hidden fees or long-term commitments.
A dozen balls delivered to your doorstep cost $25, plus $5 for shipping.