OAK CREEK – With no revenue coming in and his cash reserve dwindling, Steve Gastrau faced a difficult decision: open his stand-alone golf practice range and risk running afoul of Gov. Tony Evers' safer-at-home order, or risk going out of business.
"I kind of had no choice," he said. "We had to make a decision."
Gastrau's Golf Center opened at 9 a.m. Saturday, and by late morning about a half-dozen golfers were socially distanced and hitting golf balls at the range on East Rawson Ave.
Though golf courses have been allowed to open and have throughout Wisconsin, stand-alone ranges have remained closed under Evers' safer-at-home order to help suppress the spread of the coronavirus.
Last week, though, Evers announced a "turn the dial" order allowing some non-essential businesses to open. According to the updated order, "rentals of boats, golf carts, kayaks, ATVs and other recreational vehicles can begin." Gastrau interpreted that wording to mean he could open his range.
"It says outdoor recreational rentals can be open," he said. "We rent golf balls and we rent putters and miniature golf balls. That's the business we're in. I tried to get clarification on that but nobody can give you a direct answer, yes or no."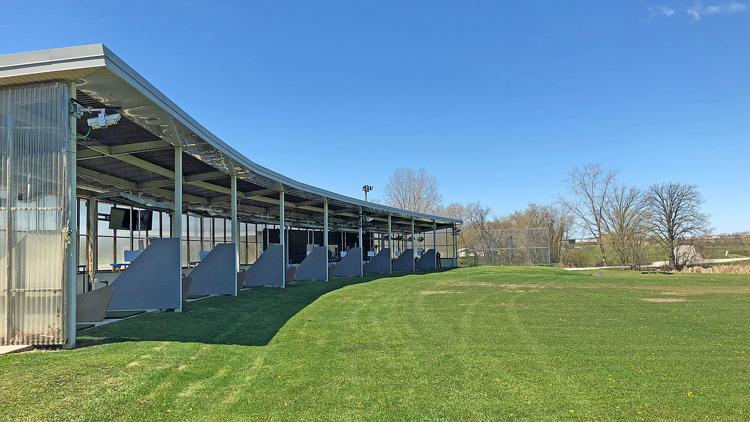 He said he talked about his plan to open with Oak Creek Mayor Daniel Bukiewicz and Jessie Rodriguez, the State Representative for Wisconsin Assembly District 21.
"(Rodriguez) was great on the phone," Gastrau said. "She was all in favor of me opening. I sent my plan to all the representatives in Madison, I sent it to the mayor and I sent it to the police chief: this is what I'm going to do."
Gastrau is allowing only one golfer per hitting bay and one person in the golf shop at a time. He has put tape on the ground to ensure that people waiting in line are spaced six feet apart.
"People are so thankful that we're open," he said. "They have been great, waiting outside to take their turn to come in and get a bucket. We've taken all the precautions that I think we need to take."
Troy Longnecker of Chicago was visiting family members when he saw that Gastrau's was open and decided to stop and hit a bucket of balls.
"I was kind of surprised it was open, but I'm not complaining," he said. "I feel perfectly safe."
A few mats down, Fred Schneider of Bay View had just finished hitting a bucket.
"My wife was online last night and she said, 'You're going to like this – the driving range is opening tomorrow,' " he said. "I've been coming here for years. Definitely, I feel safe."
Gastrau knows that not everybody shares his interpretation of "turn the dial" and is worried someone will drive past his range, see golfers hitting balls and call the police. Then what would happen?
"I don't know," he said. "If people complain, they have to send somebody out. They don't know how to interpret this executive order, so I don't know."
Most stand-alone ranges throughout the state remain closed. Not far away from Gastrau's, Range Time at Ives Grove Golf Links in Sturtevant was closed Saturday, though plenty of golfers were out on the course.
"We're going to see how it goes at Gastrau's," said Pete Eitel, the PGA professional at Ives. "Being on (Racine) county-owned property, we want to be careful. We don't want to do the wrong thing. I can tell you we are getting hundreds of calls asking if the range is open.
"We think it's completely safe. We're totally automated (with a ball-dispensing machine). Someone will wipe the screen (with disinfectant) before every use."
Eitel said the decision to open the range is up to owner Ramiro Romo, who signed a 30-year lease agreement with the county. Eitel manages Range Time for Romo.
"We may open this coming week," he said. "It's Ramiro's call."
Gastrau said he had no choice but to open if he wanted to stay in business.
"I'm fine until the end of the month, but, I mean, it would have been rough," he said. "You don't horde money in the wintertime in the golf business. You're burning money in the winter. This was the time of the year when it ramps up again.
"Golf is the definition of social distancing, otherwise you get hurt. You can't be close to someone when you're on the course or on the range."