Rob O'Loughlin of Madison helped revolutionize golf not once, but twice: first in 1994 when he invested in a little-known plastic cleat company called Softspikes, which soon were on the soles of virtually every golf shoe sold worldwide; and then with Laser Link Golf, a pioneer in distance-measuring devices.
O'Loughlin, with support from Jack Nicklaus, Arnold Palmer and many others in the industry, was instrumental in getting the United States Golf Association to change the Rules of Golf to allow distance-measuring devices as a "condition of competition" for events that wished to permit their use.
Rangefinders are now ubiquitous in golf. They're indispensable tools for everyone from touring pros – though they're still not allowed during official PGA Tour rounds – to weekend hackers.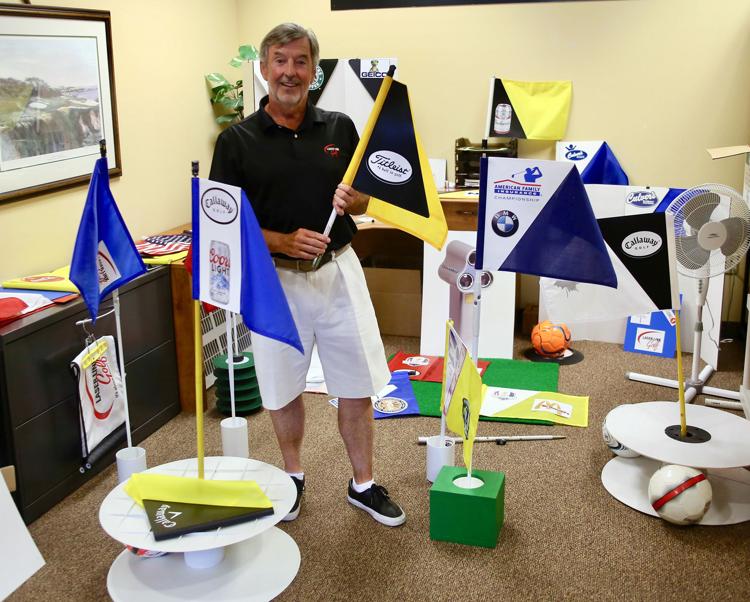 If you know O'Loughlin, an energetic ideas guy and a consummate pitchman, you wouldn't be surprised if he came up with yet another game-changer in golf.
But it won't be with Laser Link Golf. He recently sold the company to four Madison-area businessmen, who plan to expand the brand and introduce other products.
"We're really excited," said Brock Ryan, who owns an insurance agency with seven offices in southeastern Wisconsin and is one of the new owners of Laser Link. "Rob did a great job and left a great legacy and a great company, but it's just like anything – as it gets to the sunset, sometimes the cupboard is a little bare."
Though the market is now flooded with laser rangefinders – Bushnell, Nikon, Leupold and Callaway are among Laser Link's competitors – O'Loughlin patented a pistol-style grip. It's the only rangefinder that can be held away from the eye.
"The Bushnells and the others are good products," Ryan said. "But the original gun, where you hold it up in front of you, I think that's something most people still highly demand because it doesn't require you to move your hat or adjust your sunglasses. We're the only one out there that makes a true pistol rangefinder."
The original Laser Link required golf courses to purchase flagsticks with prisms built into them, which reflected the laser back to the gun. The time was calculated, converted to distance and displayed as yardage, all in the blink of an eye.
However, the newest Laser Link rangefinder, the Red Hot 2 ($229), doesn't require the prisms, according to sales director Dustin Schwab, a former Marquette University golfer who joined the company two weeks ago.
"The current one actually looks for those reflectors first, so it will pick that up first if you're aiming at a flagstick," Schwab said. "But if you're aiming at a bunker or a tree, it will pick that up as well. It's just like any other rangefinder."
Laser Link also sells the GS1 Slope ($299), which is held to the eye like other rangefinders and provides slope-compensated distances.
The global golf rangefinder market size was $115.4 million in 2019 and is expected to grow at 8.3 percent through 2025, according to a market analysis report from Grand View Research. In order to capitalize on that growth, Ryan said Laser Link was working on new rangefinder iterations, one of which will have an audio component.
"It will have voice to it so people can just point it at the flag and it will just tell them what the yardage is," he said. "You won't even need to see it. We think that's going to be a big hit for us. We're working on the final R&D on that one."
But Ryan and partners Jeff Handlen, Ben Shortreed and Jeff Bernstein also are bullish on a wide variety of products under the Laser Link umbrella: Link Wear apparel, Sic Cups and Golfdotz, the latter of which are transferable golf ball markings that apply in seconds and won't wear off.
Laser Link Golf also is a distributor of Voice Caddie.
"Rob tried to be in the private club space and we want to take this thing more mainstream, out in the e-commerce space," Ryan said. "How do we expand this footprint? We have a new catalogue. We're a distributor for Voice Caddie. We brought in Golfdotz. We started our own apparel line. We tried to find different areas to make the product more relevant."
Former University of Wisconsin golfer Lexi Greytak also is on the sales team and according to Schwab will be the "face" of the company.
"We're ramping up," Schwab said. "We're getting our inventory in in a week or two with the new Red Hot 2 and we have our inventory for the GS1 already here. We're putting together a lot of independent reps across the country as well as hiring a few full-time reps such as myself. We definitely need to get the word back out there. We're going to be here for a while.
"We're excited to grow the company and get it back to where it was."