ORLANDO – Considering that he majored in agricultural economics at the University of Wisconsin and had no formal training in product design, what Sean Toulon has accomplished in the golf industry is nothing short of astonishing.
Unless you're an industry insider or an equipment geek, you've likely not heard of Toulon, a Madison West High School graduate.
But it's a good bet you've got one of the products he helped design in your golf bag, or play with someone who does.
Under Toulon's watch as vice president of product development for TaylorMade-adidas Golf, the company unveiled the game-changing 300 series drivers, the R7 – the first driver with movable weight technology – the popular R11 "white driver," Rocketballz and the Rossa putter line. He had an intuitive feel for what would sell, and why.
"When you see a golf club as a product creator, the No. 1 emotion we're trying to build into a golfer is lust," Toulon said. "When you look at it, you go, 'Oh my God, I have to have this.' If you can do that well, you can get really rational people to act irrationally.
"But the second part of it, which I think most of the other companies ignore, or don't have the resources or for whatever reason haven't delivered on is, is there a meaningful performance difference that the golfer can see and feel and realize?"
In 2012, TaylorMade's market share in metal woods reached 47 percent in the U.S., meaning nearly half the woods sold were TaylorMade models. Sales surged from $349 million in 1999 to $1.7 billion in 2013. Toulon, a one-time caddie at Nakoma Golf Club, had helped transform the equipment industry.
In 2015, he decided he'd worked hard enough for long enough and retired. But you know how it is with high achievers. There's always another itch to scratch.
So, six days later, he unretired.
"Two of my sons talked me into starting a putter company, which I thought was a really stupid idea," he said with a chuckle. "The world doesn't need another something that's OK. There's a lot of average, and we don't need any more of it. But the world will always accept something that's exceptional or something that's extraordinary.
"So, I said to the boys, 'If we're going to do this, we've got one goal in mind: We're going to make the very best putters in the world. And that means they've got to be better than Scotty Cameron. That's a hard thing to do, but if we're going to do this, that's got to be the goal.' That's what we signed up for."
Toulon and his sons launched Toulon Design, a boutique putter brand offering custom-milled designs. The company was profitable in its first month, a rarity.
Within a year, Callaway Golf made Toulon an offer he couldn't refuse. The equipment giant bought Toulon Design and put Toulon in charge of its Odyssey putter line.
He now works for the company that once was one of his biggest rivals, but his approach to his job hasn't changed. He's still intent on producing the finest equipment in the market.
Odyssey is the No. 1 putter in professional golf, with 681 worldwide victories since 2010, 107 of them on the PGA Tour. For the week ending Jan. 26, Odyssey had 37 putters in play on the PGA Tour, 40 on the LPGA Tour and 70 on the European Tour. Marc Leishman won the Farmers Insurance Open with an Odyssey Versa #6.
More importantly, Toulon said, the Odyssey Stroke Lab line of putters offers game-changing technology to amateurs. As green speeds increased, putter heads became heavier and grips lighter so golfers could take smaller strokes. But that created unbalanced, heavy-headed putters, which in turn led to stroke inconsistency.
In Stroke Lab putters, weight is removed from the shaft and redistributed mostly to the grip, which rebalances the putter.
"I can show reams of data that it actually improves the consistency of a golfer's putting stroke," Toulon said. "I literally have done 1,500 fittings developing this putter. When we're done, almost everybody is dramatically improved. It's got to be 1,490 (golfers made) immediate, dramatic improvement.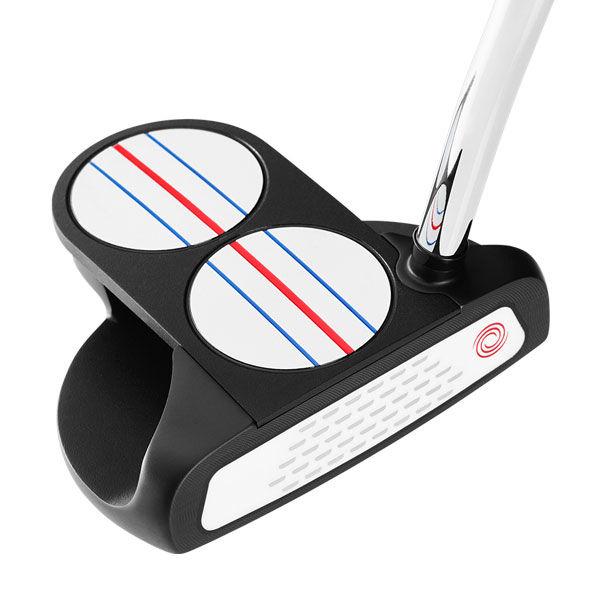 "We've taken the side of performance and tried to meld it with art and created magnificently beautiful products that work better. Pretty simple."
Callaway's latest innovation is Odyssey Triple Track putters, which feature three lines on top of the putter head. The lines act as an alignment aide, especially when matched with Callaway's patented line technology on its ERC Soft and Chrome Soft golf balls. There are five Triple Track models, all of which use Stroke Lab shaft technology.
Toulon is confident that Odyssey putters perform better than anything else on the market, and that includes high-end Cameron and Bettinardi models.
"Nobody makes a better-quality putter at any level, honestly, than we do," he said. "And I can say that without a tinge of guilt. It's a big thing to say, 'We want to produce the very finest.' Only one guy gets to say they did that. That has been our goal from Day 1. There are still things we can do to get better and we are working to get better, but I really like where we are right now."