One of few good things associated with the coronavirus pandemic in 2020 was a startling surge in golf participation.
The National Golf Foundation reported that rounds played in September were up 26 percent nationally over September 2019 (up 29 percent in Wisconsin), marking the third consecutive month in which every state in the continental U.S. saw increases in play of at least 2 percent over 2019.
Year to date, rounds are up 8.7 percent nationally, according to the NGF, despite a disastrous spring in which many courses were closed for weeks because of COVID-19 restrictions.
The phenomenon, due at least in part to golf being considered a "safe" outdoor activity, shows no signs of abating as the weather in Wisconsin turns and golfers transition from fairways and greens to indoor facilities and heated bays at driving ranges.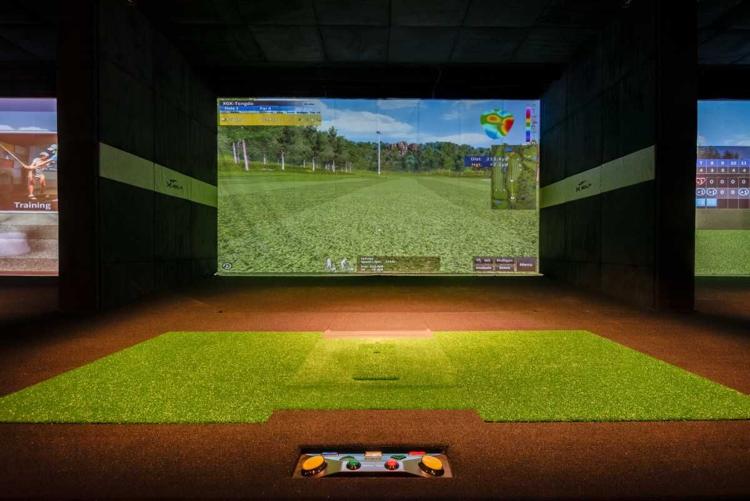 Indoor golf leagues, in which golfers play virtual courses such as Pebble Beach on simulators, seem to be gaining in popularity even in the face of a spike in coronavirus cases. These indoor leagues were all but nonexistent 20 years ago, but advances in simulator technology combined with increased availability is driving participation.
Dozens of driving ranges, private clubs and public courses throughout the state have added simulators to extend their seasons, and many businesses have capitalized on the growing trend with facilities purpose-built or reimagined for indoor golf.
"Our weekday leagues are pretty much full already and I haven't even done the marketing yet," said Chris Verhoff, who owns Wisconsin Indoor Golf Center in Waukesha, which has nine simulators. "We don't start leagues until December 1st. I think we've already got more people signed up than we had last year."
Leagues at X Golf Brookfield already are filled and there is a waiting list. A second X Golf location in Mequon will celebrate its grand opening Monday.
"We haven't even opened the doors and we're 20 percent filled up with our leagues on Mondays, Tuesdays and Wednesdays," said Brian Brodell, the general manager and PGA professional at X Golf Mequon.
Though enthusiasm for golf leagues is high, a few golfers who participated in the past have told Verhoff they would take some time off because of the coronavirus pandemic. Like bars and restaurants, the Wisconsin Indoor Golf Center will follow established safety protocols.
"Our policy is going to be that all employees will be wearing masks," Verhoff said. "The bartender and anyone preparing food will wear gloves. We will spray and wipe down the booths after every group leaves. We wipe the tables and chairs down. That's going to be our procedure until things change."
Brodell said similar policies were in place at both X Golf locations.
"Our staff will be wearing masks," he said. "We're sanitizing tables, chairs and the bar area after every group comes through. When golfers are hitting, they do not have to wear masks, but when they're traveling through common areas or using the restrooms, then they will."
Fifteen years ago, when Brodell was a member of the University of Wisconsin golf team, winter golf meant hitting balls into a net in some corner of a windowless room. But with the proliferation of state-of-the-art simulators, golfers can play dozens of virtual courses on systems that closely duplicate the real thing.

Gastrau's Golf Center, a practice range in Oak Creek, added heated bays last year and more recently installed Toptracer Range, which features cameras that track the flight of the ball and replicate it on a screen, along with an array of statistics such as clubhead speed, launch angle and distance. Golfers also can choose from 14 different courses to play.
Those upgrades allowed Gastrau's – which once closed its doors when the weather turned – to offer winter leagues on Mondays, Tuesdays and Wednesdays.
"We've got 144 golfers total signed up," said general manager Brent Gastrau, who added that he had to turn away golfers once the leagues filled. Because of COVID-19 precautions, only two golfers will be allowed in each hitting bay.
At 4 Seasons Golf in Wausau, which has four Full Swing simulators, owner Shane Saari said he had a good turnout for fall leagues. Winter leagues start Nov. 30 and run through Feb. 11, after which spring leagues start and run through mid-April.
Saari said he would offer a new Friday "date night" league and a Sunday three-man scramble league this winter, in addition to his established women's and couples leagues on Mondays and men's leagues on Tuesdays, Wednesdays and Thursdays.
"If all of my leagues fill, I would hope to get over 160 golfers in league alone," he said. "And that doesn't count open tee times and corporate events. My Thursday league is already full with a waiting list and I'm about half-full on Wednesday. I've got a little bit more work to do on Tuesday and couples. But, yeah, we're in the middle of October and I've got one league completely full."
At X Golf, the competition format calls for three-man teams to play a handicap round at Kapalua, followed by weekly nine-hole matches on some of America's most famous courses: PGA National, Spyglass, Bay Hill, Doral, Harbour Town, Hazeltine National and Bethpage. Playoffs will be held at Pebble Beach, with the championship and consolation matches set for East Lake. The cost is $250 per player.
"The first week you'll set a handicap and then on your three-player team you'll have your A, B and C player," Brodell said. "The A player will play the A player of another team, B vs. B and C vs. C. Each match is worth one point and if you halve, you get a half-point."
Golfers who aren't interested in the structure of league play can work on their games – either alone or with buddies – when leagues aren't scheduled. There are practice modes on the simulators that track and save precise data relating to ball flight. For a golfer making a swing change or "dialing in" a new set of irons, that type of feedback is invaluable.
"People are playing and training 12 months a year now here in Wisconsin, and getting the most out of it," Brodell said. "The excuse of, 'He came out of the winter and wasn't prepared' is no longer the case. You can't say, 'We didn't get the reps in.' (Steve) Stricker has proved that. (Jerry) Kelly has proved that. The University of Illinois has proved that. You can go on and on."
Said Gastrau, "It's way harder come springtime to play golf if you haven't hit your clubs for three or four months. Even coming out once a week to work on your swing is a great way to improve your game."