Welcome to the redesigned Wisconsin.Golf website. (And yes, that URL is wisconsin.golf, not .com. More on that later.)
You'll still find all of the excellent content you've come to expect from us, from golf course reviews and features, to the latest recaps and results from tournaments across the state, to features and columns from Gary D'Amato, Rob Hernandez and Dennis McCann, to photo galleries and videos and podcasts and more.
But with expanded, newly organized navigation and cleaner overall design from desktop to mobile, you'll find more of what you're looking for more quickly and easily.
Let's take a tour.
THE NAVIGATION
The home page, and every page, starts with our new navigation menu to all we have to offer in the world of Wisconsin golf.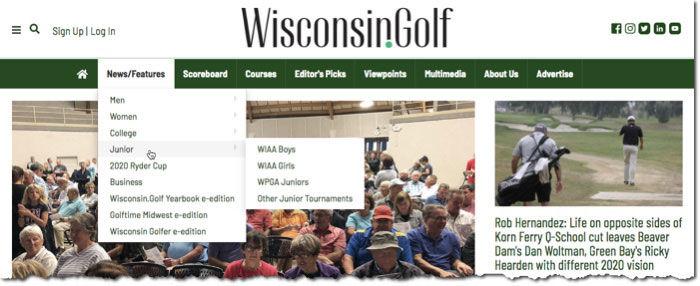 For example, click on "News/Features" in the main navigation bar to find all of our latest 50 stories combined on one page. Or you can navigate from the dropdown menu to subsections focused on Men's, Women's, College or Junior golf, or to our developing coverage of the 2020 Ryder Cup, or the business of golf.
Our "Scoreboard" section has links to the latest results from tournaments around Wisconsin, as well as many outside the state involving local golfers. You can get all of the results on one page, or click just to Men's, Women's, College or Junior results. We also have an extensive calendar of upcoming events.
In our "Courses" section, you'll find a mix of all our course reviews, news and features, or you can navigate just to D'Amato's "D'Time" reviews or McCann's "Hidden Gems" features from around the state. In our fledgling "Travel" section, we plan to provide more course reviews and features from outside Wisconsin, including snowbird retreats like Arizona and Florida and summertime destinations like Michigan and Illinois and elsewhere.
The "Editor's Picks" section is new and features a curated collection of our best stories in case you missed them. Even two months later, for example, you'll be able to find that story from D'Amato on the golfer at the State Amateur who survived a heroic firefight with ISIS. Or the one on the woman who didn't play golf but still willed nearly $1.7 million to a muni course. Or that one-in-a-million (dollar) hole-in-one story from the summer of 2018.
You can find our weekly Talking.Golf Podcast as well as columns and analysis from our reporters in the "Viewpoints" section, and all of our latest photo galleries and videos under "Multimedia."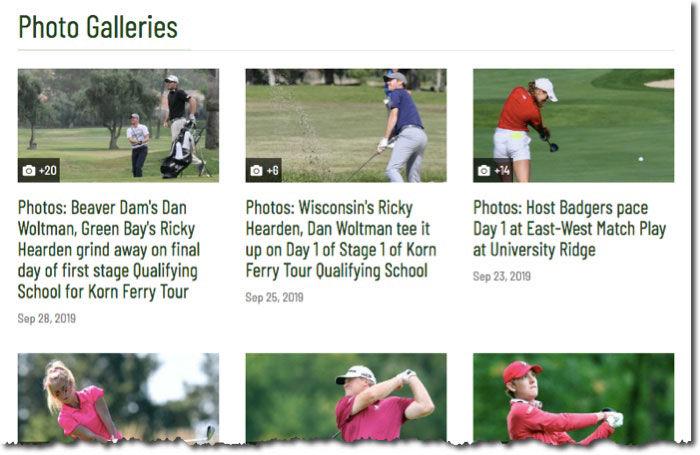 And be sure to check out the "About Us" page to learn about the people who comprise Wisconsin.Golf and its umbrella company, Killarney Golf Media.
THE HOME PAGE
The home page is the front door to our site. We think we've made it more inviting for our readers to drop by and spend some time exploring.
At the top of the page we offer what we think are our top three stories. We'll mix these up from day to day, and even hour to hour when news is moving fast, but mostly you'll find a combination of our freshest and best stories.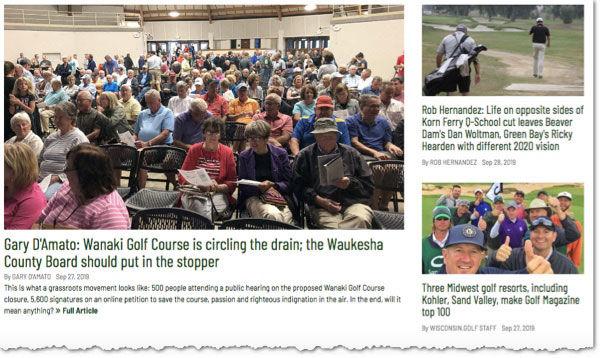 Under these stories, you'll always find our latest golf course reviews from D'Amato and McCann. And in the dead of Wisconsin winters, we may mix in some stories about golf courses and trips to warmer places.

Another scroll down the home page you'll see more of our latest news and feature stories, followed by links to the latest tournament results and a collection of our aforementioned "Editor's Picks" stories under the heading "In Case You Missed It."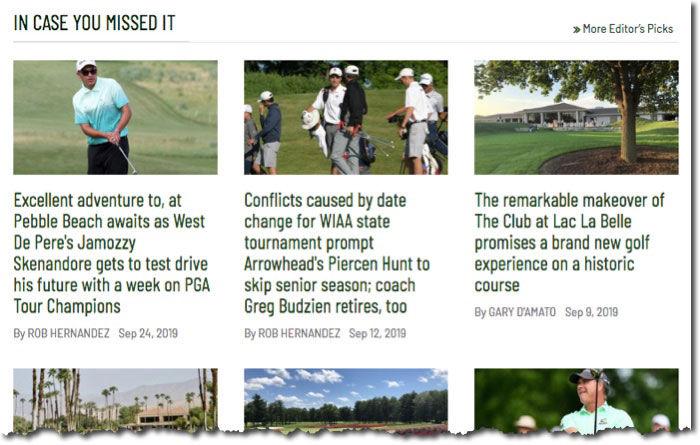 Also on the home page, you'll see what we're tweeting on our @WisDotGolf page on Twitter, as well as a list of the "Most Popular" stories on Wisconsin.Golf in the past week.
THE STORY PAGE … AND BEYOND
Of course, we know some of our readers come to us not through the home page but by way of a story they've found on social media or via Google or a friend.
That's why on every story page we offer a list of links to our "Most Popular" stories and to those "In Case You Missed It" editor's picks. And at the end of stories, you'll find an "infinity scroll" of related stories to peruse.
We hope you'll keep discovering great stories to read.
A couple more things to note:
If you come across a story you don't have time to read but want to get to later, you can save it to your Wisconsin.Golf queue by clicking the "Save for Later" icon found at the top and bottom of every story.

And if you have a favorite reporter whose stories you want to make sure you don't miss, you can sign up to have all of those stories alerted to your email inbox. Just click the "Follow" button in the reporter's bio blurb at the end of a story.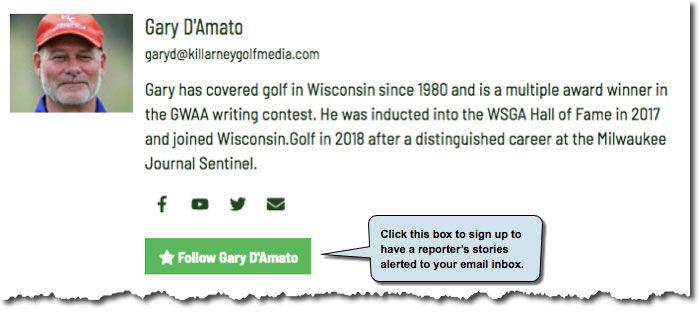 BACK TO OUR NAME
Finally, we know that some people might wonder about a website without a .com in the name, but here at Wisconsin.Golf there is no .com in our URL.
A few years ago, the internet was opened up to domains beyond .com, .org, .net and others. One of those new domains was .golf, so we grabbed the URL wisconsin.golf.
The name says it all, we think. So tell your fellow golfers. For all kinds of news and features on golf in Wisconsin, Wisconsin.Golf is your ace in the hole.
Editor's Note: If you have questions or comments about the new site, please email mikedavis.js@gmail.com.