Tim Hanson of West Bend has invented a putter with a proprietary feature – a face that curves inward from its midpoint to the bottom, which makes the ball start rolling end over end faster, he claims, than any putter on the market.
He owns design and utility patents on the "HANSON HAMMER." The name is trademarked. He also has a letter from the United States Golf Association confirming that the putter conforms to the Rules of Golf and therefore is legal for use in tournaments.
What he does not have is a ton of money.
Therein lies the rub … or in this case, the rub of the green.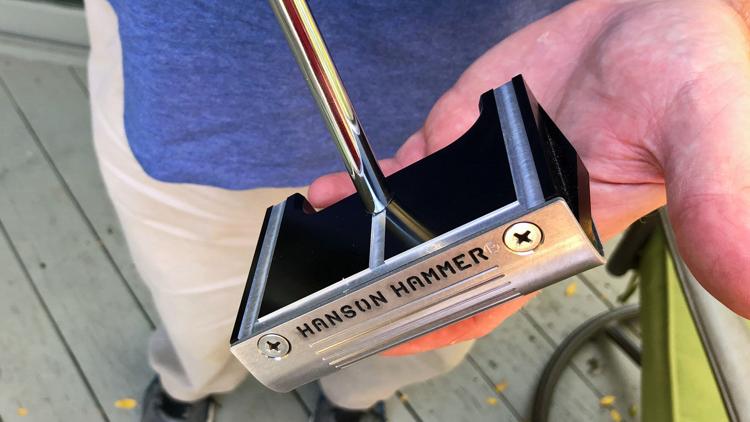 Hanson, 55, doesn't have the financial wherewithal to get the putter made in mass quantities, nor does he have anything resembling a marketing budget. He has "30 or 40" HANSON HAMMERS, manufactured at a factory in Campbellsport. The putter has a stainless-steel face and a hollow aluminum body and is boxy looking. The beauty is in its functionality.
Putter manufacturers have been trying forever to eliminate the ball becoming airborne for a fraction of a second after it is struck, and then skidding ever so slightly before it starts rolling end over end. Simple physics dictates that the sooner a ball starts rolling with overspin, the better it will stay on line.
"I wanted to develop a putter that always hits the ball above the center of gravity, causing a natural overspin," Hanson said. "The face is the same radius as a golf ball, so when you pick the putter off the ground a little bit, now it's hitting the ball above the center, causing it to roll. The roll is immediate."
Another interesting feature is that if the toe of the putter is raised, the ball will curve to the left; if the heel is raised, the ball will curve to the right. Why would anyone want to curve a putt?
"Ask Bubba Watson," Hanson said. "He's always curving the ball."
Hanson said he met U.S. Ryder Cup captain Steve Stricker of Madison at the John Deere Classic a couple years ago and gave him a HANSON HAMMER, made to Stricker's requested specifications. Nelly Korda, No. 2 in the Rolex Women's World Golf Rankings, also has one. Whether they have played around with the putter or it is gathering dust in their basements, Hanson can't say.
The question is, what does he do now?
"I'm not a manufacturer and I don't have the background to pursue that," he said. "I don't have marketing experience. I could make thousands of them, but am I going to be able to sell them? Now that I have it approved by the USGA, the hard part is getting people to use it.
"I contacted Nelly Korda through the internet. I mailed a putter to her. I guess she liked it, but I haven't checked up on it lately. I don't know if she made a lamp out of it, or whatever.
"I've got a lot of stuff going through my head."
That last sentence refers, in part, to another challenge. Hanson was in a serious car accident on St. Patrick's Day in 1986. He suffered a traumatic brain injury and was in a coma for three weeks. When he came out of it, he had to re-learn how to walk and talk and eat, and he still struggles physically.
"My right side is still numb, which really screwed up my golf swing," he said.
Another result of the accident is that it affected his speech. Though he has a master's degree in engineering management from the Milwaukee School of Engineering, he speaks haltingly, pausing at times to find the right words.
"That hasn't helped," he said. "Sometimes, the words are in there but it's hard to get them out. If you take a second to think about it, you don't know anything, you know? Or, people think I'm on drugs. My older brother was born with epilepsy. I saw all the stuff that he went through in school, how much people teased him. And then after my accident, I saw everything the same with me."
Hanson said Swing Science, a Zionsville, Ind.-based company that sells and distributes golf club components, has shown an interest in the HANSON HAMMER. He doesn't know if that will go anywhere. Ultimately, he hopes to sell his patents, preferably to one of the major equipment manufacturers.
"I'm no one to these guys," he said. "If somebody like Stricker said, 'This works, try it out,' there would be interest. The big companies are paying those guys so much money to use their clubs. I can't pay them."
Hanson recently ruptured two disks in his back and has been on disability leave, he said, from his job as a packager / re-packager at John Deere Horicon Works. He's living temporarily with his mother in Germantown.
He can do little more now than wait and wonder about his next step.
He has a putter. He has a patent. He has a dream.