AUGUSTA, Georgia — Amen Corner has authored more than its fair share of incredible stories through the 83 years of The Masters Tournament, but none quite as riveting as the comeback caper of Sunday's Tiger Tale.
Two years after suggesting at the Masters champions dinner that he might never compete again, Woods turned back time Sunday at Augusta National Golf Club by winning his 15th major championship — and fifth green jacket — in a way he had never experienced with the first 14: Coming from behind.
Woods, who began the day two shots behind Italy's Francesco Molinari, wiped out the three-stroke deficit he faced after the second of back-to-back bogeys on No. 5 with a throwback comeback that began on the No. 12 in the heart of Amen Corner. That's where Molinari's tee shot on the par 3 came up short and rolled into Rae's Creek, leading to a double-bogey that opened the door for Woods, who birdied three of his next four holes to open a two-shot cushion coming up No. 18, which he bogeyed for a 2-under 70 round and a 13-under 275 total — one better than Dustin Johnson, Xander Schauffele and Brooks Koepka, the latter two 20-somethings who grew up amid Woods' legend.
"That was probably the coolest back nine in a major championship I've ever been a part of, or just in golf in general," said Koepka, who had won three of the last four major championships he has played starting with the 2017 U.S. Open at Erin Hills in Wisconsin. "I think with so many guys going up and down, the lead's kind of changing hands, depending what hole you're on. I don't know how it looked on TV, but it was amazing to be a part of."
Indeed, six golfers owned at least a piece of the lead at various times over a wild back nine that will be remembered as the stage for one of sports' greatest comebacks. It had been 11 years since Woods last won a major (the 2008 U.S. Open at Torrey Pines) and 14 since his last fitting for a green jacket as a series of injuries and personal travails knocked him off his perch as the game's undisputed best.
AUGUSTA, Georgia — After each of his first 14 victories in major championships, there were fist pumps and smiles and hugs for those in his inn…
At age 43, Woods is the oldest Masters champion since Jack Nicklaus won at age 46 when he won in 1986. His 15th major championship puts him three behind Nicklaus heading into two majors — next month's PGA Championship (Bethpage Black) and the U.S. Open in June (Pebble Beach) — on courses where he has won major championships in the past.
"I felt for a long time he was going to win again," Nicklaus told Golf Channel afterward from the Bahamas, where he was bone fishing. "And, you know, the next two majors are at Bethpage, where he's won (2002 U.S. Open), and Pebble Beach, where he's won (2000 U.S. Open). So, you know, he's got me shaking in my boots, guys."
Nicklaus was joking — we think.
Then again, what Woods did Sunday should strike fear in a generation of golfers that barely remembers him like this. It was the first major championship Woods has won in which he wasn't the one protecting the lead heading into the final round.
Heck, Woods didn't have the lead heading into Amen Corner, where things really got interesting. 
Molinari, who had been a par through the first 11 holes with nine of them around a bogey at No. 7 and a birdie at No. 8, finally relinquished his spot atop the leaderboard on No. 12 when he tee shot took a dip in Rae's Creek. That thrust Schauffele and Patrick Cantlay into a tie for the lead at 12-under until Woods and Molinari joined them with birdies at the par-5 13th hole.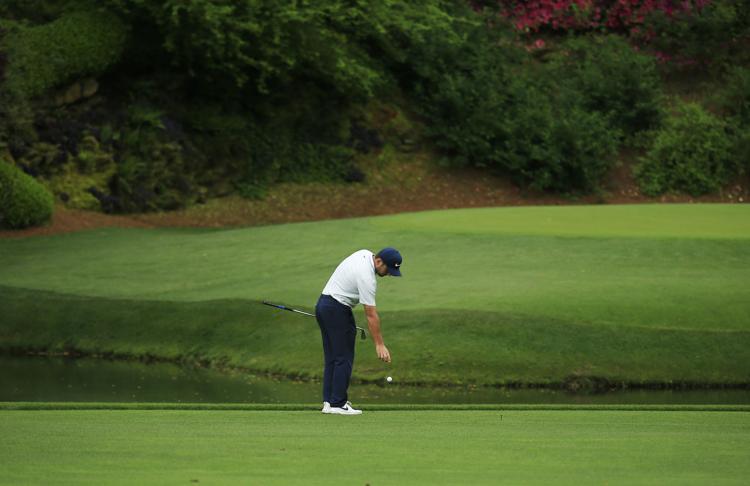 Woods took the lead for himself on the par-5 15th hole when he two-putted for birdie to become the first (and only) golfer to reach 13-under. Molinari, meanwhile, caught a tree branch with his third shot and again found the water for another double-bogey, knocking him out for good.
"I think it wasn't my day today," said Molinari, who out-dueled Woods last July in the final group at the Open Championship at Carnoustie to win his first major championship. "That ball on (No.) 12, if it's one yard further left, it probably goes in the bunker and ... the third shot on (No.) 15, it could easily not have clipped the tree. ... Sometimes it is your day and sometimes it isn't."
It hasn't been Woods' day in a major championship for so long that many wondered if he'd know what to do if thrust in that position again.
His execution over the back nine and the composure he showed down the stretch served notice that it's game-on for the generation of golfers that has filtered onto the PGA Tour trying to emulate Woods' heyday knack of going for the jugular. His dagger came on the par-3 16th hole where his caught the ridge along the middle of the green and fed his ball within two feet of the cup for what proved to be a clinching birdie.
"A handful of years ago I don't know a lot of people believed that Tiger would win another major," said Tony Finau, the third member of the final group who shot 72 and finished tied for fifth. "From what I saw today obviously he's not going anywhere anytime soon and congrats to him on his 15th major."