As slow as the fall portion of her senior season started, Alix Larson was just glad to have a seat in the van going to this week's Mastodon Fall Invitational in Fort Wayne, Ind., let alone a spot at the top of the lineup for the UW-Green Bay women's golf team.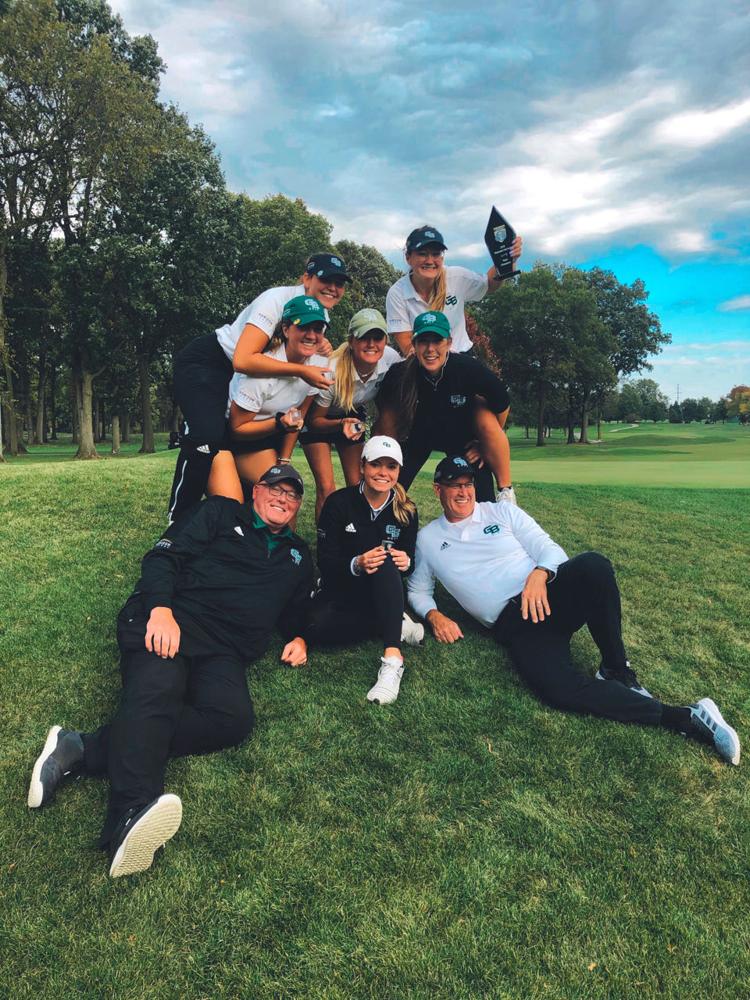 She proved to be just the right medicine for the Phoenix, too, as it tried to remedy a bout of the flu that knocked No. 1 golfer Lori Meyer out of action.
Larson, who failed to qualify for the season-opener and was to have been an extra individual competitor in this week's event, got the call from the bullpen at the 11th hour and responded in a big way. The Oconomowoc native shot rounds of 76-77-80 to finish sixth and join teammates Ashley Kulka (fourth) and Isabelle Maleki (10th) in the top 10 as UWGB successfully defended its tournament title, only the second team win in program history.
Kulka shot a final-round 76, Larson and Maleki shot 80s and junior Katie Warpinski added an 84 as the Phoenix shot 320 after shooting 306-307 in Monday's 36-hole opener to finish with a 54-hole total of 933. Central Michigan, which had the medalist in Claudia Salvador, was second (940).
"To start the season, qualifying obviously didn't go as planned to travel to the first tournament," Larson wrote in a text to Wisconsin.golf, acknowledging that her caddie gig this past summer at Erin Hills near Milwaukee might not have kept her as sharp as she needed to be with her own game. "That was my first time ever not traveling with the team, so it stung a little bit and I knew I had to kick it into gear and keep grinding on my game."
Larson played the No. 5 spot at the Northern Kentucky Invitational in place of Kulka, who missed all of last season with a foot injury and still needs to take the occasional break. This time, it was an illness that created an opportunity.
"Lori woke up very sick on Monday, so much so I took her out of lineup and replaced her with Alix," UWGB coach Lee Reinke wrote via text message to Wisconsin.golf. "Way to answer I would say!"
When she got the news, Larson wasn't quite sure what to say.
"When Lee told me he was moving ...  me to No. 1, my first thought was 'Shoot, Lori isn't playing and she's been one of our teammates that's been pretty consistent all season,'" Larson wrote of the junior from Freedom. "But at the same time I was extremely excited and eager because I have been the Nos. 1 & 2 before so it wasn't new to me, I was just excited to get out there and hold up my end for Lori and the rest of the team."
Mission accomplished. Larson was one of four UWGB golfers to break 80 in an opening-round 306 and then was one of three to shoot 77 behind Matschke's 76 in a second-round 307.
The Phoenix's lineup was dealt another blow Tuesday when Matschke woke up with the same ailment that sidelined Meyer. She tried to play through it, but struggled to a 90 and her score did not factor into UWGB's closing 320.
"I think we found out it's harder to defend than win the first one," Reinke said. "(It was a) great learning experience (Tuesday) as well to 1) fight adversity off with a couple bad breaks with the wind and 2) learn how to 'be in the lead' and fight off nerves. This team is resilient; when someone is down they all step up and conversely they all contribute to the team score each week.
"They have each other's back. (I'm) very proud of the team including the injured (redshirt freshman) Lauren Shorter who continues on her way back."
The Phoenix will close the fall season Monday and Tuesday at the Charles Braun Intercollegiate in Evansville, Ind. Larson can't wait to get there.
"I am beyond proud to be a part of this team and I couldn't ask for better teammates and coaches," Larson wrote. "The team chemistry is amazing and we are always having fun. We have a very solid team, nobody really is consistently better than the rest, we all pick each other up when one has a tough round and I think that is the best part because we all are capable of competing at this level and shooting low scores.
"It is so exciting for me to see how far the team has come and I'm thankful to be able to have watched it all progress throughout the years. (It's) funny you ask because I looked to my teammate Leah (Hansen) after the first day knowing we were in the lead and I go 'Leah, this is crazy because I remember our team used to look at the winning teams when they were walking past and they were intimidating.' And now I notice teams are looking at us when we are walking past."
---
Team/Player Leaderboard
Pine Valley Country Club - 2019 Mastodon Fall Invite Par: 71 Yardage: 5980
Fort Wayne, IN US
Individuals
| | | | | | |
| --- | --- | --- | --- | --- | --- |
| Pos. | Player (Team) | Rd 1 | Rd 2 | Rd 3 | Total |
| T19 | Chelsea Marrow (Indiana State) | 81 | 81 | 80 | 242 |
| T26 | Alyson Kovach (Bowling Green State) | 79 | 86 | 81 | 246 |
| 29 | Erin Korn (Bowling Green State) | 88 | 77 | 83 | 248 |
| T30 | Emily Fleming (Oakland) | 82 | 84 | 83 | 249 |
| T33 | Madison Branum (Indiana State) | 84 | 82 | 84 | 250 |
| 35 | Leah Hansen (Green Bay) | 84 | 88 | 82 | 254 |
| T40 | Keilani Doss (Oakland) | 88 | 91 | 93 | 272 |
| T40 | Amanda Maletich (Bowling Green State) | 91 | 87 | 94 | 272 |
| 43 | Luiza Helena de Araujo Caetano (Purdue Fort Wayne ) | 103 | 87 | 83 | 273 |
| 44 | Julia Bice (Central Michigan University) | 97 | 94 | 95 | 286 |