KOHLER – Brady Keegan wore a sheepish grin Saturday as he hurriedly organized his golf bag near the practice green at Blackwolf Run. He'd arrived at 9:15 a.m., fifteen minutes before a shotgun start on the Meadow Valleys Course on Day 2 of the inaugural Dairyland Duel.
"I went to the wrong course," Keegan confessed, drawing laughter and snarky comments from a couple dozen former members of the Marquette University and University of Wisconsin men's golf teams.
"I was back over at the Irish (course at Whistling Straits)," said Keegan, who played for the Badgers and graduated in 2013. "I was wondering where everybody was. Still a little foggy."
Photos: Inaugural Dairyland Duel between former Wisconsin and Marquette golfers
He wasn't alone. After Friday's first round of the Duel, a two-day alumni tournament organized by UW coach Michael Burcin and MU coach Steve Bailey, some four dozen golfers and coaches repaired to the Kohler Swing Studio in the Shops at Woodlake for a social hour … or five. Laughter and tall tales filled the room until the wee hours of the morning.
Unconfirmed rumors had the stragglers wobbling back to their hotel rooms at 3 a.m. That may be an exaggeration. But not by much.
"I think guys were going pretty hard last night," said Marquette assistant coach Chris Williams. "So there's going to be some mid-morning remedies that they'll need. Some Ibuprofen, some Tylenol, some coffee. A little bit of everything."
Said former UW golfer Jordan Hahn, who has status on the Korn Ferry Tour, "Oh, yeah. Somebody is going to show up two minutes before their tee time, peg it and probably hit it in the crap."
The Dairyland Duel, presented by Wisconsin.Golf, is unique in that it features alumni from rival schools going head-to-head in a tournament that is 40 percent competition and 60 percent camaraderie, though the percentages can shift at any given moment.
This probably wouldn't work in other places, but Burcin and Bailey are longtime friends and many of the players in their programs grew up competing against one another. It's a healthy rivalry, built on shared experiences and mutual respect. Talking smack is encouraged. When Keegan's tee shot on the par-3 third hole on the Meadow Valleys covered the flag Saturday, MU's Michael Bielawski yelled, "Get expensive!" hoping for an ace and a big bar tab.
There were plenty of R-rated comments, too, but you get the picture.
For younger alumni such as Hahn, it's a chance to meet the players who preceded them and "kind of put faces to names." For the older players, it's a chance to reconnect.
"A lot of these guys, I haven't seen in seven years or so," said Keegan, who lives in Middleton and sells medical devices. "You get away from the program and feel a little disconnected from it, but this brings you right back. It's incredible. Some of these guys, I only spent a year with them in college, so catching up, seeing what they're doing now, is really neat."
Tyler Obermueller, who graduated UW in 2009 and won the State Amateur that summer, drove down from Hudson, where he sells windows and dabbles in real estate.
"This is a cool opportunity to come back and see the guys, but still have a little competitive action going," he said. "Basically, we're still very competitive but I think things have changed a little bit. I have two kids and a few of these guys have kids and families, so things are a little bit different.
"I'm here to kind of get away. It's almost like a little vacation and a chance to hang out with the buddies. But, of course, we still want to win. I don't think that competitive nature ever leaves anybody's mindset, for sure."
It would be easy to get the wrong impression from the rap music blaring in the golf cars, cigar smoke drifting in the air and the back-and-forth banter on the tee boxes. Some of the players may be carrying a few more pounds around the middle, but they were scholarship athletes in NCAA Division 1 programs. They still take their golf plenty seriously.
"Obviously, there's some competitiveness to what we're doing," Bailey said. "It's fun to see the juices flowing a little bit. Some of these guys haven't played a round of competitive golf in several years. Shoot, get these guys in the arena and they want to compete. They want to win."
The Golden Eagles took a 25-20 lead after the first round, led by Ben Sieg and Dustin Schwab, who shot a 59 in the two-man scramble format. Teams went head-to-head with four points at stake: one point for the front nine, one for the back, a third point for total score and a bonus point for a sweep.
"I know in our group, the last few holes there wasn't as much joking around," said ex-Badger Garrett Jones, who was instrumental, along with Bielawski, in recruiting players and organizing the event. "We're all good friends and for the first nine or 12 holes we're jovial and having a good time and laughing. And then the competitiveness in all of us kicks in and we want to stomp them, right?"
The format for the final round Saturday was two-man best-ball in head-to-head matches. Using the same point system, the Badgers came out on top, 21½ - 20½, but the Golden Eagles won the overall title, 45½ - 41½, and claimed the trophy, an old milk jug painted blue on one half and red on the other.
The players already were looking forward to the 2021 Dairyland Duel.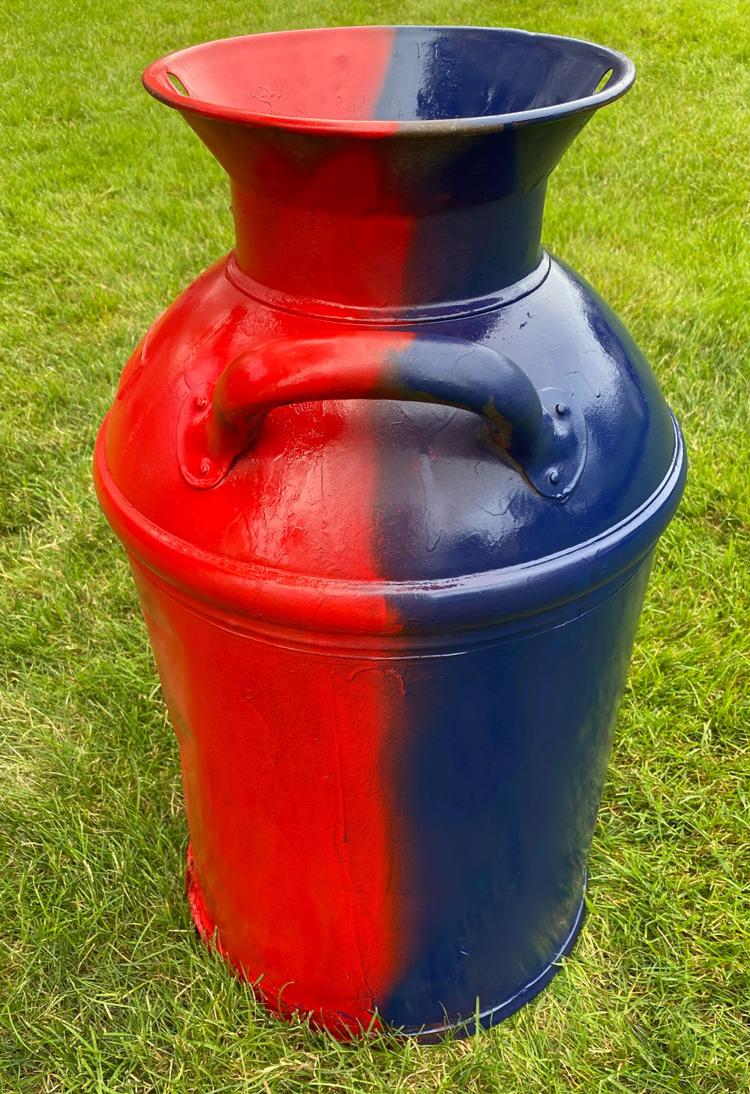 "Oh, absolutely," Keegan said. "I told Burcin yesterday I think this should be an annual event. Next year, once this (coronavirus) is gone, I think we'll get 35 guys on each team out here. I think the turnout is going to be better every year."
Said Sieg, a 2011 MU grad who lives in Chicago and works in the medical division of 3M, "It's genius. It's worked out better than I thought. It's cool to get this many people together, especially in the current circumstances this year. It's been a huge success and I hope they keep doing it."
There was just one point to settle. If a real-life badger and golden eagle fought, who would win?
"Badgers are known to be scrappy, tough and vicious," Hahn offered.
"The eagle would win, no doubt about it," Schwab said. "We're originally Warriors."
Countered Jones, "I think the golden eagle would just fly away because it's scared."
Stay tuned for the rematch.