It's too bad the golf carts and players won't be miked and Charles Barkley won't be on hand to give and take some verbal abuse at the Dairyland Duel presented by Wisconsin.Golf.
If you thought The Match II was entertaining, with Tiger Woods and Phil Mickleson and their quarterback sidekicks talking smack and delivering surprisingly good golf, just wait until 48 former members of the University of Wisconsin and Marquette University men's golf teams go at it July 31 and Aug. 1 on the Irish and Meadow Valleys courses in Kohler.
It's a made-for-TV event, minus the TV.
"They certainly get along, but it's no secret that there will be some competitive juices flowing," said Marquette coach Steve Bailey. "The banter has already started."
The Dairyland Duel, a first-ever event featuring 24-player alumni teams, is the brainchild of Bailey and UW coach Michael Burcin, who despite running rival in-state Division I golf programs have been friends going back some two decades, pre-dating even their tenures as assistant coaches at South Carolina (Burcin) and Northwestern (Bailey).
This probably wouldn't work with, say, the basketball teams at the two schools. Too much water under that bridge. And it might not work with rival D1 golf programs in many other states.
"I don't think this would happen at most places," Burcin said. "Like where I came from, South Carolina and Clemson, you couldn't pay those guys to hang out together."
Golfers representing the Badgers and Golden Eagles often grow up competing against each other in junior tournaments and later, during college and then post-graduation, on the summer amateur circuit. Marquette has competed in the Badger Invitational and Wisconsin competes annually in the Marquette Intercollegiate at Erin Hills.
"There's such a tight network amongst our alums, and then Wisconsin does such a good job of running tournaments over the summer," Bailey said, referring to the Wisconsin State Golf Association, the Wisconsin Public Links Association and the Wisconsin PGA Section. "These guys, even after their time is done, they continue to compete against one another and have built strong relationships."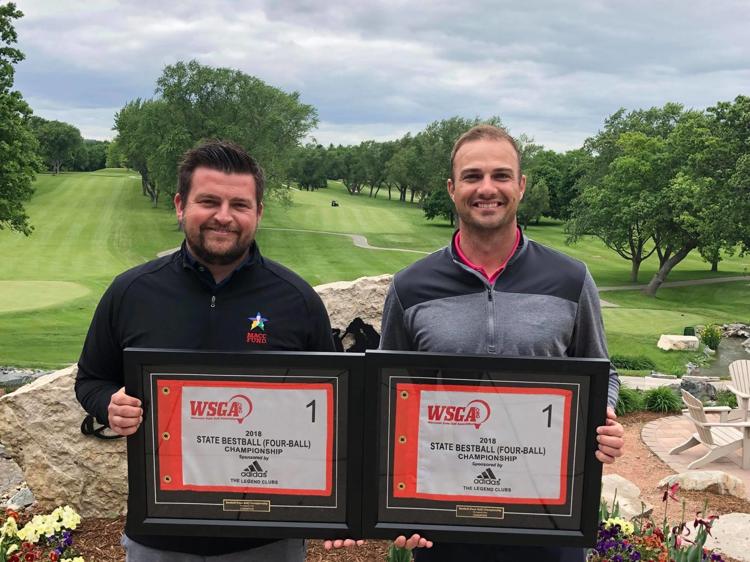 Bailey and Burcin started talking about an alumni event a few years ago and it finally came together. Former MU player Michael Bielawski and former UW player Garrett Jones, close friends who roomed together in Florida as young minitour pros – both have since regained their amateur status – helped recruit alumni. Both are volunteer assistant coaches at their respective schools; Bielawski, now director of development at the MACC Fund, is a former full-time assistant at Marquette.
"We've got to thank Garrett and 'Bielo,' " Burcin said. "Those guys are really good friends. Bielo is a good friend of mine and Garrett and Steve are buddies. Those guys are kind of our boots-on-the-ground guys. They're making phone calls and outside of our emails and texts they're kind of pushing guys. They've been helping us a ton.
"I think it's awesome. Steve has always had great kids since I've been here. We've had really good kids. They all get along. Steve and I are super fired up."
Burcin said he already had firm commitments from 14 alumni and another half-dozen or so are trying to sort through family vacations and travel plans. Bailey said he had about 20 player commitments and "it won't be an issue at all to get to that number (24)."
Most of the alumni live in the Midwest, but former Badger C.J. Brock is flying in from Dallas and Bailey has players coming from Florida and Tennessee.
The tournament will be a match-play event, but the format has not been finalized. Bailey said the two 18-hole rounds could be broken down into four nine-hole matches.
"We want to keep it interesting," he said. "We're throwing out some ideas. Maybe a scramble to start and then a best-ball, alternate shot and maybe singles matches on the last day. We're just kind of throwing some things out. I don't think anything is out of the question here."
Both coaches said they would like to see the Dairyland Duel become an annual event. They'll come up with a traveling trophy – "maybe a milk jug," Bailey said with a laugh – that the winning team would keep for a year.
"There's a lot of excitement from both sides," Bailey said. "I hope it's something that we continue to build upon and get some more excitement around it. I don't see why we wouldn't do it every year. Get these guys in a competitive mode and throw their school colors on again – it's like the glory days, right?"