MADISON – Robbie Morway wasn't going to give an inch.
It didn't matter that across the ping-pong table from him was Giannis Antetokounmpo, the Milwaukee Bucks' first-round draft pick, 18 years old and raw as uncooked steak on the basketball court but already exhibiting the fierce competitiveness that would make him a household name in the NBA.
David Morway, Robbie's father and then the Bucks' assistant general manager, had invited the rookie over for dinner. Imagine how it must have felt for Antetokounmpo, who was raised in poverty in Greece and only a few years earlier had been selling trinkets in the streets of Athens, to be dining in what must have seemed to him a palatial home in Mequon, Wisconsin.
Stranger in a strange land, indeed.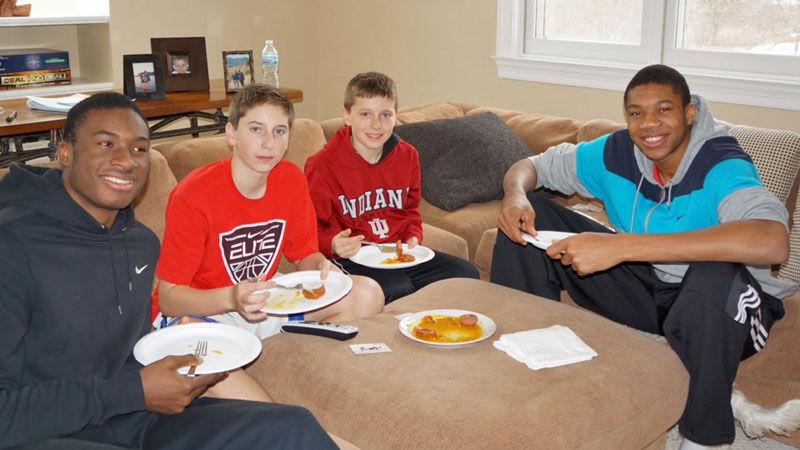 But once he and Robbie, then a freshman at Homestead High School, retired to the basement to play ping-pong, Antetokounmpo was in his element. And Robbie, equally competitive, wasn't going to go down without a fight.
"I hate losing. I hate it," Morway said. "We would be yelling at each other. He would score a point and he would be screaming, 'I was born for this!' It was great. We hit it off."
For several months, it was a Sunday evening ritual. Dinner at the Morways. Hotly contested ping-pong battles, punctuated by trash talking, afterward.
What Robbie learned from Antetokounmpo, and from other NBA players he was around – his father was the Indiana Pacers' assistant GM before he came to the Bucks and now works in the same capacity for the Utah Jazz – would serve him well as he progressed from junior golfer to high school star to the University of Wisconsin, where he is a redshirt junior on the golf team.
"To play at a professional level, your commitment and your mindset has to be at a crazy high level because you are a professional at what you do. That's your job," Morway said. "Seeing these guys, the way they handle themselves on and off the court and also just throughout their daily life, has taught me and showed me what I need to do to be able to achieve the things I want to achieve."
For Morway, the road has been far from easy. He's had to overcome an injury history and surgeries to both hips, and after a 9½-month rehab and recovery his return to competitive golf was further delayed by the coronavirus pandemic.
He is just now starting to fulfill the promise he showed as a junior golfer. In early February, Morway played in his first collegiate tournament in 17 months and won the deciding match against Purdue in a 3-2 Badgers victory in the Big Ten Match Play. He went 1-3 overall and will play as an individual starting Sunday in the Hootie at Bulls Bay in Awendaw, S.C.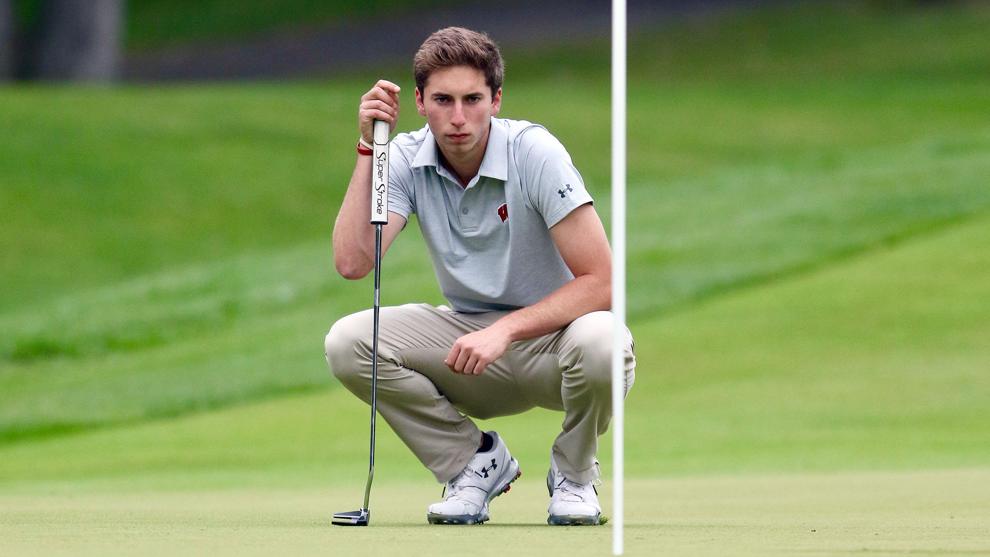 "I felt he played a lot of good golf in the match play," said UW coach Michael Burcin. "Just around here, he looks different – really, like somebody I don't think any of us have seen, because he hasn't been healthy for four or five years. He's worked his butt off."
Morway's hips started bothering him in high school and Burcin knew there were issues when Morway showed up on campus, but the consensus was that he would work through them. Instead, the pain continued to worsen, to the point where Morway couldn't swing the club properly and had trouble walking 18 holes.
"As a junior, I think his ceiling was really high," Burcin said. "He had a really good short game. Obviously, his background with his dad, that's always a plus with being competitive. But when he came here what we started discovering was adjustments he needed to make in his game – controlling trajectory, hitting different shots you need to hit to be competitive at this level – he physically couldn't do it. I can't tell you how many evenings we spent on the range and he's like, 'Coach, I just can't move that way.'"
After playing in just two tournaments as a freshman and averaging 78.5, Morway decided to have surgeries on both hips in the fall of his sophomore year. He had the left hip done in October 2019 and the right six weeks later.
"I had torn labrums in both hips and then they shaved down the bone in both hips so they could move (properly)," he said. "It took me a lot longer than I thought to come back from those. Not only the therapy, but just re-learning how to play the game, how to hit shots and score.
"I think the labrum stuff was overuse and kind of the body protecting itself against bone on bone. My body, the way my hips were structured, was not really meant to move for a golf swing genetically."
During his redshirt year, Morway was still a member of the UW team, but rehab was a lonely process. He wasn't traveling with the Badgers. He could only commiserate over losses and celebrate victories from afar. It's not nearly the same as being there, in the heat of the battle, with your friends and teammates.
"There were some dark days, but I trusted our training staff," Morway said. "Jen Sanfilippo (the athletic trainer for the men's and women's golf teams), I've got to give credit to her. She helped a lot through it all. I just stayed trustful that if I was doing the right stuff that eventually I would get back. I think that's what kind of allowed me to get through it all.
"There were definitely days where there were doubts, when I was really struggling, but I just kept pushing forward. I think that's the only thing I could do. I was never going to quit or say I couldn't do it. So I just tried to stay focused and trust that I would get back and be even better."
Burcin was impressed with Morway's attitude through it all. Perhaps being around NBA players, who must push through injuries, rubbed off on the golfer.
"One thing I will say, he's never complained," Burcin said. "He's never bitched about anything. He's never had anything negative to say about a teammate, or a decision we've made, or the bad deck of cards he was dealt for a while. I think that's partially tied to being around who he was around growing up. And I think there's also an appreciation for just being able to do this now."
Morway's game is still a work in progress but he is seeing improvements nearly every week. Recently, his swing speed with the driver maxed out at 121 mph on TrackMan. That is PGA Tour-caliber speed and would have been beyond his capability when he was hurt.
"It's nice to have that speed and that consistency back," he said. "Now I'm able to stay in posture through my swing vs. before when I would rotate and turn through, it would rub bone-on-bone so I would instinctively jump out of it. So, being able to stay in posture and stay down through the ball has helped my ball-striking.
"I think my game is trending in the right direction. I don't know if I'll be the best player I can be at the end of this year or if it will be at the end of next year, but every day I'm trying to stay disciplined and detailed about my progress towards getting better. If I can do that, then I think the heights I can reach will keep going up and up."
Morway said his only goal in college golf was for Wisconsin to win the Big Ten Championship and advance to the NCAA Regionals. In order to do that, the Badgers will have to beat perennial power Illinois, which has won five consecutive Big Ten titles (the tournament was canceled in 2020) and 10 of the last 11.
Can they do it?
"One hundred percent," he said. "We can beat Illinois. They're good, but I have no doubt with the guys we have on the squad and the culture we have that in a three- or four-day setting, we can beat them. I have this year and one more year to do it. Really, that's the only thing I have on my mind."