Piercen Hunt narrowed the list of colleges that he was considering to four by Sept. 1, took official visits to Texas A&M, Auburn, Vanderbilt and Illinois and Tuesday evening announced via Twitter that he will play for Illini in 2020.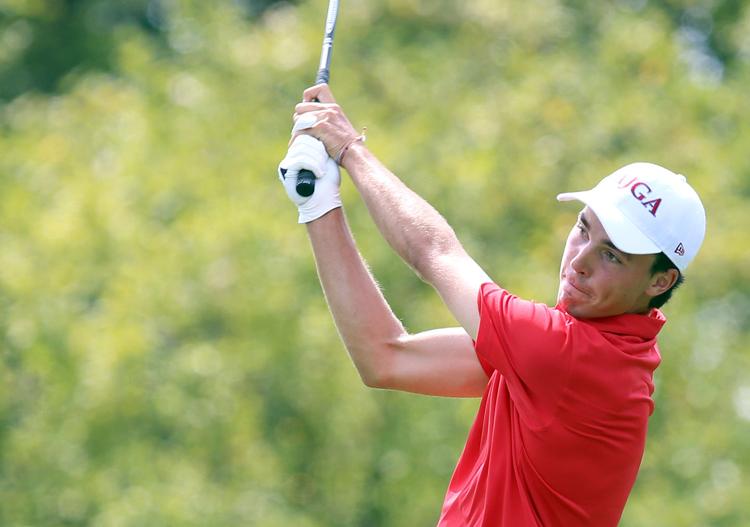 The Hartland Arrowhead junior — ranked 200th nationally and No. 55 in the Class 2020 by Junior Golf Scoreboard — has impressed high school coaches and fellow players with his poise and maturity in handling stressful situations, and that was reflected in how he made the recruiting process seem so quick and easy.
Two years ago, the then 15-year-old Hunt's only goal going into making the biggest decision of his young life was to make it fun. He went out of his way to make it informative, saying that he learned a lot about college golf from every coach who reached out to him.
"More-so than anything, I just tried to enjoy it as much as I could," Hunt said Tuesday night in a telephone interview with Wisconsin.Golf. "That was the advice I got from everybody pretty much from the start, even the (college) coaches. They were really understanding of the situation of (me) being a 15-year-old and trying to make the decision of picking a college. Over the last couple years, I feel I've grown a lot as a person. I credit that a lot to every single coach and every single program that I've been in contact with. Every school I talked to has brought me one step closer to my goal of playing (NCAA) Division I golf and, hopefully, playing on the PGA Tour."
Hunt, the first golfer ever to win WIAA Division 1 state titles as a freshman and a sophomore, is the third high-profile Wisconsin high school golfer to make Illinois his college home. He didn't seek out Illini alums Steve Stricker of Edgerton or Charlie Danielson of Osceola for input on the program and coach Mike Small — Stricker's college teammate and Danielson's college coach — but he did lean on some informed sources for input in making his decision.
According to Hunt, he reached out to former Mequon Homestead golfer Jordan Niebrugge and his father, Rod, as well as Les Wilson — the father of PGA Tour golfer Mark Wilson of Menomonee Falls — for advice on how to find a college golf program that can serve as a springboard to professional golf. Niebrugge, arguably the last Wisconsin golfer to command the kind of recruiting attention that Hunt did, attended Oklahoma State, was low amateur at the 2015 British Open and last week qualified for the final stage of Web.com Tour Qualifying School; Wilson went to North Carolina and has spent 16 seasons on the PGA Tour.
"I've relied on other mentors, people a little closer to me," Hunt said. "They have gone through similar processes or just have other experiences in other sports or the business world. I sat down with them many times and talked through different situations and how I should handle different opportunities or situations that might happen in my own life. That's been a big part of me getting to where I am now. It's been a big help to learn from what other people have to offer, as far as successes and failures in their own lives."
They helped Hunt realize that Illinois felt "like a really natural fit" once he returned from his official visit to the Champaign campus last weekend.
Not only have the Illini won the last four Big Ten Conference championships and nine of the last 10, they have made 11 consecutive NCAA Tournament appearances, including a runner-up finish in 2013. Six Illinois golfers have combined to win the last eight Big Ten individual championships and nine golfers have combined to earn 22 All-American honors since 2009 under Small, who had three top-10 finishes himself in seven starts this year on the PGA Tour Champions.
"He talked to me about golf, he talked to me about his philosophies and the way he runs his team," said Hunt, the 2018 Wisconsin PGA boys golfer of the year and reigning Wisconsin State Golf Association Junior champion. "It all made perfect sense in my mind and it's something, under that sort of system, I can really see myself thriving in. I've been in contact with him for over a year now and the entire time it's been getting to know each other a little better each and every day. It's gotten to the point now where I've made my commitment and we're only going to get closer until I leave (Illinois) in six years' time."
Hunt, who is leaning toward being a business major, was as impressed with what he saw from the Illinois campus academically as he was athletically.
"Illinois is a really great academic institution," Hunt said. "I want to get a great education that no matter what, if the golf doesn't work out, I can lean back on that and pursue a career elsewhere. ... The campus is laid out great for athletes; everything is so close together from the weight room to the facilities being just off campus. It seemed like the right fit, just walking around campus with the coaches and getting for a vibe for how that would all play out if I were to go there and, sure enough, that's how it ended up."