ERIN – It isn't always pretty with Hunter Eichhorn. His swing is self-taught, his driver gets him into trouble from time to time and he doesn't always play holes the way they're drawn up.
What the Marquette University junior has, though, is far more valuable than by-the-book mechanics. He is ultra-competitive, has unshakeable faith in how he goes about it and grinds so hard you can practically feel the intensity from the next fairway over.
Those qualities were on display at the Marquette Intercollegiate at Erin Hills, where Eichhorn closed with an even-par 72 and was co-medalist in the 12-team tournament Tuesday. The product of tiny Carney, Mich., finished at 7-under 209 and tied South Florida's Luke Gifford.
Photos: Badgers, Golden Eagles compete during Marquette Intercollegiate's final round at Erin Hills
Eichhorn, the Big East Conference champion as a freshman, now has four collegiate medalist or co-medalist finishes, including two in the Golden Eagles' last three tournaments.
"He just seems to rise above when he's tested," said Marquette coach Steve Bailey. "That's what you want out of your horse. I'm proud to see him just compete. At times he didn't have his best stuff this week. That's what I love about him. He continues to find a way.
"That's kind of his game, you know? It's not always going to look pretty. It's definitely not a beauty contest for him. He embraces that. That's what makes him such a good player. He just loves being in that moment. He turns it up a notch when he's faced with a little adversity. He just knows that, hey, I've just got to figure out a way to get it done. And more often than not, he does. It's impressive."
Unfortunately, Eichhorn couldn't carry the Golden Eagles on his back. He needed help and didn't get much in the final round. On Monday, MU raised hopes for a top-three finish by shooting 4-under 284, but a final-round rally fizzled after a fast start. Marquette was 5-under through seven holes but played the next five holes in 11-over and tumbled to a 5-over 293 and a ninth-place finish.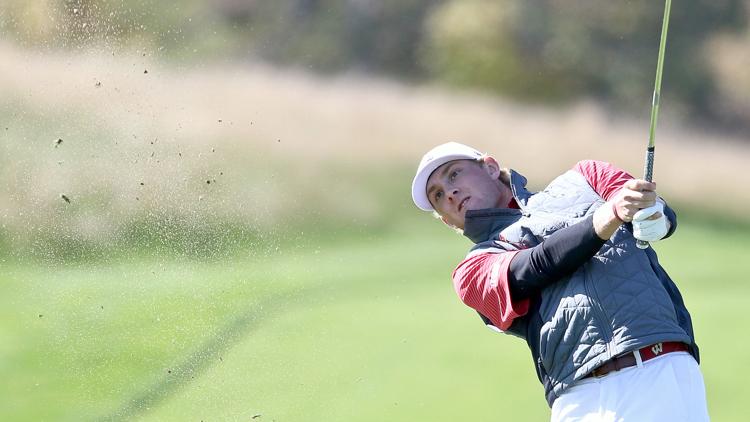 Sophomore Tyler Leach and senior Matt Murlick tied for 40th place, but freshmen Josh Robinson and Bhoom Aree-Sima didn't crack the top 60. For the week, the Golden Eagles played the par-5s in 4-over.
"We've got some growing to do," Bailey said. "We've got to make some better decisions. We can make a lot of birdies, and we've done it every event we've played in this year. But too many mistakes. … Those non-penalty doubles, even a triple today (by Leach on the par-5 18th), it's deflating. It takes a lot of wind out of the sail and it's tough to battle back from those.
"You hope when you have a week where a guy wins that you get somewhat of a supporting cast, but it was just spotty. We'll try to turn it around in a couple days and get back at it (next Monday and Tuesday at the Crooked Stick Collegiate)."
Purdue finished at 855 and held off defending champion Northwestern by two shots to win the team title. The Boilermakers' comeback was impressive, given that they were two shots out of last place after the first round. They shot a combined 22-under over the final two days.
"We knew everything was bunched up and we had to kind of stick with the same game plan that we had," said coach Rob Bradley. "We were capable of making a lot of birdies, so just keep plugging along. We finally got things going in the second round and just kind of continued all the way through today."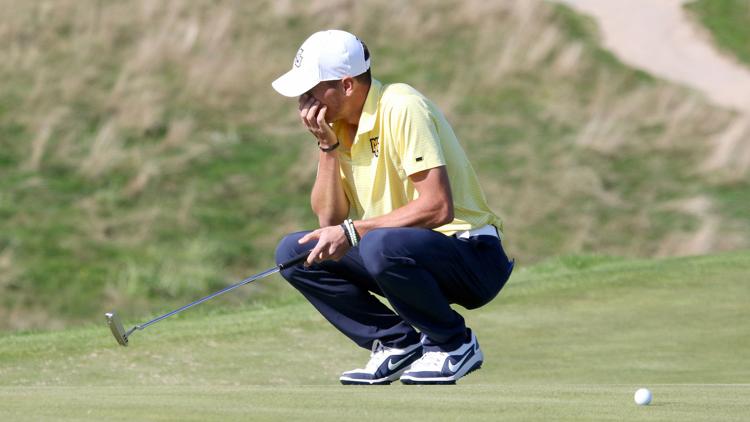 No player better epitomized Purdue's turnaround than junior Jason Hong of Australia, who bounced back from an opening 83 with rounds of 69 and 68.
Northwestern finished at 857 on the strength of a 13-under 275 in the final round. UCLA finished third at 859. Marquette was ninth at 879 and Wisconsin was 12th and last at 893.
Junior Sam Anderson continued his strong play for the Badgers, however, closing with a 73 and finishing T-19 despite playing a three-hole stretch in 5-over.
Eichhorn, the reigning Wisconsin State Amateur champion, came to the par-3 ninth hole, his 18th, with a one-stroke lead over Gifford but his tee shot stood up in the wind and his ball drifted into a greenside bunker. He blasted out to 7 feet, but his par-saving attempt hung on the lip.
"I hit a really good putt," he said. "It just broke a little bit more than I thought it would. But I'm happy with how I played today. Erin Hills is a place that's pretty special. I really like this place a lot. This is a tournament I definitely circle on the calendar every year and to be able to be medalist, it's pretty special. I'm pretty happy."
---
Team/Player Leaderboard
Erin Hills Golf Course - 2019 Marquette Intercollegiate Par: 72 Yardage: 7515
Hartford, WI US
Individuals
| | | | | | |
| --- | --- | --- | --- | --- | --- |
| Pos. | Player (Team) | Rd 1 | Rd 2 | Rd 3 | Total |
| 25 | Connor Polender (Liberty ) | 75 | 71 | 73 | 219 |
| T26 | Natheethorn Teacharuangchit (UC Davis) | 80 | 72 | 68 | 220 |
| T35 | Yannick Artigolle (Northwestern) | 77 | 73 | 72 | 222 |
| T45 | Cameron Frazier (Wisconsin) | 74 | 72 | 78 | 224 |
| T47 | Cole Castro (South Florida) | 77 | 75 | 73 | 225 |
| T53 | Peyton Snoeberger (Purdue) | 78 | 76 | 74 | 228 |
| T53 | Matthew Bachmann (Marquette ) | 80 | 75 | 73 | 228 |
| T57 | Aidan Lafferty (Marquette ) | 74 | 72 | 83 | 229 |
| 62 | Joey Wiseman (Ball State ) | 85 | 73 | 72 | 230 |
| T68 | Cam Solomon (Miami University(OH)) | 81 | 79 | 76 | 236 |
| 71 | Rory Feng (UCLA) | 84 | 77 | 77 | 238 |
| 72 | Drew Giacchetto (Indiana ) | 0 | 78 | 77 | 155 |