Bill Murray, aka Carl the greenskeeper, has got nothing on Matt Polivka.
This unknown, comes out of Muskego, leaves an NAIA program to play on the club team at Grand Canyon University, makes the unprecedented jump to the school's Division 1 team, named all-WAC after finishing top-10 in the conference tournament …
"The way I kind of describe the story is that it's almost as if it's a Cinderella story," Polivka says. "I was just a kid from Muskego, Wisconsin, who wanted to play golf at the highest collegiate level."
Polivka, 22, recently graduated from GCU with a Bachelor of Science degree in marketing and advertising. He majored in perseverance and minored in grit. He never let anyone tell him he wasn't good enough to play Division 1 golf. He just put his nose to the grindstone and his wedge to the turf and proved them wrong.
"It's a really, really unique story," says GCU coach Mark Mueller. "It doesn't happen that often."
Like, never. Polivka is the first golfer to go from the club golf team at GCU to the Division 1 program. Not only that, but in his only semester of competition, he had two top-10 finishes in five starts this spring and was one of the Antelopes' best players.
"To be honest with you, I couldn't have predicted it," Mueller says. "The thing that I've learned as a coach – next year will be my 10th year – is you can never count kids out until you actually give them a chance. To Matt's credit, he kept plugging away. I think he must have known that he'd get his chance at some point and he took advantage of it. He deserves all the credit in the world."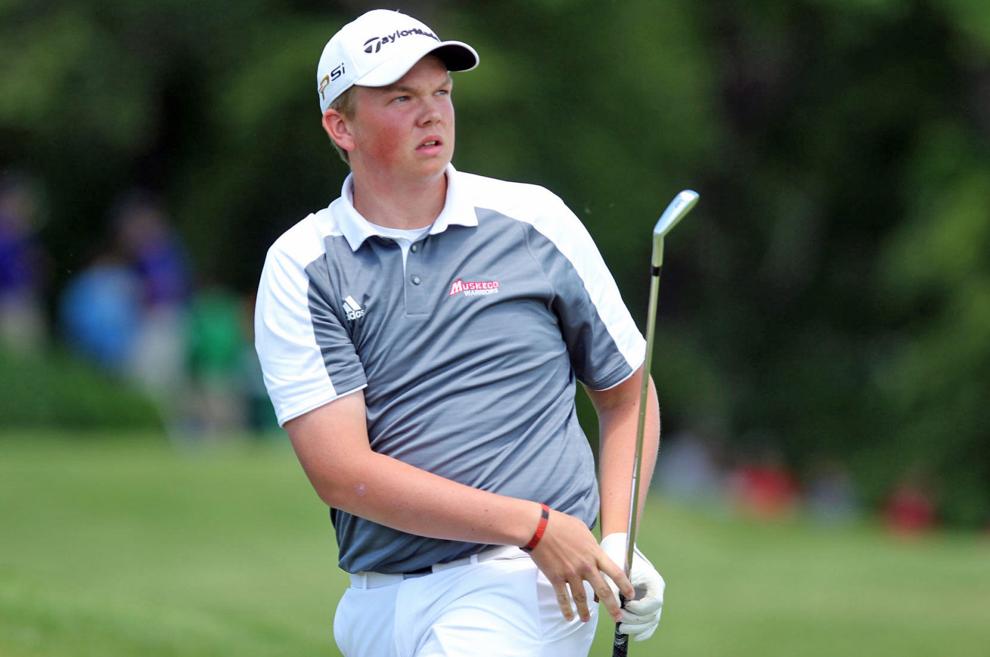 Polivka didn't start playing competitive golf until his freshman year at Muskego High School. His dad, Steve Polivka, taught him the fundamentals but Matt never did – and still doesn't – have a true swing instructor. He wasn't heavily recruited and accepted an offer to play at Cardinal Stritch University, an NAIA program.
In the back of his mind, though, he believed he was good enough to play at the Division 1 level, and when Stritch cut back on its tournament schedule, a frustrated Polivka decided to transfer. He wanted to go somewhere warm, to a place where he could work on his game year-round. He picked Grand Canyon University in Phoenix.
"He called one day and said, 'I don't want to stay (at Stritch) anymore. I'm going to go to GCU,'" Steve Polivka says. "And I'm like, 'Where's that?'"
Matt had emailed Mueller, who invited him to team tryouts. Polivka had one round to prove himself. If he could shoot even-par 71 on the GCU Championship Golf Course, he could continue in the multi-round tryouts. He shot a 72.
"I made a late bogey in my round, on 17," Polivka says. "I remember it vividly. I had to eagle the 18th hole to shoot even-par and I birdied it. It wasn't enough. The assistant coach at the time said, 'Play club golf, work on your game, be out here all the time, practice, and we'll go from there.'"
That's what Polivka did. He practically lived at the GCU course when he wasn't in class. He joined the club team and flourished. In a tournament at the Ken McDonald Golf Course in Tempe, he shot a 77 in the first round and came back the second day with a 64.
"A 13-shot turnaround overnight kind of jump-started me," Polivka says. "It made me realize I was a different kind of player than I was when I tried to walk onto the team."
He wound up placing sixth individually at the 2018 National Collegiate Club Golf Association Fall Nationals and third at the 2019 NCCGA Spring National Championships.
"From the time he came to the club team, I could tell that he wasn't going to be here long," says GCU club coach John Wasson. "His skills were sharp, and he was determined to make it to the D1 level."
Back home for the summer of 2019, Polivka reached the semifinals of the WSGA Match Play Championship and shot a second-round 67 in the Wisconsin State Open, tied for low round of the day with eventual winner Dan Woltman and runner-up Patrick Stolpe.
"It was actually after that 67 that Coach Mueller called me," Polivka says. "I didn't have his number in my phone. I had never really had much contact with him. I saw the phone ringing and I looked at it and saw it was a Phoenix area code. I didn't think anything of it. I actually thought it was someone from the school making sure I was coming back for my junior year.
"I answered the phone and he said, 'Is this Matt?' I said, 'Yeah, who is this?' He said, 'This is Coach Mueller from GCU.' We had a nice conversation and he asked me if I wanted to play on the team. I said, 'Yeah, absolutely. That's what I've wanted to do forever.'"
Polivka didn't break into the lineup in the fall of 2019, and the 2020 spring season was wiped out by the coronavirus pandemic.
"Right around our home event that spring, that's kind of where I was hitting my stride," he says. "The coaches told me, 'Hey, if you play well in our home event, we're going to take you to the next one and ride you as long as we can.' I was like, OK, awesome.
"We were playing our practice round for the home event and we played one hole and then everything was shut down. People were leaving. Teams were told to go back home. We didn't know what to do. We were in disbelief that we weren't going to have a season."
Polivka didn't qualify in tryouts to play in the Lopes' first two tournaments this spring, but the redshirt senior finally got his chance in early March at the Bandon Dunes Championship. Playing as an individual, he shot 76-72-82 in his first D-1 event and tied for 72nd place.
"I watch kids pretty closely when they play in their first Division 1 tournament," Mueller says. "For most of them, you can expect them not to play very well. They're pretty nervous. It's a big stage for them. But I was really, really impressed with how Matt went about his business. He wanted to rise to the occasion which, to me as a coach, says a lot about what you have inside."
After that, there was no stopping Polivka. He shot 72-71-70 to finish T-6 at the GCU Invitational, then shot 72-72-75 at the Wyoming Cowboy Classic (T-52) and 77-72-67 at the Hawkeye Invitational (T-19).
At the Western Athletic Conference Championship, he shot 69-73-72, tied for seventh and was named to the all-WAC first team (he finished with the league's second-best scoring average, 72.8).
The WAC tournament, however, left a sour taste in his mouth. Had he made a 15-foot par putt on the final hole, the Antelopes would have tied New Mexico State for first place and played off for the right to advance to NCAA Regionals.
Polivka left the putt inches short, right on line, and New Mexico State won the title, 856-857.
"It broke me down," he says. "That was the lowest moment I had all year. It's something that everyone dreams of, to have the putt to tie to go into a playoff. And I just missed it. It kind of sucked. I could see how much it hurt my teammates. I still think about what that moment would have been like. The excitement would have been unbelievable.
"There's nothing I can do about it now. It's something that you have to move on from. It just makes you want to get better, because I don't want to ever have that feeling again."
That one putt aside, Polivka's journey from an unheralded high school player to one of the best players in the WAC can serve as a road map for players who might be overlooked but have an unshakeable self-belief and the work ethic to get where they want to go.
"His determination, his drive to get where he is, is amazing to me," says Steve Polivka. "He set a goal and he got it. I'm proud of him for his determination and how hard he works on his game. I would say he's 100 percent about the golf game. Yeah, he's a special kid."
Polivka plans to stay in Phoenix for most of the summer and work on his game, though he will come home for the WSGA Best-Ball and the State Amateur. Then he'll return to GCU this fall; he has two years of eligibility left because of the COVID year, but probably will use just one.
After that, if he continues to improve, he'll take a shot at playing professionally.
"It's been kind of a really cool journey that I think very few people have been on," he says of his progression as a golfer. "Looking back on it, I don't think I would want it to have gone any other way. I wouldn't really change anything. I think it's made me the golfer that I am today. I know that everything I've done is something that I've earned and I've worked for. That's the most rewarding part."