As she reflected on what many would assume to be her signature moment of 2021, Grace Suter believes she might have taken the first step toward shaking the haunting memory of that moment and making 2022 a year to remember.
That's not to say 2021 wasn't full of memories and full of growth on and off the golf course as Suter moved ahead of Jo Baranczyk of Green Bay into the top spot in Wisconsin.Golf's final ranking of the girls Class of 2021 after they shared the No. 1 ranking in 2020. Grafton's Elise Hoven moved up a spot into a share of No. 2 with Baranczyk, her teammate at North Dakota State. 
After taking a gap year-and-a-half following her December 2019 graduation from Oconomowoc High School and reclassifying into the Class of 2021 as it related to recruiting, Suter returned to the classroom this fall at Loyola University in Chicago and enjoyed a solid start to her collegiate career with the Ramblers. It followed a spectacular summer highlighted by her runner-up finish in mid-June in the Wisconsin State Women's Open on the Links Course at the Golf Courses of Lawsonia, where she lost in a two-hole playoff to South Dakota State golfer Mia Seeman of Milton.
Or was it a highlight? In sharing her thoughts in an email interview with Wisconsin.Golf, Suter admitted it was hard to shake the memory of making double-bogey on the final hole of regulation, even though she had made back-to-back birdies at Nos. 15 and 16 to take a two-stroke lead and almost holed a bunker shot on the second playoff hole that would have extended the playoff.
"To be completely honest even though it was my best performance this summer, my confidence definitely was diminished," Suter wrote. "Whenever I'd play I would just think about how I ended that round and then I'd end up making a bigger number coming in. Thinking about it as I'm writing to you, that Wisconsin Open is probably one of the main reasons that I've been finishing my rounds so poorly.
"I think you just asked a question that has opened my mind to one of my mental blocks. Wow. ... I have never said that out loud, but I think I just admitted why I cant seem to finish my rounds recently."
They say the first step to solving a problem is admitting to one, and if Suter played the final four months of her competitive season with that weighing on her mind, there's no telling what's in store for her once the calendar hits 2022.
As it was, Suter finished off the summer with top-10 finishes at the Wisconsin Women's State Amateur at The Legend at Merrill Hills CC in Waukesha (T-10) and the Badger Mutual Insurance Women's Amateur at Brown Deer Park GC in Milwaukee before teaming with her father, Vince, to share the title at the Wisconsin State Father-Daughter with Abby and Jay Cavaiani and Katelyn and Joe Walker. She finished ahead of Baranczyk and Hoven at both the Women's State Open and Women's State Am.
Wisconsin.Golf's final annaul ranking of the year's graduating class, however, evaluates golfers on their summer performance combined with impact and performance during the first semester of their freshman season of college golf. 
Suter made an immediate impact this fall at Loyola. She had her score count in all 11 rounds she played in the four events on Loyola's fall schedule. Her 77.7 scoring average was just a shade behind Hoven (76.92 in 12 rounds) and Baranczyk (77.5 in six rounds). Her Ramblers team ranked No. 212 out of 259 NCAA Division I women's golf programs under coach Carly Werwie — a former University of Wisconsin golfer from Kenosha — with two freshmen and a sophomore in the five-player lineup.
"Coming back to school was a tough transition after a year and a half of just playing golf, but I got back into my groove," Suter wrote. "Playing college golf is a whole new level of golf. I knew going into it that it was 36 the first day and 18 the second. However, when you factor in the three- to five-hour van rides plus walking the practice round as well and having to do homework, too, I was absolutely drained.
"The practice is also intense, which I actually prefer. ... It was pretty similar to my own practice routine. However, practice and school and workouts combined is a big grind. I had to be on top of everything so my love of procrastination unfortunately ended."
Suter hasn't been able to play much golf while at school since the end of October, when the weather in the Chicago area started to become challenging. She was looking forward to joining her family in Lake Mary, Fla., for some rest, relaxation and, of course, a little golf over the holidays
"When I went down to see my family over Thanksgiving, the amount of pure joy I felt just to see the ball fly in the air was overwhelming," Suter wrote. "Taking a step away from golfing all day, everyday has made me appreciate what the sport truly is. I have a tournament over Christmas break and I'm excited to see what I can do and how I play. I know the course pretty well and I'm pumped to be playing again.
"My goals for college golf are pretty lofty but they will also give me something to strive for. I walked in this fall with new expectations or goals and now that I see where I stack up against everybody and the teams we play I have been able to evaluate what my goals should be."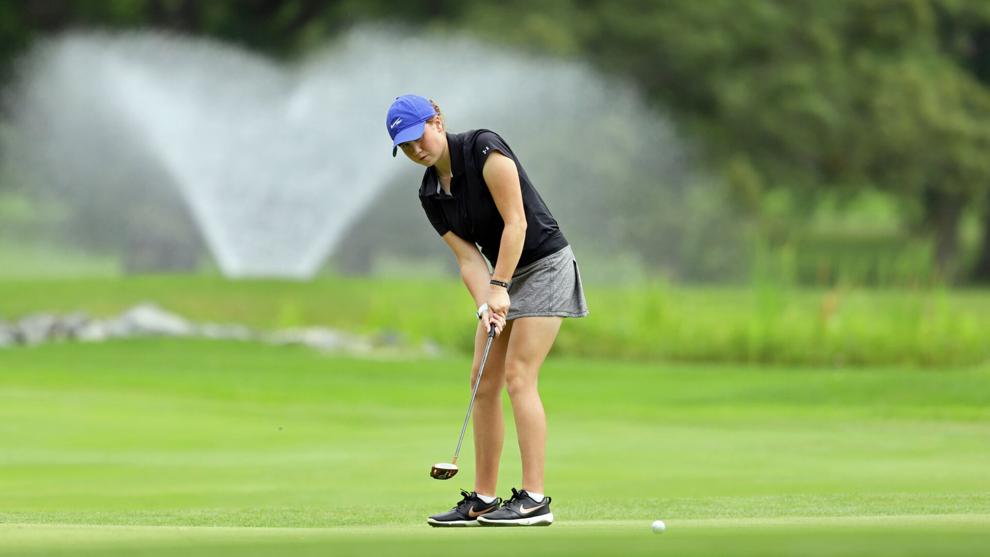 Likewise, Baranczyk and Hoven, who have long set the bar high for in-state golfers who graduated in 2021, had to be careful not to set the bar too high at the outset of their North Dakota State careers. However, they didn't waste any time making an impact for the Bison, either.
Hoven, whose score counted in eight of the nine rounds she played competing in the top five for the Bison (ranked 138th by GolfStat), shot 73-75-76 in her collegiate debut at the Jackrabbit Invitational in Brookings, S.D., to finish tied for third at 224, tops on the team. Baranczyk, who didn't break into the lineup until the third of NDSU's four fall events, shot 79-72-79 in her debut at the Stampede at the Creek in Elkhorn, Neb., and had her score count all three rounds as the Bison (899) topped Creighton (908) for the team title.
"I was super excited to play and have the opportunity to help the team this fall," Hoven wrote in a text message interview with Wisconsin.Golf. "Leading up to leaving for college, I put in a lot of work at home and then once I got to campus. Admittedly, I really struggled with my swing at the end of September and when we had qualifying for the Omaha tournament, the third event of our fall. I reverted back to some old habits but Coach (Matt) Johnson was a big help for me through that issue. It was a big adjustment and learning opportunity for me to fix a swing problem based on what I knew about my swing and my tendencies."
Likewise, Johnson had to help Baranczyk through some bumps in the road competitively once she got to Fargo.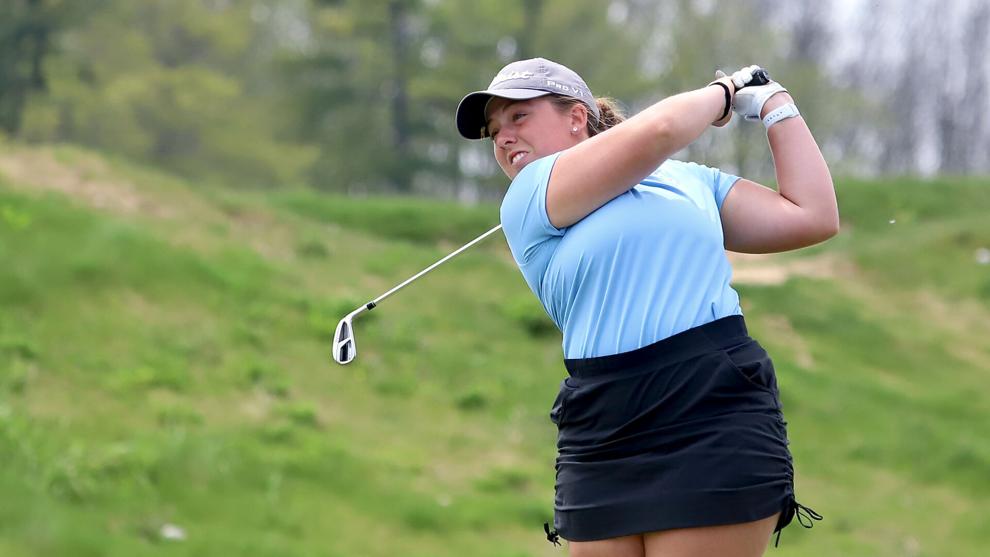 "I was disappointed in my performance for most of the year," Baranczyk wrote in a text message interview with Wisconsin.Golf, saying she was disappointed she didn't capitalize on the momentum of winning her third WIAA state championship during the historic alternate season that wrapped up in May. "It was a lot of fun to have that last season of high school even though it was an alternate season. This past summer my golf definitely was not at where I had hoped it would be, and this continued through my first couple college qualifying rounds.
"My coach and my teammates helped me get more comfortable out on the course and to have some fun with golf as well. That showed in my game, if not the scores toward the end of the season."
In the end, Baranczyk and Hoven, who have always enjoyed chasing each other at the top of their class, enjoyed having Suter to chase the past two summers. She added depth to a class in which No. 4 Caylie Kotlowski of Stoughton (77.9 in 14 rounds) and No. 5 Paige Hillman (80.8 in 11 rounds) made similar impacts at NCAA Division I UW-Green Bay and Division II Sioux Falls (S.D.), respectively.
"I have known Grace for what seems like forever, and what she has done in the past two years is really amazing," Hoven wrote of Suter, who went from someone indifferent about playing college golf to finding a true passion for the sport after 18 months at the Mike Bender Academy in Lake Mary, Fla. "Our class has a lot of talent and, even better, many girls are capitalizing on it and playing in college. I saw Caylie at the South Dakota State Invite in Brookings and it was just so cool to see each other and catch up about the first few weeks of college. Especially with the impact of the pandemic on recruiting, it's nice to see everyone find their fit."