With its fall tournament schedule canceled by the coronavirus pandemic and the Big East discouraging golfers at its member schools from participating as individuals in other amateur events, this could have been a forgettable semester for Marquette University's golf team.
Once the Golden Eagles got over their disappointment, however, they got to work.
Coach Steve Bailey treated practice rounds as if they were tournaments, requiring his players to wear their uniforms. The golfers got to play Whistling Straits, Sand Valley and Erin Hills. The team took a trip to the Upper Peninsula, passing through senior Hunter Eichhorn's hometown of Carney on its way to play Sage Run and Sweetgrass at the Island Resort & Casino.
"We were supposed to play a tournament up there this fall and Hunter was really excited for all the guys to go there," Bailey said. "Unfortunately, we weren't able to. So that was a fun experience."
The way the players handled the situation, with a strong work ethic and without complaint, impressed their coach.
"They were awesome," Bailey said. "I've been really impressed. These guys have been pushing one another, holding each other accountable. They've been running half-marathons on their own around campus. They've really ramped up their fitness.
"You've got a lot of people who are somewhat depressed about all that's going on in the world and these guys have been on the other end of the spectrum. It's been fun to be around them."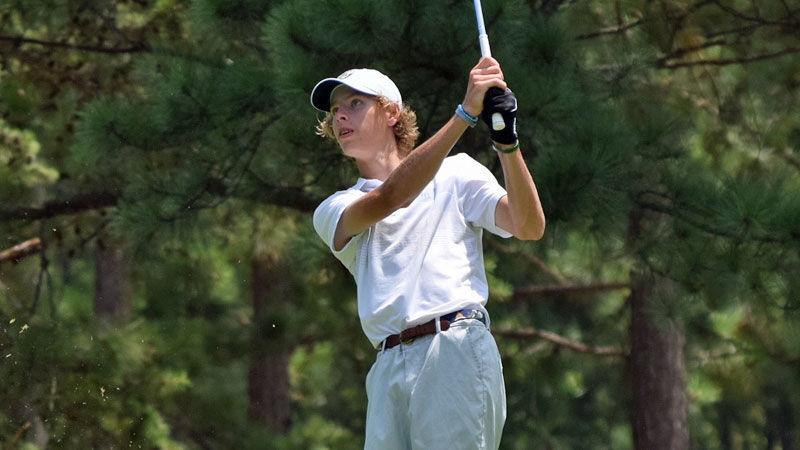 The team's ability to push through some initial frustration isn't the only thing that has Bailey excited about the future. Marquette announced last week that two highly ranked juniors – Max Lyons of Peoria, Ariz., and P.A. Kilburn of Monroe, Ga. – have signed letters of intent to join the Golden Eagles for the 2021-'22 season.
Lyons, ranked No. 14 in the high school class of 2021 by Golfweek/Sagarin, is one of the highest-ranked recruits in program history. He's also No. 1 in his class of 680 at Sandra Day O'Connor High School and has been honored as a Scholastic All-American by the AJGA.
"Max is special, he really is, in every area of his life," Bailey said. "His ascension over the past year and a half or so, it's as good as anyone in the country in terms of the strides he's made in his game."
Lyons finished second at the Arizona Division 1 High School Championship with a score of 8-under 132 and was named Arizona's Boys' Player of the Year. He leads the country with five victories in nationally ranked tournaments this calendar year and has compiled a scoring average of 65.72 in those events.
"I chose Marquette because first and foremost it is a great academic institution," Lyons said in a statement. "On top of that, I have really enjoyed getting to know Coach Bailey. He has such a great reputation as a coach and a leader, and I can't wait to be a part of the championship program that he has built. I love the campus, and I think Milwaukee is just a great place to spend the next four years of my life."
The 6-foot-6 Kilburn is ranked No. 59 in the class of 2021 (No. 5 in Georgia). He placed in the top 10 at the GHSA Class AAA State Championships as both a freshman and sophomore; his junior season was canceled this spring. Kilburn also plays on the basketball team at Monroe Area High School.
"My goal has been to compete to win a national championship and to turn professional, and I know that Marquette will give me both of those opportunities," Kilburn said in a statement. "The facilities are going to allow me to take my game to the next level and practice as much as I want."
Kilburn is a two-time first-team all-state selection in Georgia and has won four Hurricane Junior Tour events in the last 18 months. Dallas Cowboys wide receiver Michael Gallup caddied for him at the 2017 U.S. Amateur qualifier at Columbine Country Club in Littleton, Colo.
"Max and P.A. have competed at the highest levels, and both in regions where the play is really competitive," Bailey said. "They've played on a regular basis against some of the top players in the country. The transition for them (to college golf) is going to be really smooth in terms of the caliber of play they've been accustomed to."
In the meantime, Bailey said he has been told he can start booking flights for spring semester tournaments.
"That was real promising news for us," he said.
The pandemic still could force the cancellation of some or all of those events, but Bailey is confident his players will be able to handle whatever comes their way.
"It's all what you make out of the situations that you face," he said. "I couldn't be prouder of the guys and the way they've handled it all. It's been inspiring to me."