Monday was the kind of day that Lee Reinke had yearned for since adding the roles of men's and women's golf coach at UW-Green Bay to a personal plate that was full long before that.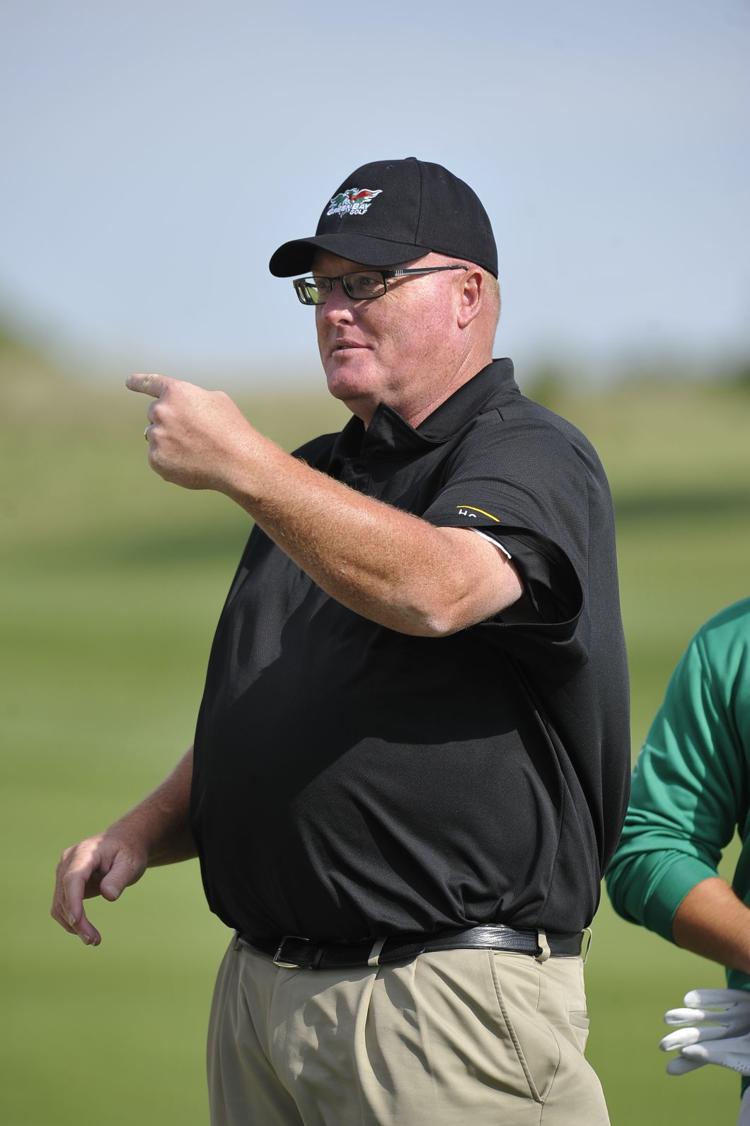 Reinke was in Des Moines, Iowa, with the Phoenix men doing what brings out in him perhaps the most competitive side of his booming personality: coaching golf and only coaching golf.
Effective this week, the school will allow Reinke to focus on his teams without the weight of previous responsibilities as assistant director of the University Union and Shorewood GC — the nine-hole golf course on campus — following him to every stop on the schedule. He told Wisconsin.Golf the change comes as Phoenix athletic director Charles Guthrie moves to make all head coaching positions at the school full time, a luxury at most major NCAA Division I schools, but not at mid-majors like Green Bay, where the absence of football revenue forces a more cost-conscious culture.
"It's very, very exciting," Reinke said in a telephone interview. "After 30 years in the retail world, running golf courses, it's going to be really a different lifestyle for me. But, boy, I'm really excited to fully give my time to the program and the team, doing things that I've been wanting to do for a long time as far fundraising, reaching out to alumni, … practice time. With all my other hats, there really was no (organized) practice. They all had to be self-motivated; I just didn't have the time to give. Now, that's not going to be the case … It's just a really good vibe going right now."
Of course, the positive vibe out of both Phoenix programs has been on the rise since Reinke took over the men's program on a full-time basis in 2015 and added the women's golf duties to his business card in 2016, becoming the director of golf for the intercollegiate programs.
The Green Bay men, who finished sixth out of eight teams in the Horizon League last spring, have had three solid recruiting classes since Reinke took over. In fact, all four classes have contributed in the four multi-day events the Phoenix have played this fall.
Junior George Kneiser is one of several examples of golfers who have seen their stars rise at Green Bay. Under-recruited out of Oconomowoc, Kneiser has seen steady improvement each of his first two seasons with the Phoenix and, this fall, is averaging a team-best 73.5 with four rounds below 70 with top-five finishes at the Murray State and Northern Kentucky invitationals.
"He had a pretty successful freshman year and got into the fall (as a sophomore) and didn't play very well, didn't qualify well and actually missed a couple of events," Reinke said. "He and I sat down over the winter break. I said 'Hey, you've got to come back and right the ship here and come back re-dedicated.' … To his credit, he came back 15 pounds lighter, … hair cut and clean-shaven. He was a different guy right off the bat.' Either I got to him or missing those events, which probably (meant) more, got to him. Ever since then, he's been playing great."
Phoenix golfers were a leaderboard presence at many amateur events in Wisconsin during the summer and, according to Reinke, the competition to get noticed has carried over to the fall.
"The cool thing is we've got all these guys who understand how good they are and they believe in themselves," said Reinke, who has five other golfers averaging between 75 and 76, a group ranging from true freshman Ryan Schuelke to Bennett Hutson, the lone senior in the top seven. "They are self-motivated. It's really exciting."
There is equal excitement on Reinke's part with what's happening with the women's program.
After back-to-back last-place finishes in the Horizon League in 2016 and 2017, the Phoenix finished fifth in the eight-team league last spring and followed up two solid recruiting classes with arguably Reinke's strongest yet. The group included Isabelle Maleki of Mequon Homestead and Courtney Matschke, giving Green Bay enough depth to redshirt the third member of that class — Lauren Shorter of Verona, recovering from knee surgery — and to give sophomore Ashley Kulka ample time to recover from an ankle injury she sustained over the summer.
"Obviously, we're a better team with her in the lineup," Reinke said. "At the same time, her health is what's most important. She has not been able to play yet and it's her timetable."
The positive to come from early-season health challenges has been the experience given a team with one junior, four sophomores and three freshmen. And they have responded well: Sophomores Lori Meyer of Berlin (80.0 stroke average) and Katie Warpinski (80.3) have led the way through the team's first four tournaments, and Maleki (82.2) and junior Alix Larson (83.7) have become fixtures at Nos. 3 and 4.
"We're young to begin with; no seniors on the team," Reinke said. "All these young players are getting to play. … It's exciting. Even last weekend at Oakland (University), where the scores were a little high (326-322) because the weather wasn't good it's pretty exciting when we finish fourth out of 12 (teams) and we finish ahead of four teams in our conference. It was a great van ride home. Both teams are trending in an upward direction and we're going to ride that out."
And now that Reinke to be in the driver's seat on a full-time basis? He couldn't be happier.
"I'm not complaining; I've enjoyed the golf side of the business immensely," Reinke said of his previous occupational juggling act, praising student union director Rick Warpinski (one of his assistant golf coaches and Katie's dad) for allowing him to wear the many hats he did.
"He's been fantastic the last four years, allowing me to do both jobs — the university union, the (nine-hole) Shorewood GC and the coaching. But last week, when I was at Northern Kentucky (with the men's team), I was taking calls because we had a couple employees who decided to sleep in a little bit. I'm handling that 500 miles away, trying to run a team. "It's not going to be a dual thing anymore. It's just going to be time I can spend with (the teams) at practices and … during the week, watching their welfare better and grades. It's going to be all-around great."