Riley Pechinski turned a missed opportunity last spring into a breakthrough season this fall when the Stevens Point junior won the WIAA Division 1 state girls golf title, playing the final round with future UW-Green Bay golfer Jenna Anderson of Kettle Moraine High School in Wales and gaining the attention of Phoenix coach Lee Reinke.
The rest, as they say, was history. And now it has also become historic.
Pechinski has become the the first golfer to commit to UWGB before her senior year since Reinke became the Phoenix women's coach in 2016. She told Wisconsin.Golf that she gave Reinke her verbal commitment Saturday during her official campus visit, choosing UWGB after several Division III schools in Wisconsin had reached out this past summer and receiving recent contact from a Division I Missouri Valley Conference school that she did not name.
For Pechinski, who was ranked seventh in the fall of 2020 among Wisconsin girls golfers in the Class of 2023 by Wisconsin.Golf, her decision caps a remarkable rise from the disappointment of not qualifying for the WIAA state tournament last spring during the 2020-21 alternate season after Stevens Point was the lone Wisconsin Valley Conference to opt out of the traditional fall season due to COVID-19 restrictions at her school. She shot 84 at the Bay Port sectional, missing the last of three state individual berths by three strokes, but got to play two postseason rounds with three-time WIAA state champion Jo Baranczyk, a former Bay Port golfer who is now playing NCAA Division I golf herself at North Dakota State.
"COVID-19 really didn't impact my recruiting process, unlike my brother Logan, since coaches were able to reach out," Riley Pechinski wrote in an email interview with Wisconsin.Golf, referring her brother who is in the middle of his freshman year at NCAA Division II Davenport University near Grand Rapids, Mich. "I think it did help that my fall of 2020 season was cancelled and (I) was able to play in the spring of 2021 against Fox Valley area schools (and) players during the season, specifically Jo Baranczyk, and (see) how my game compared and what I needed to work on."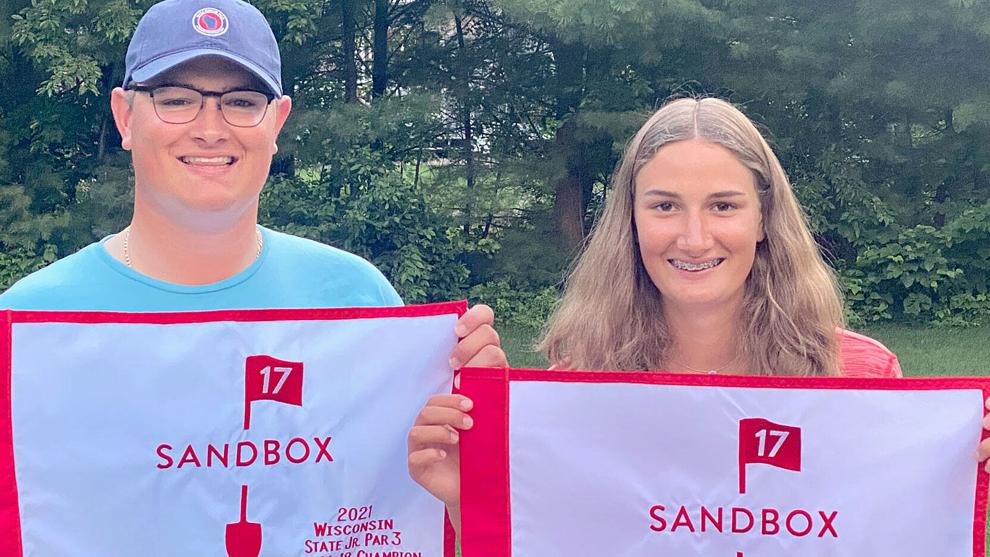 Pechinski went to work on addressing those deficiencies this past summer, finishing in the top 10 of four of the five two-day events she entered, highlighted by a victory in first flight of the WSGA/WPGA Junior Girls Match-Play Championship. She also won the girls division of the WPGA Junior Par-3 Championship on the 17-hole Sandbox course at Sand Valley Golf Resort near Nekoosa with a 61 while her brother Logan took home the boys title.
This fall, Pechinski bounced back from a sluggish 84 at the WIAA Division 1 Sparta regional, where she finished fourth individually — eight strokes off the pace — as her Panthers earned the last of four sectional berths by three shots over Holmen. Pechinski won the Rice Lake sectional, shooting 1-over-par 72 at Turtleback Golf Club in Rice Lake, and followed that up with rounds of 70 and 71 at University Ridge GC in Madison, playing her final 14 holes in 3-under to become a state champion in her tournament debut by five shots over Norah Roberts of Union Grove.
It was the final round at University Ridge that cemented Pechinski's interest in Green Bay and vice versa.
Anderson, already enjoying the final round of her high school career playing with teammate Madeline Fiebig, and her father, Tim, came away impressed with Pechinski's closing ability on girls golf's biggest stage. Pechinski already had an appreciation for Anderson because of her commitment to UWGB, making her among the latest examples of the significant inroads Reinke has made with in-state recruits in taking his all-Wisconsin roster to another level.
"I chose UWGB because of Coach Reinke and the successful program he is building, which I want to be a part of," Pechinski wrote. "The recruitment of in-state players, who we know from summer tournaments and high school play, makes it 'family' like."
Pechinski, who isn't certain yet what academic path she will take, was as impressed with the commitment to academic excellence in the Phoenix program as she was with the improvement it has made over the last five years on the golf course. UWGB ranked fourth on the 2020-21 Women's Golf Coaches Association Division I Academic Top 25 despite having a higher team grade-point average than it did during the 2019-20 season, when it was ranked No. 2.
"Coach Reinke is truly genuine, honest and cares about me being a student more than an athlete," wrote Pechinski, whose official visit came on the heels of a family visit to Green Bay where she got a glimpse of the school's academic and athletic facilities, student housing and campus life. "We met with some current UWGB players and they reiterated (that about) Coach Reinke and the respect they have for one another. ... His honesty, belief and trust of the team just makes you want to improve and compete for him at a high level."
Pechinski's late-season success during 2021 is seen as a sign that her golf game is starting to catch up to her natural athletic ability and that she will have an impact on a program that has started to corner the market on Wisconsin's top talent. She is the third WIAA state champion to commit to UWGB on Reinke's watch, joining 2015 Division 1 state champion Ashley Kulka in 2017 and 2019 Division 2 state champion Grace Welch of Madison Edgewood in 2020.
By the time Pechinski arrives on campus in 2023, she will join a roster that includes Welch, current freshman Caylie Kotlowski of Stoughton and Anderson and fellow 2022 recruit Ellie Frisch of Middleton. In addition, several 2023 standouts — including Union Grove's Roberts, Prescott's Ava Salay and Milton's Hannah Dunk — are known to have interest in UWGB.
"I see myself competing (for a top-five spot on) the team," Pechinski wrote. "With the current team, incoming recruits and future recruits, UWGB is becoming something special that I'm excited to be part of."