Lee Reinke knows he might be a recruiting class or two away from developing the kind of depth on his UW-Green Bay women's golf team needed to create competition for spots internally and move the Phoenix forward externally.
2019-20 UW-Green Bay women's golf roster
| | Player | Yr. | Hometown/school |
| --- | --- | --- | --- |
| | Leah Hansen | Jr. | Denmark, Wis. |
| | Ashley Kulka | R-So. | Beaver Dam, Wis. |
| | Alix Larson | Sr. | Oconomowoc, Wis. |
| | Isabelle Maleki | So. | Mequon, Wis. (Homestead HS) |
| | Courtney Matschke | So. | Franklin, Wis. |
| | Lori Meyer | Jr. | Appleton, Wis. (Freedom HS) |
| | Lauren Shorter | R-Fr. | Fitchburg, Wis. (Verona Area HS) |
| | Katie Warpinski | Jr. | Green Bay, Wis. (Preble HS) |
| | Coaches | | |
| | Lee Reinke | | Head coach |
| | Matt Wood | | Assistant coach |
| | Rick Warpinski | | Volunteer assistant coach |
| | | | |
Even so, the UWGB coach believes his team can get where they want to go this season with the five golfers who will be in the lineup Monday when the Phoenix open the 2019-20 season at the Golden Grizzlies Invitational in Rochester, Mich. Of course, that is assuming everyone stays healthy.
Injuries stalled UWGB's progress a year ago when the Phoenix played without sophomore Ashley Kulka, who was battling what proved to be a foot injury; and freshman Lauren Shorter, who was sidelined with a knee injury. Kulka is "90 percent back," according to Reinke, but Shorter recently underwent a second surgery on her left knee and won't be able to putt again until October, chip until November and take full swings until December or January.
Without them, the UWGB slipped from fifth in 2018 to sixth in the Horizon League but did so with the best 54-hole score at the league championship in the program's 12-year history (a 978). That bodes well for a team returning all eight golfers from a year ago with Isabelle Maleki, Lori Meyer, Courtney Matschke and Katie Warpinski joining Kulka in Michigan with Leah Hansen, who beat out Alix Larson — the team's lone senior — for the individual spot.
"Realistically, if we can go and consistently shoot in that 310 range to 315, that'd be pretty fun," Reinke said. "Are we going to go win? You have to have that goal, but at the same time you have to be realistic. Realistically, if we can shoot 310 consistently, we'd be looking pretty nice. Is that going to happen every round? No, I know it's not. But that's our goal."
Consistency wasn't an issue last season.
Less than one stroke separated the stroke averages of the Phoenix's top four golfers with Maleki (80.3) leading the way ahead of Meyer (80.6), Warpinski (80.7) and Larson (80.9). Kulka averaged 81.1 as a freshman, so the potential to hit Reinke's target zone for scoring is, statistically, less than two shots per golfer from being a reality and well within a group of golfers who logged more competitive miles over the summer than perhaps any previous UWGB team.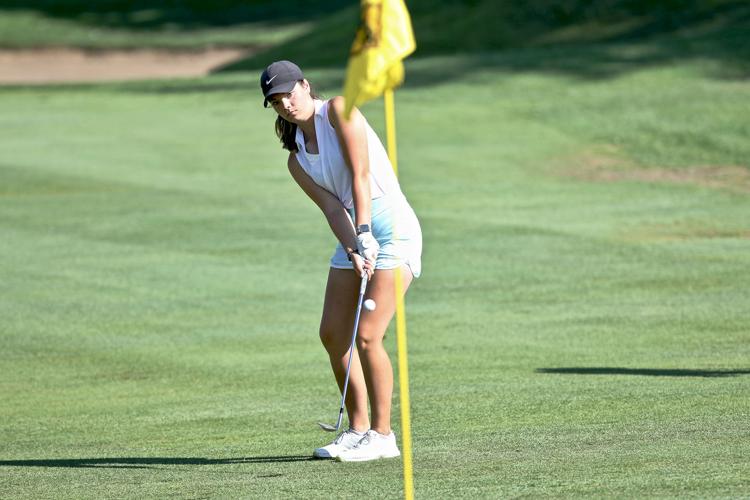 "I think a lot of it hinges on — and that's not to put any pressure on — Ashley," Reinke said of Kulka, who won the Brown County Women's Amateur and tied for eighth with Maleki at the Wisconsin Women's State Amateur at La Crosse Country Club in Onalska. "She has expectations for herself, too. If she can come out of the blocks and her foot feels good, I think we as a team can do really well. Even if it doesn't, these ladies played all last year without her and realized what they could do. They weren't awe-struck. Anything Ashley does early on, while she's trying to get her feet underneath her, no pun intended, I think it's just a bonus."
In the meantime, Reinke believes Maleki is ready to take on a larger role in her second season of college golf.
The former Mequon Homestead golfer, who wasn't sure she wanted to play college golf until after her junior year of high school, led UWGB in two of its four spring events last season. She averaged 77.9 in those nine rounds coming out of winter break.
"She has completely embraced it," Reinke said of Maleki, whose summer was highlighted by shooting 72 at U.S. Women's Amateur qualifying near Chicago, where she came within one stroke of advancing. "Mom, Dad and (former Marquette golfer) Charlie, they're all super-excited that I was relentless (recruiting her) and didn't give up. They were super-happy she decided to play.
"And Isabelle has told me: 'I am so glad I decided to play.' She's having a blast. She had a really good summer. She and Katie gaining that experience going down to Chicago and her shooting 72 really elevated her confidence, which was high already."