Lee Reinke was taking his winter shortcut from the parking lot to his office at the Kress Events Center just before Christmas when the UW-Green Bay golf coach had a facilities epiphany.
Since taking over as the men's coach in 2014 and women's coach in 2016, Reinke has privately placed atop his wish list for the Phoenix a place for his teams to practice during the winter. He ran into the perfect location as he walked past the bleachers outside the swimming pool and, less than two months later, his golfers were chipping, putting and hitting full shots into a net.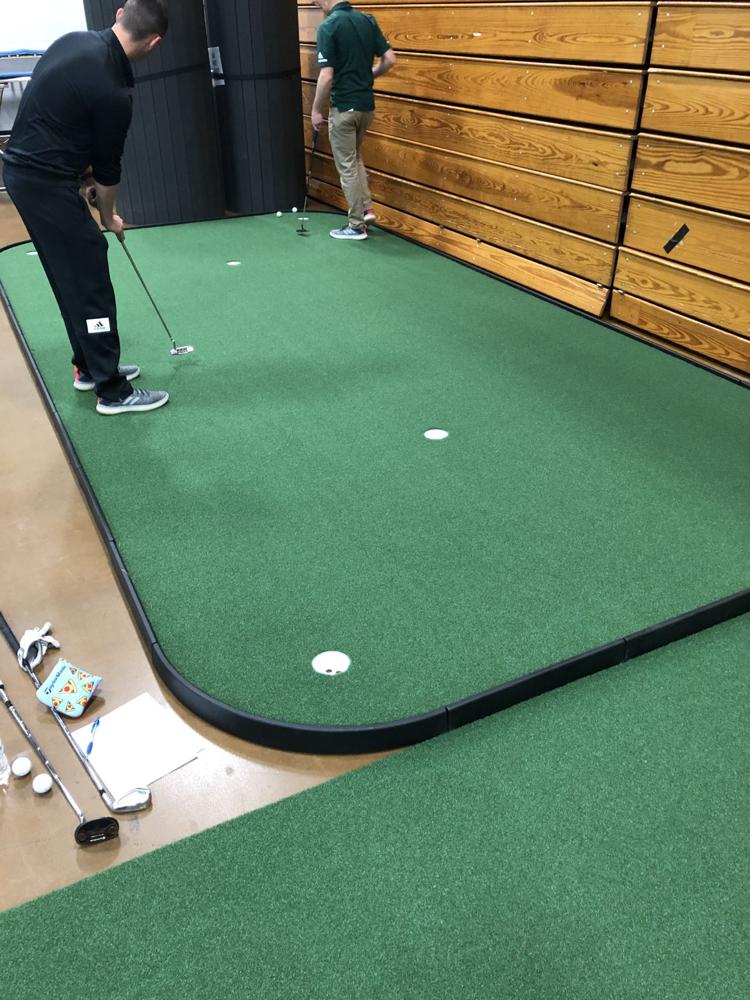 "It started the week of finals (in December)," Reinke said earlier this week. "I've been looking for a place on campus for five years. Space is extremely limited here on campus. All of a sudden, I'm walking in this back way into my office everyday since the break – I park in the back lot (during) the winter – and I'm like, 'Man, why don't I just try this space? This is perfect.' "
The $35,000 project could not have come together any quicker. Or any easier.
First, Reinke needed to get approval from other programs that share the space. The UWGB swimming and diving teams occupy a corner of the 25x100-foot room for a trampoline they use in training and the Phoenix softball program had a hitting cage that drops from the ceiling, but were planning to do most of its pre-season workouts in the Turf Gym inside the Kress Center.
Once those permissions had been secured, Reinke got the thumbs-up from Phoenix athletic director Charles Guthrie, who was impressed with the legwork Reinke had done finding the space. "He liked that I came to him with a solution, not just 'Hey, I need a room,' " Reinke said.
The coach then needed to figure out how much equipment would fit in the space available to his teams. It also had to be portable enough to be set up and taken down daily for safe storage.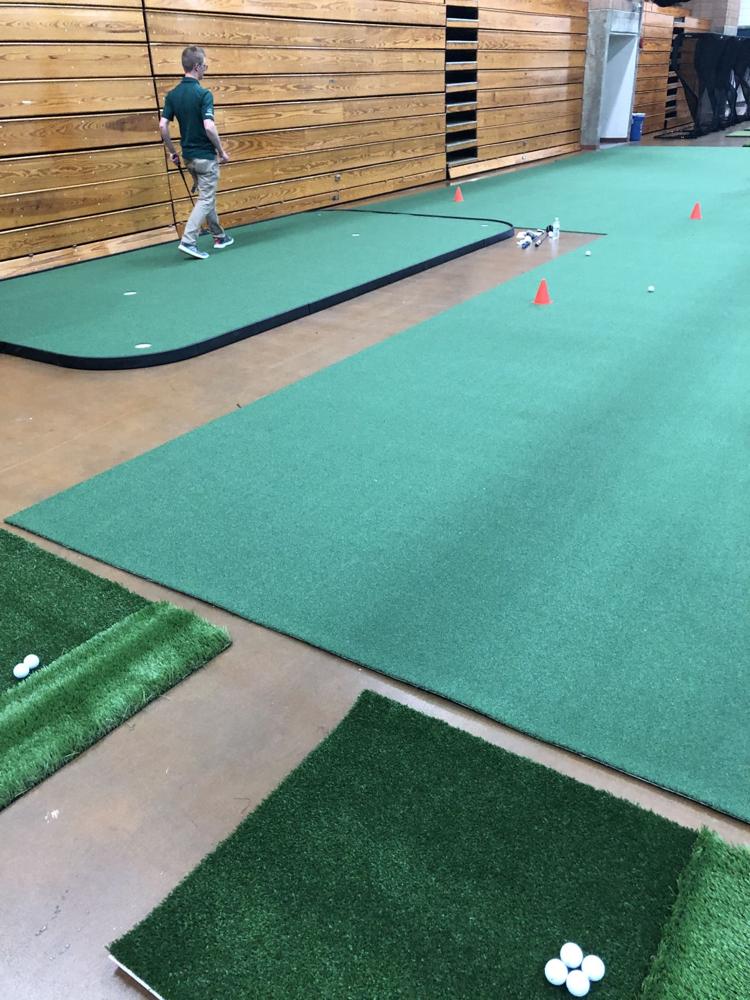 Acting on the advice of University of Dayton men's golf coach Gip Hoagland, Reinke ordered a 24x60-foot L-shaped chipping mat, a 10x20-foot putting green with six hole locations, four Net Return nets with four mats off which to hit and, the big addition, a Trackman 4 golf simulator.
Typically, the biggest hurdle with projects of this nature is paying for them. However, a $15,000 gift to the program from Dick and Nancy Matschke, who have a granddaughter, Courtney, on the women's team and have become big fans of both teams, got Reinke's fund-raising efforts started in a big way and he was able to raise the remaining $20,000 since Christmas break.
"Super, super people," Reinke said of the Matschkes. "They come to all the events on the road. They're in Florida during the winter. As a matter of fact, when George (Kneiser) was at the NCAA (Regional) in Louisville (last spring), we were coming down No. 8 and we got done putting and were walking to the next tee – you have to go down a hill and over a creek – and I said 'Holy crap, George, I think that's Dick and Nancy over there.' They drove back from Florida a little later (last spring) so they could time it just right so they could watch him play a round."
Less than a year later, the generosity of the Matschkes and other families and friends of the program have given Kneiser a head start in his quest to defend his Horizon League individual title and golfers on both teams a place to stay sharp until their spring schedules next month.
"It's been a pretty incredible change of scenery over winter break; the facility looks great," said Kneiser, a senior from Oconomowoc. "Being able to practice chipping, pitching, and lag putts indoors all winter is an irreplaceable asset. Being up north and not being able to hit short-game shots in the off-season is one of the toughest challenges we have faced as a program."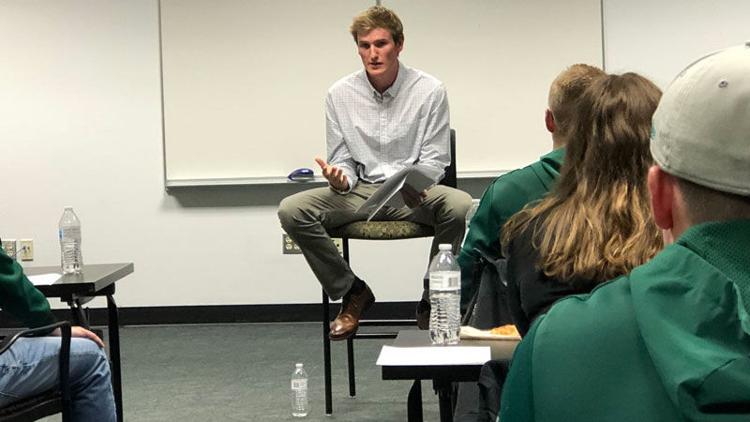 The new practice area is "25 steps from my office," according to Reinke, whose position was made full-time in October of 2018 when he took on the title of director of men's and women's golf. That convenience has been as nice for his golfers as the new gadgets at their disposal during the first full week of the spring season, which culminated Friday with a talk from Korn Ferry Tour golfer Charlie Danielson. The Osceola native and former University of Illinois golfer has been speaking to high school and college teams about mental toughness and dealing with adversity as he recovers from the latest in a series of knee surgeries.
"Efficiency is a must as a student athlete, and having the ability to swing by the Kress Events Center in between class or before a workout helps us maximize our time working on our golf game," Brady Sarauer, a senior from Fond du Lac, said of the new indoor practice area.
"Coach Reinke has done a number of things to take the program to the next level, and it was very nice to see his idea of an indoor area come to fruition. A majority of our spring schedule takes place while there is still snow on the ground in Wisconsin; therefore, we rely on indoor practice during our spring season.
"We certainly have the tools that we need to succeed right away in the spring now, and I expect our team to put them to good use with hard work."