Sam Anderson had just tied for 61st place in the Big Ten Championships, finishing a 2018-'19 season in which the University of Wisconsin sophomore had recorded just one top-25 finish.
Results were not squaring up with talent. Badgers coach Michael Burcin believed Anderson could play at the next level, but not the way he was going about things. And so, in a post-season conversation, Burcin leveled with his underachieving player. The message was brutally honest: if you're not going to be better organized, better prepared, more efficient, you're not going to get where you want to go.
Anderson, of Stoughton, could have tuned out his coach, could have gone on the defensive, could have walked out of that meeting angry and defiant.
Instead, he took it to heart.
"When we had that talk, it was like, all right, something's going to change," Anderson said. "It was a lot of little things. Cleaning things up in my life. And that really changed my outlook on things as well. My priorities switched. I had a different focus. My focus was different in everything, not just golf."
Call it a gut-check or an awakening or a come-to-Hogan moment. Whatever happened at that meeting in the spring of 2019, it was transformative.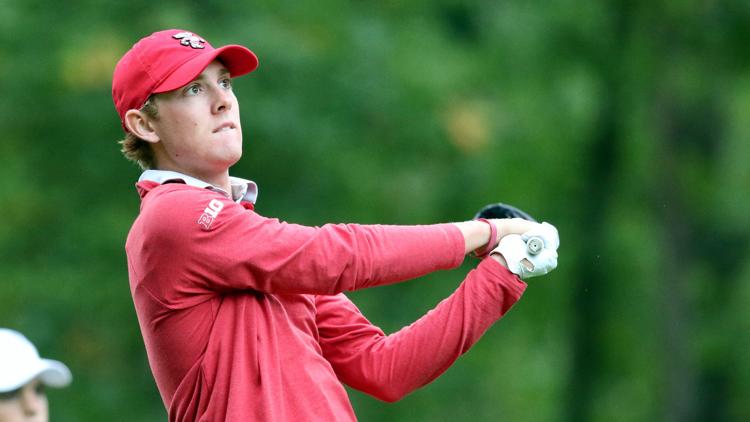 Anderson had two top-10 finishes in a junior year cut short this spring by the coronavirus pandemic, including a solo second to lead the Badgers to victory in the Musketeer Classic. He followed it up with an excellent summer in which he fired a course-record 62 at The Oaks in State Amateur qualifying and went on to tie for sixth in the State Am at Milwaukee Country Club. A few weeks later, he closed 67-67 at Blue Mound Golf & Country Club to finish fourth in the State Open.
His good play in 2020 continued into the fall. He has been lighting up scoreboards, playing in invitationals and tournaments organized by the Golf Coaches Association of America. You may not have noticed, because college golf has been hard to follow, with conferences and individual institutions varying widely in their approach to competition during the pandemic.
The Big Ten canceled its fall tournament schedule but is allowing golfers to play as individuals.
Anderson, 21, has won two of the three tournaments he's entered. At the 45-hole Windsong Invitational in September, he shot 69-34-70 to beat a strong field. Last week, he shot 71-65-66 to win the St. Augustine (Fla.) Amateur by one shot over Australian Jordan Doull of Columbus State.
In between, he tied for 21st in a GCAA Amateur Series tournament at Pinehurst, N.C.
His confidence is at an all-time high and has him thinking beyond a senior year in which there may or may not be a regular spring season.
"I do want to play at the next level," Anderson said. "After that talk I had with coach and after seeing some consistently better rounds of golf that following summer, I was like, OK, I can do this if I want. Now, what is it going to take? What do I have to do? That's what I've been really focusing on the last two years. What do I need to do now to prepare myself for it?"
In short, he's changed how he goes about everything, on and off the course. Instead of beating balls on the range for hours without a plan, he has specific goals for practice sessions. If he accomplishes them in 45 minutes, practice is over for the day. Off the course, he's prioritized everything in his life and has narrowed his focus; if it doesn't help him play better golf, it's just clutter.
"For example, one thing – this sounds kind of dumb – is that before I leave for a tournament, making sure I have no dirty clothes in my hamper," he said. "Most people would say, 'Why does having no dirty clothes in your hamper affect how you play golf?' Well, because I've gotten everything done that I need to at home, so now I can focus on what I need to do, which is winning the tournament."
It wasn't the first time Anderson made significant changes in order to achieve his goals.
As a sophomore at Stoughton High School, he wrote 25 letters to college coaches and received two responses, both disappointing form letters of the we'll-keep-in-touch variety. So, he huddled with his parents and made the mature decision to finish high school in Vero Beach, Fla., where he lived with his grandparents. He did not play high school golf there, instead concentrating on a schedule of AJGA, Golfweek Junior Tour, Florida Junior Tour and Future Collegians World Tour events.
In the end, he received several scholarship offers and chose Wisconsin over Ole Miss and Iowa.
"He was really athletic. He was a big kid and he hit it hard," Burcin said of the 6-2 Anderson. "I wasn't really worried about what he was shooting then. His fundamentals were pretty good. There was a lot to work with."
As a freshman, Anderson shot an opening 67 in the Big Ten Championships and led the tournament after 29 holes, but stumbled down the stretch in the second round, closed with an 80 and tied for 47th.
"I think it was a perfect snapshot into Sam Anderson's game at that point," Burcin said. "The potential of what could be and what might happen, and then the impatience with things going wrong and what happens next.
"I think Sam would say on the golf course he was a little short-tempered. And nine times out of 10, people who are short-tempered on the golf course, it's because they haven't put the time in. There's not that level of trust with themselves because they know they haven't gone about it the right way. They're not prepared at the end of the day.
"That's the other thing that has really changed: his demeanor on the golf course has really changed. He knows now that the time he puts in, he's doing all that he can, he's doing it the right way."
If there is a regular spring season in the Big Ten, Anderson and his teammates – most of whom have played in GCAA events around the country – will be ready. In the meantime, they must pay for their own travel, hotel and meals and compete as individuals.
"It obviously sucks that we're not able to compete for the University of Wisconsin, represent the university and compete as a team," Anderson said. "But coach has done an unbelievable job creating this mindset that we all need to have with the opportunities that have been created by the Golf Coaches Association of America or other amateur events.
"We need to take this opportunity and do something with it. Because in the spring, we could be competing against everyone and we have this edge, which we need to take advantage of currently, to get ready for the spring or get ready for what we have coming next."
What's coming next for Sam Anderson? The sky's the limit.