During the 1994 Johnny Walker Classic in Phuket, Thailand, Freddie "Boom Boom" Couples scribbled his autograph on a hat for an excited young Thai couple.
Chalisra Sima-Aree, a huge Couples fan, was over the moon. She turned to her husband, Supachai, and said, "If we ever have a son, we are going to name him after Fred Couples.'"
No, they did not name their first-born son Fred. But they did give Bhitchayoot a nickname that stuck: "Bhoom." It was a nod to Couples' nickname (with an "h" in the Thai spelling).
Bhoom Sima-Aree has done his name proud. Not only is he a freshman member of Marquette University's golf team, but at 6 feet 2 inches he generates Couples-like swing speed and mashes his driver 320 yards.
"The name Bhoom is perfect for who he is," said Golden Eagles senior Matthew Bachmann. "He kills the ball."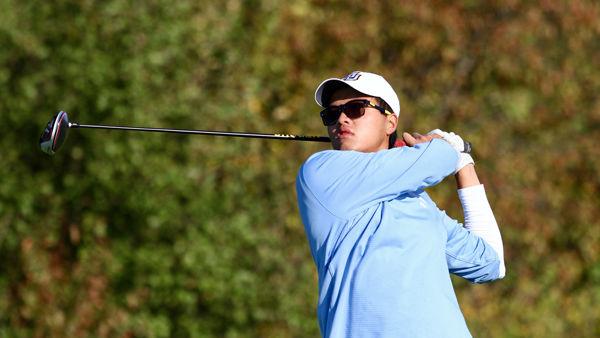 Sima-Aree got on Marquette's radar in 2018 as a highly ranked international junior player. He'd had a pair of top-10 finishes in the Thailand Amateur Open and had played in pro events in Asia while still in high school. He was low amateur in the Chang Ongkarak Championships in 2016 and finished 34th overall in the Singha Laguna Phuket Open in 2018.
Coach Steve Bailey offered Sima-Aree a scholarship after watching him play in the IMG Academy World Junior Championship in San Diego, where he finished 26th. His scores of 74-74-71-74 on the difficult South Course at Torrey Pines were impressive enough, but Bailey saw something else.
"His demeanor is probably as good as I've ever seen from a player," the coach said. "He's one of those guys, you never know how things are going because he's so even-keeled. He's got a lot of international experience. But just who he is as a person and his work ethic, he fits right in with our culture."
Sima-Aree hasn't yet set the world on fire as a college golfer, but give him time. He's adjusting to a new everything on the other side of the world – new food, new culture, new styles of golf courses – all while attending classes at Marquette.
"Can you imagine?" Bailey said. "You have two full-time jobs with golf and school and with someone like him, you're away from everything you've known. But he's handled it all. He seems to have embraced everything he faces."
Sima-Aree played as an individual earlier this week in the Crooked Stick Invitational and tied for 40th. He cracked the Golden Eagles' lineup in every other tournament this fall. Of his 15 rounds, 12 have been between 73 and 76. His season low is 72 and only once has he posted a score higher than 77.
"He's had some ups and downs as a freshman," Bailey said, "but I'm excited for what he brings to the table and for what the future holds for him."
Not surprisingly, Sima-Aree's favorite club is his driver. He said if he had to choose between driver and wedge to hit one shot, he'd take driver every time. His short game has not yet caught up to his long game, perhaps the biggest reason he has yet to break par in a collegiate event.
"I think short game is one of my weaknesses I need to work on," he said. "My chipping is getting better, but I need to improve a lot. When I don't hit greens, I need to make more up-and-downs."
Away from golf, Sima-Aree is adjusting to a life far different from the one he knew in Bangkok. He is developing a taste for American food – cheeseburgers and steak are among his favorites – but he can do without pizza, and he misses Thai cooking.
"The food is totally different," he said. "Thai food is actually spicy and the food here is a little bland."
Then there's the weather. Sima-Aree was dressed in several layers when he played in the Marquette Intercollegiate at Erin Hills earlier this month, even though the temperature topped 60 degrees later in the day.
"We use degree Celsius and this is the first time I experienced a single digit in degrees Celsius in my life," he said. "I know it's going to get worse. It's going to be my first time seeing snow, too. I'm looking forward to that."
Watching Sima-Aree interact with his Golden Eagles teammates, it's easy to see they enjoy being around him. He's taught them a few Thai words and praised them for being "actually quick learners."
"I'm happy being a team member," he said. "They are very nice to me. They always help me when I struggle. They take care of each other, like a brotherhood. I'm very happy with that."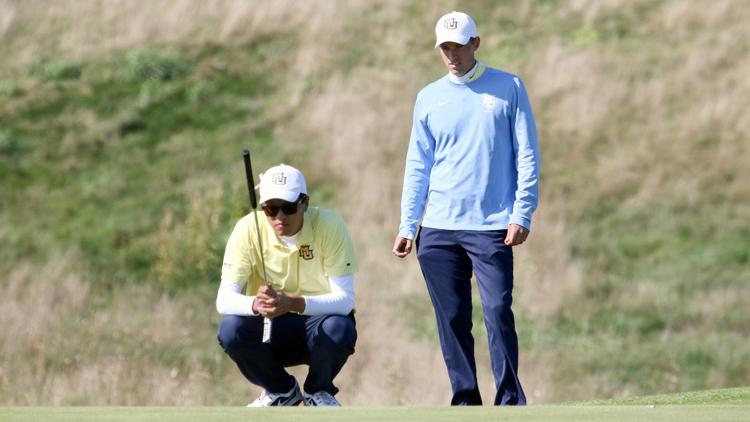 Said Bachmann, "He's fit in well. It's actually surprising how well it's gone. He's really mature for his age. He seems like he's really comfortable. He's a really funny guy, really easygoing, chill."
Sima-Aree plans to turn professional someday, but if he doesn't make it as a player he would like to stay involved in golf, either as a swing instructor or perhaps as a college assistant coach.
"I would love to be around golf and the golf world," he said.
In the meantime, he's hoping to continue to improve at Marquette.
"He's great for our team, just who he is as a person," Bailey said. "Just a kind soul and a good person to have around."