Athletically, UW-Green Bay has quietly but consistently climbed to No. 176 among the 243 NCAA Division I women's golf programs in the GolfStat.com national rankings as of the end of the 2020-21 season.
Academically, the Phoenix has risen to impressive heights, too — No. 2 in the Women's Golf Coaches Association Division I team GPA rankings (3.958) in its 2019-20 audit and likely to go higher once 2020-21 numbers are crunched.
Both sections of UWGB's resume paid huge recruiting dividends last week.
Middleton senior Ellie Frisch's courtship by the Phoenix began little more than a month ago. It ended Friday when the No. 5-ranked golfer among the Wisconsin.Golf girls Class of 2022 rankings announced via Instagram that she had accepted coach Lee Reinke's offer to play golf at UWGB. She is the second rising senior to commit to the Phoenix, which picked up its first in-state No. 1 this week in Dousman's Jenna Anderson.
"I was pretty positive that I wanted to commit to UWGB, but once I heard that Jenna had committed, I was certain; Jenna is a great person and golfer and I think we could make a difference together as teammates," Frisch wrote in an email interview with Wisconsin.Golf, emphatic that the program's reputation in the classroom was as critical in her decision as the gains it has made on the golf course.
"I was very impressed by the high team GPA and how talented all the (UWGB) girls were on and off the golf course. Throughout high school, I have been adamant about getting good grades so I wanted a school that valued those good grades. Luckily, the (golfers) at UWGB all take their academics very seriously and have one of the best team GPAs in the nation. I knew that was also something I wanted to be a part of."
In Frisch, the Phoenix is getting a golfer with low tournament mileage who has played some of her best golf in women's amateur and open events.
To wit, Frisch played as many WPGA Junior events during 2017 and '18 as she has in the last three years combined — 11 during each cluster of her junior golf career and far fewer than most golfers her age. Yet, Frisch has clearly become a student of her swing and has seemingly built her schedule to be as sharp as she can be for her high school season. She helped Middleton win the 2021 WIAA alternate season state championship this spring after a fall state title in 2019 and a state runner-up showing in 2018 (to Anderson and Kettle Moraine). Individually, she has three top-20 finishes, including a runner-up showing to three-time WIAA state champion Jo Baranczyk of Bay Port this spring.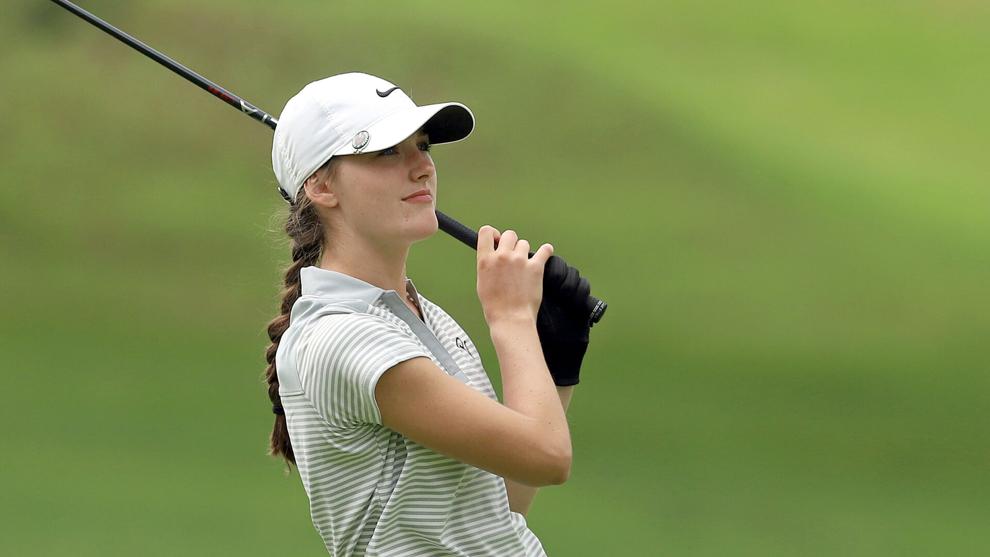 Yet, Frisch no doubt caught Reinke's attention with her play at the Wisconsin State Women's Amateur and Wisconsin State Women's Open in 2020 and '21.
Frisch birdied four of her first six holes in the final round of the 2020 State Amateur at Blackhawk Country Club in Madison and was on the cusp of the lead with nine holes to play. She shot 77-74 and wound up finishing T-5.
After a T-24 finish (out of 67 golfers) at this year's Wisconsin State Women's Open at the Golf Course of Lawsonia in Green Lake, Frisch again played well at the State Women's Am earlier this month at The Legend at Merrill Hills. She shot 78-77 to finish T-16, 15 strokes out of the playoff that former University of Wisconsin golfer Bobbi Stricker won over current Badger Emily Lauterbach, but just five strokes shy of a second straight top-five showing in the event.
Moments after holing out her final putt during the final round at Merrill Hills, Frisch met Reinke behind the 18th green and gave her oral commitment.
"I don't think he was expecting me to decide right then so it was a very exciting and emotional moment," Frisch wrote. "I wasn't seriously considering many other schools besides GB. I was looking into college golf as well as maybe going to college at a bigger university and not pursuing golf. Once I discovered the UWGB program, I knew there wouldn't be a better option and I wanted to be a part of their program."
The Phoenix graduated Lori Meyer and Leah Hansen off its 2020-21 roster and will graduate Katie Warpinski and Isabelle Maleki after the 2021-22 season. Ashley Kulka and Courtney Matschke, who each have parts of three seasons under their belts, will have two more thanks to extra eligibility granted by the NCAA in wake of the COVID-19 pandemic so they will still be in the program when Frisch and Anderson get to campus. UWGB also has redshirt junior Lauren Shorter of Verona, who has yet to play for the Phoenix due to a knee injury and still has four years of eligibility left; redshirt freshman Grace Welch of Madison and incoming freshman Caylie Kotlowski of Stoughton.
"I think I could be a steppingstone in the golf program especially as more new recruits come in," Frisch wrote. "There are already very talented golfers at UWGB and I am excited to hopefully help them in their quest for success. I've talked to (Reinke) about how great of a program he is building at GB. As he keeps recruiting great players and supporting the veterans, the team will keep rapidly growing."
Reinke is prohibited by NCAA rules from commenting on recruits until after they sign their National Letter of Intent, which Frisch plans to do during the early signing period in November. However, Frisch said he made it very clear to her where she fit into his plans for the program.
"Lee was always very clear on what his intentions were with me so I was never left in the dark; I always knew where he stood and he made me feel like I could make a difference at Green Bay," Frisch wrote. "There are many things that make UWGB the right choice for me. First, I liked all of Lee's values. He focuses not only the golf ability of his players but also character which has helped put together the great group of girls he already has. I like the location of the school in that it's a little ways from home but not states away. When I visited, I just felt like it was the right place for me."