Max Reis may have missed the cut at the Wisconsin State Amateur in July, but — as it turned out — the way the West De Pere senior handled himself as a solid opening round went south might well have earned himself the opportunity to play college golf at the NCAA Division I level.
UW-Green Bay coach Lee Reinke followed Reis that day at Westmoor CC in Brookfield for the final six holes, a stretch in which Reis made three bogeys and a double-bogey before closing with a birdie on No. 9 to shoot 76. While the finish Reinke witnessed that day might not have been a thing of statistical beauty, the coach knew he might never see Reis compete on a tougher course with a more demanding set-up. Reis would struggle to an 84 the next day as many of the 156 players did that week (the field averaged 78.36 in Round 1 and 80.09 in Round 2).
"Admittedly, I was struggling a little that (first) day," Reis wrote in an email interview with Wisconsin.Golf. "The course was set up tough and my putting was not on. At the end of the round, Coach asked me if we could talk. He told me he had been watching me from afar for a long time. His comments were not just about my consistent competitive scores (against others) in my class, but more about my demeanor on the course and respect from or relationships with my competitors and their families.
"I was a little concerned that after he just watched me not play to my potential that his interest was lost. However, I had been told by other coaches, and he reassured me of the same, that a coach would rather see how you handle yourself when you aren't playing your best than watching you have the best round of your life. They can analyze your scores from home."
That opening round scored Reis an invitation to visit the UW-Green Bay campus a month later and that visit earned him a scholarship offer from Reinke. Reis said he called Reinke while the coach was with his team on its way to the season-opener in Harris, Mich., to give his verbal commitment to join the Phoenix next fall, choosing UW-Green Bay over interest from Winona (Minn.) State and UW-Parkside in Kenosha, a pair of NCAA Division II schools, and UW-Stout, an NCAA Division III school in Menomonie.
"Playing golf at a D1 school has been my goal since I was in fourth grade," Reis wrote. "I live in West De Pere about a 15-minute drive from UWGB. I suppose some people would look at that as a disadvantage. Coach Reinke even expressed his concerns about my interest due to the proximity of the school to my home. But, for me, it couldn't have been a better option."
Reis joins Lake Nebagamon's Trent Meyer, a senior at Maple Northwestern, in UWGB's freshman class for the 2022-23 season. The Phoenix will return two of the three seniors on its six-player roster this season — Austin Schnell and Ryan Schuelke — but will graduate No. 1 golfer Max Pasher of Mequon, meaning there is a world of opportunity for someone with Reis' resume.
After a T-18 finish in his WIAA Division 1 state tournament debut, Reis endured the highs and lows of an active summer schedule — he competed in 15 WPGA Junior Tour points events on top of qualifying for and competing in the State Am — and showed great growth.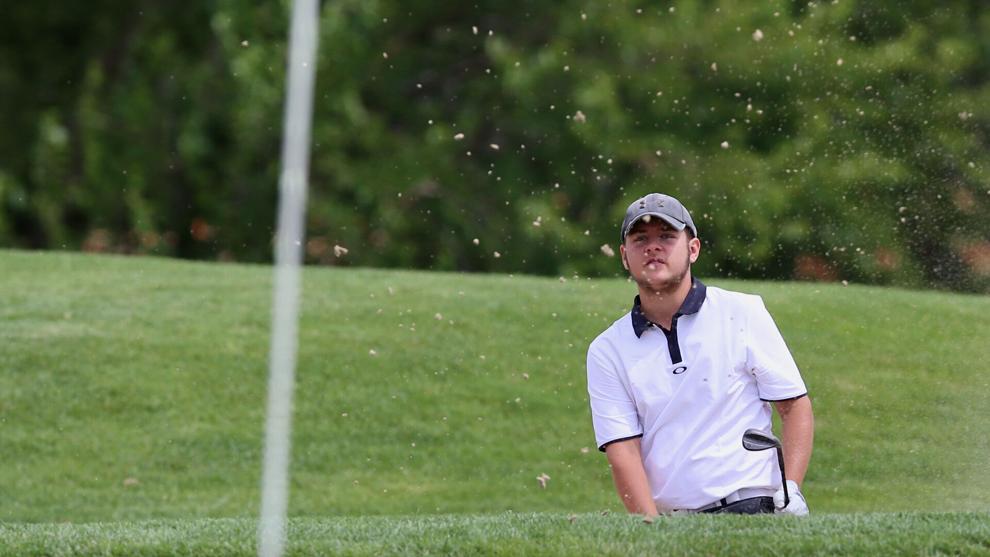 Reis shot 72-75 and finished fourth at the Dells Junior Golf Championship in June and shot 73-75 during the 36-hole qualifier for the Wisconsin Junior Masters in Racine to qualify third, falling to Loyola (Ill.) commit and eventual runner-up Sebastian Kasun of Elm Grove 2 and 1 in the third round. He finished in the top-20 of two other top junior tournaments, the Lake Arrowhead Invitational (T-15) near Nekoosa and Mike Schnarr Invitational (T-20) in Madison, and finished in the top-five of five other Junior Tour and Players Tour events.
"One of Coach Reinke's key phrases is 'Find a way!'" Reis wrote. "Whether that means making it to class after getting back late from an out of town match or finishing a round in the 70s when you start out on the bogey train. I couldn't agree more with this because too many times in golf you could throw in the towel early or get down on yourself after a few bad holes and jump from the 70s to the mid-80s, but I have learned that whether you have 18 holes ahead of you or one left there is always time to lower the score."
While Reinke has promised that Reis will "be an equal player on the team," Reis knows he will have to continue to work over the next nine months to earn his spot in the lineup and start working toward goals beyond that.
"I know Coach Reinke is the key to reaching those goals and I have no doubt he will push me to be the best golfer I can be," Reis wrote. "I'm a ready-golf, fast player and many people have commented on it — some bad, mostly good. What I appreciated about Coach Reinke is he said it was something he noticed right away, but he would never change it because it works for me. I love that he wants me to improve my game in the next four years, but he doesn't put his players into a mold of what he thinks a good player would look like.
"I really liked the dynamics of the team when I met with them. There was a mutual respect they had with the coach. I liked the schedule and where all they traveled. Florida for spring break with the team sounds like an awesome time.
"They also are using a new program, DECADE, this year that tracks all of your stats and helps with course management. I'm really excited to get started with that."
Meanwhile, Reis said he's not the only one in his family excited to see him start his career with the Phoenix.
"My twin sister (Ally) is planning on going to school at St. Norbert College (in De Pere) and I'm not sure anyone was happier that I was staying around home than my little sister," wrote Max, who is also glad he will be close enough to home to continue hunting and fishing with his dad and brother. "My parents are a great support system in so many ways. I guess when a lot of people talk about going away to school they talk about what they will miss and I feel lucky to say that my only thought is what I am adding to my life when I start in fall of 2022."