Mary (McMillin) Fossum took down The Babe, built the Michigan State women's golf program from the ground up and was remembered Monday as someone whose legacy endures yet today in Wisconsin, where she grew up, and in Michigan, where she became a legendary collegiate coach.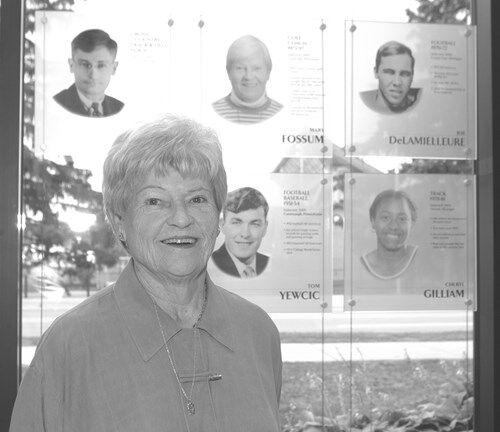 Fossum, a Green Bay native, died Sunday. She was 93.
"Mary was one of the most competitive people I ever knew," former Spartan and fellow Wisconsin State Golf Association Hall of Famer Syd Wells of Menominee, Mich., wrote in a Twitter message to Wisconsin.Golf. "She and her husband Bruce (MSU's long-time men's coach) were a great coaching duo. They treated all the team members like family and I considered her my golfing and Spartan mom. Every year at Christmas for over 30 years I would call her on Christmas Day to check in. As a coach She always wanted the best from you and for you on any given day. Those that wore green and white on her teams have lost a proven legend."
Stacy Slobodnik-Stoll, who played for Fossum and succeeded her as only the second women's golf coach in Michigan State history, described Fossum as a trailblazer. 
"Mary helped pave the way for so many women to have experiences and opportunities in golf," Slobodnik-Stoll said in a statement released by the school. "She fought hard when Title IX came into effect in the early 1970s so women could be student-athletes in college. ... We have lost one of the Spartan greats. Mary Fossum was our coach, a mentor, a mom, a friend and a pioneer."
Fossum was something of a local legend in Green Bay by the time she was 20. 
In a 2009 interview with Killarney Golf Media, Fossum said she learned the game from her father, Myron "Hiney" McMillin, a dentist who had a passion for the game, at the now-defunct Green Bay Town & Country Club. She won three consecutive Wisconsin Women's State Amateur championships, the first in 1945 at age 17 and, by the time she won her third in 1947 at Tuckaway CC in Franklin, she had married then-Green Bay Packers quarterback Jack Jacobs and WSGA records still refer to her as Mrs. Jack Jacobs.
That was one year after she gained national fame by handing women's golf legend Mildred "Babe" Zaharias a 2 and 1 defeat in the semifinals of the 1946 Women's Western Amateur Championship. Zaharias used the setback as motivation to win the next 15 tournaments she entered.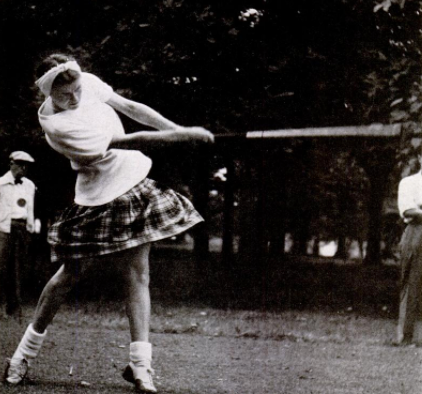 "When I did play Babe, I think probably there was a little bit of fear in my body, but I was so naive that I just went ahead and played," Fossum said in the 2009 interview.  "I didn't hit the ball that far, but my short game took over and that's what did it for me. She hit the ball so far, but I was more accurate."
Fossum lost 11 and 10 to future Hall of Famer Louise Suggs in the finals of the 1946 Women's Western Amateur and again 1 down in the quarterfinals of the 1947 U.S. Women's Amateur. But Fossum never turned professional and, by 1954, she had married Ashland native Bruce Fossum and, in 1959, followed him to East Lansing, Mich., after he had taken a job as an assistant men's basketball coach under Forddy Anderson.
In 1965, Bruce Fossum filled a vacancy and became the Michigan State men's golf coach. Seven years later, Mary was hired to start the Spartans women's program, a position she held for 25 years until retiring in 1997.
Under Fossum, the Spartans won an unprecedented five straight Big Ten Conference titles from 1974 through '78 before the conference first recognized the sport in 1982. Her teams played in six consecutive Association of Intercollegiate Athletics for Women national championships (from 1973 through '78).
Michigan State regained the conference title in 1982 and played in the 1982 and 1984 NCAA Championships. MSU claimed its third conference runner-up spot under Fossum at the 1987 Big Ten Championship.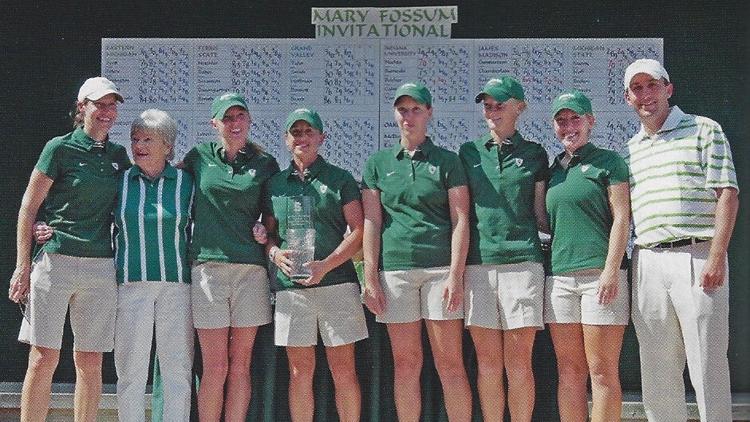 The Big Ten honors Fossum's legacy each year with the Mary Fossum Award, given to the golfer with the conference's lowest stroke average. In 1999, Michigan State renamed its annual fall invitational in Mary Fossum's honor. 
Fossum was inducted into the WSGA Hall of Fame in 1990, the same year as two-time U.S. Open champion Andy North of Madison. She was also inducted into the Golf Coaches Hall of Fame (1988), the Michigan Golf Hall of Fame (2002) and the Michigan State Athletics Hall of Fame (2003).
"Her example and combination of fierce competitiveness, friendly camaraderie, gratitude and development, growth of the game at every level, and her 100% Spartan spirit will never be forgotten," former Michigan State golfer Sue Ertl, one of many Fossum exports to the LPGA Tour, wrote Monday in a Facebook post.
Wells added in her Twitter message: "She taught me to never give up. Keep swinging away. Always have a goal and, although it may take baby steps to reach, it be diligent. I have strived to do that over the years."
For 17 of her seasons, Fossum was part of a unique coaching duo with her husband. Bruce Fossum died in March 2014 at the age of 86.
"Mar was never seen without Spartan gear on, including her green glasses and her green dresses," Slobodnik-Stoll said. "(She) and Bruce were always known as the first family of Spartan Golf and they will be missed dearly."