Sophie Pokela canvassed a fairly large portion of the upper Midwest in her quest to find a place to play college golf and study computer science.
Her campus visits included two stops in Minnesota (St. Paul and Marshall), two in South Dakota (both in Sioux Falls) and one in Iowa (Cedar Rapids). She was also considering two schools in Wisconsin (in Milwaukee and Kenosha). In the end, the Tomah senior's search stopped in Sioux Falls, S.D., at NCAA Division II Augustana University, where she committed to play for second-year Vikings coach Coralee Jorgensen.
Augustana has won 11 of the last 13 Northern Sun Intercollegiate Conference women's golf championships, the most recent in April when the Vikings edged the University of Sioux Falls — their crosstown rival — by five strokes. Pokela will join New Richmond's Lanie Veenendall in Jorgensen's Class of 2022 for a program that's poised to graduate three seniors off an 11-player roster.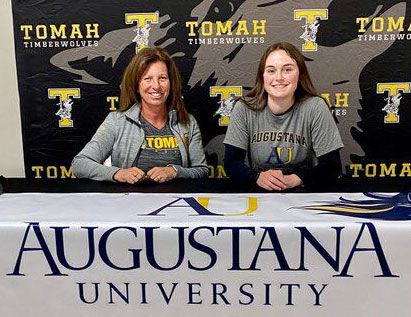 "I reached out to a lot of schools and ended up visiting five," Pokela wrote in an email interview with Wisconsin.Golf, adding that she was considering the University of Sioux Falls, Concordia-St. Paul, Southwest Minnesota State in Marshall, NAIA Mount Mercy University in Cedar Rapids and a pair of in-state NCAA Division III programs — College Conference of Illinois & Wisconsin champion Carthage College in Kenosha and Milwaukee School of Engineering, a first-year program in the Northern Athletic Collegiate Conference.
"Augustana was my second-to-last visit and I pretty much knew when I stepped off the campus that I was going there. They have a powerhouse golf team and there are girls on the team that I can chase, which is going to make me better."
For that matter, Pokela will give the Vikings a tournament-tested golfer capable of making those around her better, too.
She is a three-time WIAA Division 1 state qualifier who finished T-26 at University Ridge Golf Course in Madison in 2019, T-9 at Blackwolf Run in Kohler in 2020 and T-17 at University Ridge this fall. Pokela qualified for state as a senior by shooting 74 at Turtleback GC in Rice Lake, finishing second to eventual state champion Riley Pechinski of Stevens Point (72), and helping Tomah edge Veenendall (77) and New Richmond by two strokes for the sectional title.
Earlier, Pokela shot 74 at Viroqua Hills GC in Viroqua to win the Mississippi Valley Conference championship and lead the Timberwolves to their third consecutive championship as a team. She then shot 79 to finish third at River Run GC in Sparta behind teammate Brin Neumann and Onalaska's Allison Balduzzi.
"We look forward to maturing her golf game and taking her to the next level of competition," Jorgensen said in a story on the Augustana website announcing the signing of Pokela and Veenendall.
Pokela expects to see growth in her game by opportunities available to her on and off the golf course. She praised the Vikings' off-season schedule "that helps girls get stronger and better" and the school's athletic facilities, including the Kirby Indoor Golf Center located under the concourse of the football stadium and named for longtime coach Peggy Kirby and husband Kevin, who helped fund its construction.
"There are a lot of really good girls on the team that can push me to get better (and) I'm going to work hard to be able to play as soon as possible," Pokela wrote. "Augustana has been very good for a long time and they want to continue to get better. They also have been going to nationals for many years now. I'm very excited that I have the opportunity to help contribute to those standards and hopefully help the team go to nationals again."
That she gets to pursue those goals with a familiar face in Veenendall was a pleasant surprise to what became an obvious decision.
"I found out Lanie was going to Augustana when I visited there," Pokela wrote. "I think it will be a lot of fun to have another Wisconsin golfer on the team especially since (we) have played together before. It will be nice to go in already knowing someone."