From the time he competed in the Drive, Chip & Putt National Finals at Augusta (Ga.) National Golf Club in 2017, Kaeden Nomm has been drawn to the Southeast region of the United States. So it should come as no surprise that the senior at Lakeland High School in Minocqua was drawn in that direction when it came to deciding where to play his college golf.
As the recruiting process played out, though, Nomm realized that it was as important to play in a program that was already on the map, figuratively, as much as it was for one that was located in a certain area of the country.
That led Nomm to give his verbal commitment last month to the University of South Carolina-Aiken, currently ranked seventh in the GolfStat.com NCAA Division II rankings. Nomm, the No. 1 golfer in the Wisconsin.Golf boys Class of 2022 state rankings, chose the Pacers over Division II Coker University (S.C.) and interest from Division I Marquette, South Dakota State and Wisconsin, saying that USC-Aiken, Coker and Marquette were the final three schools he considered before committing to Aiken coach Michael Carlisle.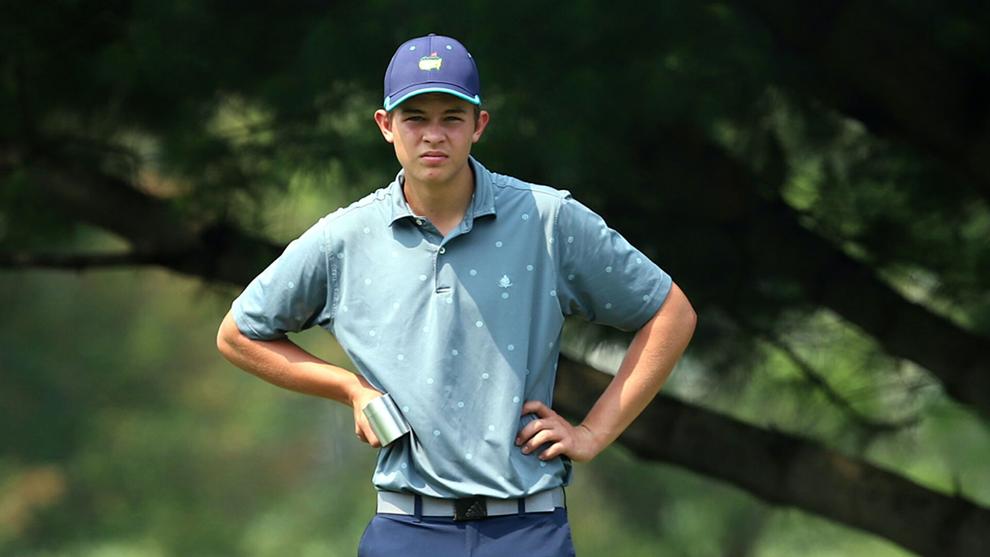 "The biggest campus appeal was the area of the country," Nomm wrote in an email interview with Wisconsin.Golf. "I have known for some time that I wanted to play down south and always have had a fondness for the Aiken region. I do know now it was specifically my experiences at the Drive, Chip & Putt that made me like the area as much as I do, but I do know that I have only ever had positive experiences there. It is crazy to think back on all the work I did to get to Augusta and now I have the pleasure of playing golf a half-hour from there."
Nomm's first stop in the recruiting process was a trip to the GolfStat rankings, where he was duly impressed that Aiken, at the time, was the No. 2-ranked team in Division II. 
The Pacers finished second in 2021 at the Peach Belt Conference Championship and earned a berth to the NCAA Division II Super Regional, where they finished 14th out of 16 teams. Since 2006, Aiken has won seven PBC Championships and made 14 NCAA Division II Super Regional appearances, reaching the national tournament six times and winning it in 2006.
"USC-Aiken has had a very successful golf team for some time so I am hoping that I am able to make a big enough difference to help the team play well at or even win a national championship," wrote Nomm, who is eager to learn at the foot of an NCAA Division II coaching legend in Carlisle, a 2010 inductee into the Golf Coaches Association of America Hall of Fame. "Coach Carlisle is a very experienced coach and has been able to win a national championship in the past, so I am very hopeful he is able to bring out the best in me for future championships."
Nomm, the 2021 Wisconsin State Junior champion, is a two-time WIAA state qualifier for Lakeland, finishing T-14 in 2019 and T-6 in 2021. He had an exceptional 2021 summer season, finishing second at the Lake Arrowhead Invitational and Mike Schnarr Boys Championship and third at the College Showcase and WPGA Fall Finale  around his victory at the State Junior.
"I am currently working on all aspects of my game, but the biggest things I need to work on are making putts and driver accuracy," Nomm wrote. "I usually do well in my lag putting, but need to make more putts, especially between 10 and 20 feet away. I also have an older and cracked driver currently so I am hoping with the addition of a new (Titleist) TSI-3 driver, which should come in any time now. I should be able to make great improvements."
Nomm's drive to find the best college opportunity was not without a few hurdles. He said he "had a lot of opportunities early" in the recruiting process that did not work out due to COVID-19 with the NCAA granting extra eligibility to golfers whose 2019-20 and 2020-21 seasons were impacted by the pandemic and reducing rosters spots even for golfers as decorated as Nomm.
However, once he and Carlisle connected and Nomm was able to tour the Aiken campus, there was little doubt in his mind he had found his college home.
"I made a lot of early emails to coaches without looking at their schools' programs and facilities, and was just planning to cross that bridge with the few who emailed back," Nomm wrote. "Once I got the email back from Coach Carlisle, after already knowing of the team's great ranking, I looked up the school and was very impressed, especially with their main courses, the Palmetto Golf Club and the on-campus par 3 course (called) The Salt Mine.
"Once I finished my visit, I knew Aiken was the place I wanted to go. Everything felt right and all my boxes were checked, so at that point I just had to wait around for an offer, and I got one that I could not turn down."