Tyler Schick's his-and-hers campus visits to Lake Forest College in Illinois were critical to his decision to play college golf for the NCAA Division III Foresters. And why not? 
If the picturesque, 166-year-old liberal arts school located just north of Chicago and a half-mile from Lake Michigan could pass independent tests for Mom and Dad, surely the Sun Prairie East senior could see himself spending the next four years there. 
"I determined that I wanted to go to a school where I can go in and make a difference as a freshman, compete for conference and national championships, and where I can continue to improve," Schick worte in an email interview with Wisconsin.Golf. "This led me to Lake Forest and the D-III level because I feel it allows me to best maximize what I am getting out of my college experience."
Indeed, Schick focused his college search on small schools in Wisconsin and Illinois and chose Lake Forest over six other NCAA Division III schools — UW-Stout in Menomonie, UW-Superior, Wisconsin Lutheran College in Milwaukee, Elmhurst (Ill.) University, Carthage College in Kenosha and Benedictine University in Lisle, Ill. He figures to be among the golfers in the mix for playing time this fall when the Foresters are tasked with likely needing to replace four departed seniors, including two of the top five scorers during the fall season.
One of those seniors is Greendale's James Johnson. Schick, who is No. 30 in Wisconsin.Golf's boys Class of 2023 state rankings, will join current junior Marty Swab of Menomonee Falls on the roster for Foresters coach Brian Bruha, a Hillsboro native who has been the team's coach since its return to varsity status in 2014.
Lake Forest, which hadn't competed at the varsity level since 1972, finished seventh at the Midwest Conference Championship in first season back in 2014-15. Since then, the Foresters have won two conference championships and finished second three times, most recently last spring in their third season in the St. Louis Intercollegiate Athletic Conference.
"This was something that greatly impacted my decision," Schick wrote. "The program has consistently improved every year as of late, and is primed to continue to improve and experience new successes, which I'm excited to be a part of. When I visited and spent time with the team, their chemistry seemed off-the-charts good as they're all incredibly close on and off the course."
That vibe extended to the connection Bruha made with Schick and his family on two separate visits in August and October.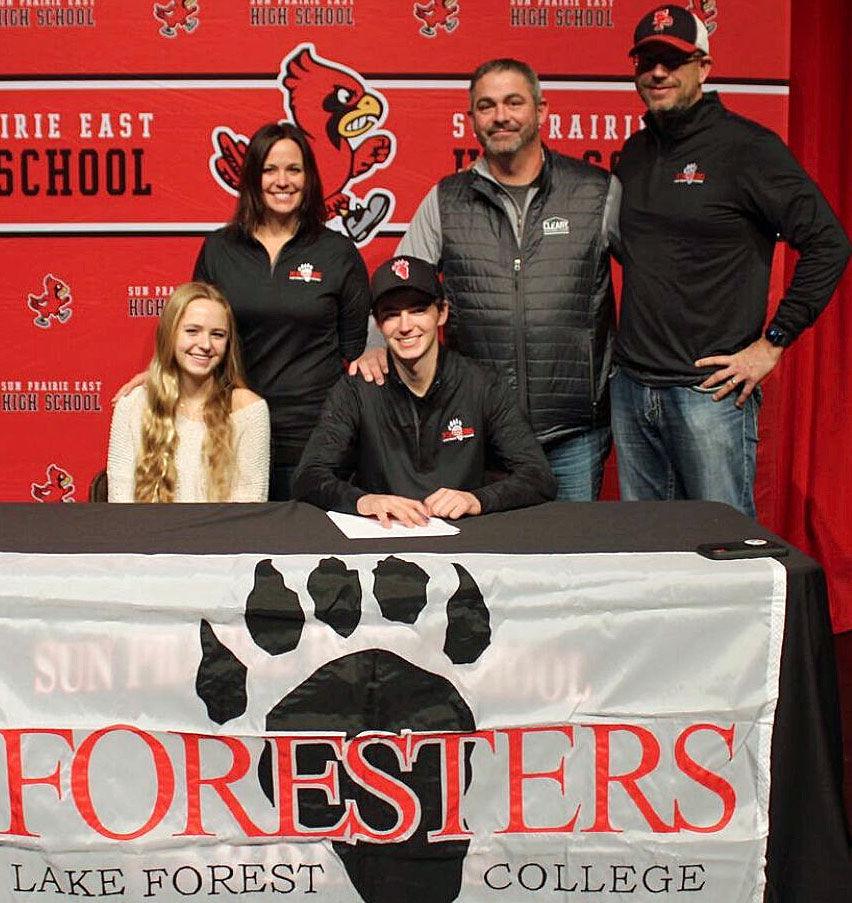 "The first visit I took during the summer, I went with my mom and it was just myself, Coach Bruha and her," Tyler Schick wrote. "It was my first time on campus and my first-ever college visit. ... We talked about golf, school, what was important to me, career plans, my future both at and after Lake Forest and, most importantly, life with Coach Bruha. This is when Coach Bruha really stood out to me and impressed me. It was clear I was wanted not only for my golf, but for my qualities as a person. 
"My second visit, I went down with my dad. I had lunch with the team and got to know some of them, and they gave me another tour around campus and showed me what life was like as a Forester, while my dad talked with Coach Bruha. I then joind my dad and Coach Bruha and continued talking about my goals for college, golf and life. This was the visit when I really knew this was where I wanted to be."
Schick, who plans to major in Business Management or Business Administration, has aspirations of teaching or coaching golf one day. He has taught himself the merits of patience and perseverance during a bumpy high school career.
After his freshman season was canceled due to COVID-19, denying him the chance to learn from seniors who would themselves go on to play college golf, Schick won a WIAA Division 1 regional title and qualified individually for the state championship, where he finished T-66 as a sophomroe at Wild Rock GC in Wisconsin Dells. Last season, Schick struggled at the WIAA regional, placing 18th, and the 79 he shot at the sectional earned him a T-15 finish, four shots shy of a state berth.
He bounced back, however, last summer in just his third year competing in WPGA Junior Tour events. His resume was equal parts consistent and resilient.
Schick never shot lower than 79, but no higher than 82 at the the WPGA Junior Championship (79-79) and the Dells Junior Championship (80-82), two of the state's biggest events to open his summer schedule. But his remarkable turnaround at the 2022 College Showcase, where he opened with a 97 on the Irish Course at Whistling Straits but closed with a 79, showed the kind of mental fortitude that college coaches like Bruha covet.
"I want to win team conference and national titles, and I want to do the same thing individually," Schick wrote. "I want to continue to improve and see where my golf career takes me, which (is where) I see Coach Bruha helping and guiding me. ... Lake Forest is the right choice for me because it's the school that is going to best prepare me for my future and where I'm set up for the most success on the course, in the classroom and in life.
"I feel the most comfortable at Lake Forest. The campus is beautiful, the athletic facilities are excellent, the proximity to home is perfect and the team and Coach Bruha are the right fit for me. I am a big believer in Coach Bruha and his program and can't wait to become a part of it and keep chasing titles."