Just three weeks ago, senior Maddie McCue figured she'd blown her chance to represent UW-Whitewater in the NCAA Division III Women's Golf Championships.
Though she'd helped the Warhawks win their second straight WIAC title in October, and the automatic NCAA berth that came with it, McCue's game fell apart at the worst possible time.
On April 19 and 20, she shot rounds of 100 and 93 in the UW-Whitewater Spring Fling at The Beloit Club. It was a disastrous showing by McCue, whose 81.9 average in the fall was third-best on the team.
"Oh, gosh, I would categorize it as a little bit more than rough," she said. "It's one of those courses I have never been able to mentally conquer. I'd get over the ball and, OK, no idea where this one's going. I had the dreaded shanks. I had six different swing thoughts going through my head."
Just 24 days before the first round of the NCAAs – the 72-hole tournament gets underway Tuesday at Bay Oaks Country Club in Houston – McCue met with coach Andrea Wieland and steeled herself for bad news.
"I went into Andrea's office and said, 'Do I even have a shot to go to nationals? I totally understand if I don't,'" McCue said. "She sat me down and said, 'I'm not going to sugarcoat it for you. You've got to play well at Augustana. You've got to prove to the team and to me that you're back.' I said, 'I get it.'"
A week later, McCue fired a team-best 76, tying her season low, and tied for second place in the Augustana Viking Invitational. She beat the Warhawks' top two players, juniors CheyAnn Knudsen of Milton and Ashley Hofmeister of New Berlin.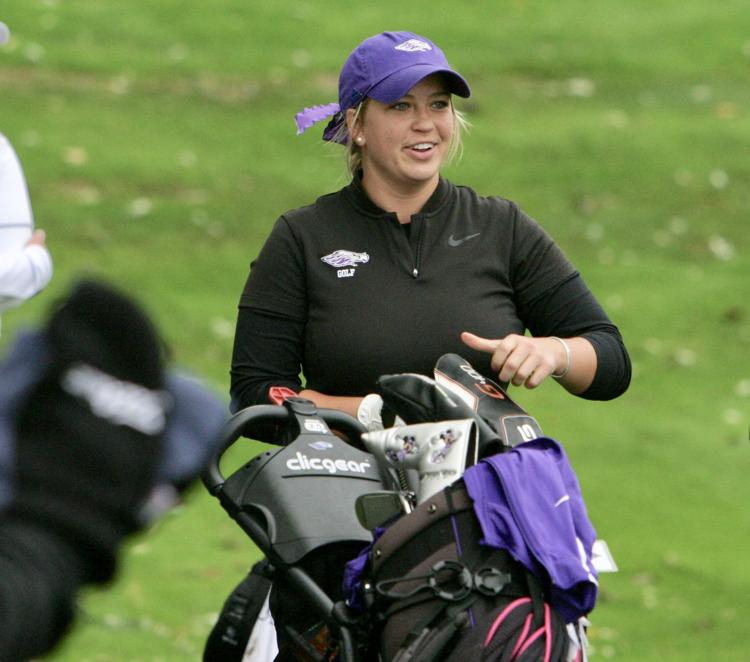 "I had resigned myself to the fact that she probably was not going to be on the national team," said Wieland, who coached McCue at Milton High School before taking the job at UW-W in 2016. "We had a tough conversation. I said, 'There's nothing I can do to erase your 100 and your 93. You did it. Now, you're going to have to do something to prove that you deserve a spot on the team.'
"She had a week to figure it out and went out and shot a 76 at Augustana in tough conditions. It was very impressive."
McCue's ability to shake off a bad performance and fight her way into the lineup is one of a couple feel-good stories for the Warhawks, who go into the national championship seeded 14th out of 25 teams.
Senior Kaitlin Bowe of Franklin has her own tale of redemption. Last year, Bowe was an alternate as her younger sister, Kristin, helped the Warhawks to a 12th-place finish in the NCAAs.
"Yeah, it was definitely motivation," said Kaitlin, who felt a similar sting as a high school senior when she missed qualifying for the WIAA state tournament by one shot. "I was happy to be there and support my teammates, but it was hard to watch. Definitely, a lot of motivation. I hit balls all winter. I worked hard."
Kaitlin had a solid spring, firing a 79 at the Illinois Wesleyan Spring Fling and a 77 at Augustana. In the WIAC championship in October, she shot 80-80-80 as an individual and finished eighth overall.
McCue and Bowe join Knudsen (team-leading 78.3 average), Hofmeister (78.9) and junior Kelly Storti (82.8) of Deerfield, Illinois, to give the Warhawks a potent lineup.
Kristin Bowe (82.7 average in the fall) likely would have been in the mix, but she broke her wrist snowboarding over the winter and missed the entire spring season.
The Warhawks arrived in Houston on Saturday and had a course walk-through Sunday; they were not allowed to bring their clubs but could pace off yardages, strategize and toss balls onto the greens to see how they rolled. They'll play an official practice round Monday before the tournament starts.
The top 15 teams after 54 holes advance to the final round Friday.
"We've looked at all the scores this spring from the other teams and we know we can shoot for a top-five finish," said McCue, who has been accepted into the University of Wisconsin Law School. "A lot of us think we can win it. Our goal is to win it but if we don't, we'll settle for top five."
Here are Wieland's thoughts on the members of her national team lineup:
Knudsen: "I would consider her an overthinker sometimes. She knows exactly what she wants to do and exactly what shot she wants to hit. So, she gets rather picky at times. She definitely has the capability to shoot a low round. She works hard at it."
Hofmeister: "Ashley, when she's out there you wouldn't know if she's shooting 100 or 74. She's even-keel all the time. Just kind of goes with the flow. I always tagged her as my 'Steady Eddie.' Her rounds don't get too high or too low. The 74 she shot at Beloit was the best round I've seen her play."
McCue: "Maddie has always been one of those personalities where you know exactly how she's playing because you can see it a mile away. She's either bouncing around super happy or she's upset and that pushcart is taking a beating. Over the last three years, she has really matured with that and has gotten better at channeling her energy."
Storti: "She fights for every stroke. She never gives up on the golf course. She was huge for us in that first conference title (in 2017) and had another steady performance this year. I did scold her a little bit at Augustana because she was only 3- or 4-over going into the last couple holes and finished double, quad to shoot 81. She was excited she was playing well and had a little mental lapse. But I know I can rely on her."
Bowe: "She's had a really good spring. At conference in the fall, she shot 80-80-80 and every one of those rounds could have been under 80. She missed out last year at nationals. Her spring was bad last year so she was determined to have a good spring this year. She really deserves to be there."