Three years went into the moment that Sara Nerad wanted to share with family, friends, coaches and teachers as the Janesville Craig senior prepared to take the next step in her golf career at a university 100 miles from home.
The COVID-19 pandemic almost kept Nerad from getting the chance.
However, on March 13 — one day before schools in the Janesville School District closed indefinitely due to the coronavirus outbreak — Nerad signed her intent to enroll this fall at the University of Dubuque (Iowa) and play golf for the Spartans. She chose Dubuque, the reigning American Rivers Conference champion, over WIAC champion UW-Whitewater, UW-La Crosse and Wartburg (Iowa).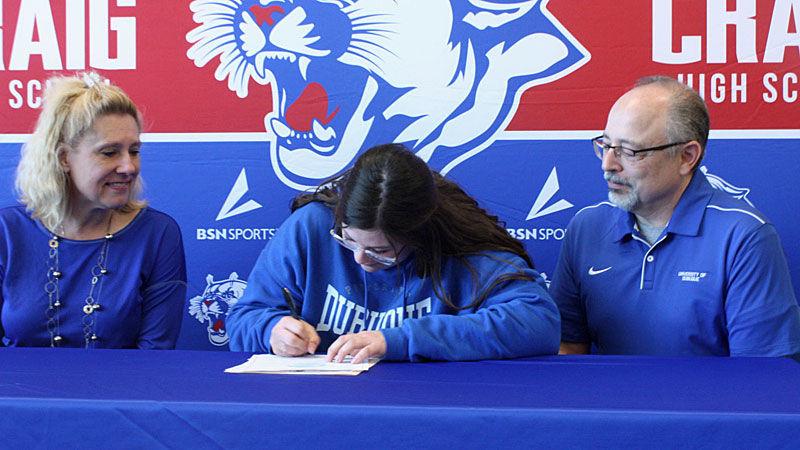 Nerad said she announced her decision in November via social media, but was not able to hold a signing-day ceremony until after her girls hockey season with the Rock County Fury, a cooperative program featuring players from 11 high schools from southern Wisconsin and northern Illinois. As it turned out, Nerad signed her intent to enroll just in the nick of time.
"My signing day was the best," Nerad wrote in an email interview with Wisconsin.Golf. "My friends, family, coaches and teachers were all there to support me. I am so thankful that I got to experience this day before the COVID-19 (pandemic) shut down the schools."
According to Nerad, what was most important to her was the chance to tell everyone she knew how much Dubuque fit what she was looking for in a school.
"When I visited the University of Dubuque, I thought of it as my second home," Nerad wrote. "Way before I even started visiting colleges, someone told me when you find the right college you will know instantly. And I think the moment that I stepped on that (Dubuque) campus I knew."
A three-time WIAA Division 1 sectional qualifier, Nerad came within three shots of qualifying for the state tournament individually with a 93 at the Kettle Moraine sectional as a senior after missing by six shots as a junior. Her 87 at the 2019 Division 1 Mukwonago regional was the best WIAA postseason score of her career.
Nerad, who is ranked 50th among the state's Class of 2020 girls golfers by Wisconsin.Golf, finished 13th in the Big Eight Conference with a 95 as a junior and 18th as a senior with a 99. She played a heavy WPGA Junior Tour schedule in 2017 and 2018, teeing it up nine times each year on the popular junior circuit with a career-best of 87 in an event at Glen Erin Golf Club in Janesville.
At Dubuque, Nerad will join a roster that is full of experience. Even before the COVID-19 crisis canceled the Spartans' spring season, keeping them from competing at the NCAA Division III Championship with the ARC's automatic berth, 2019 ARC coach of the year Dustin Bierman was expected to return all nine of his golfers golfers off a team that improved 15 shots from Day 1 to Day 3 of the ARC Championship to upend perennial power Wartburg by 21 shots and win its first ARC title.
"I see myself fitting in that golf program," wrote Nerad, who hopes to study pre-medicine with an eye toward its physicians-assistant program or going on to medical school. "I know that coach (Bierman) will help me transition into college golf and the girls there will do the same. I met with the new recruits and they are all friendly and all nice. We love to chat about the future especially with the COVID-19 pandemic happening right now. We just like to check in and see how people are doing.
"Hopefully, I will contribute to the team just like everyone else. The expectations for everyone on this team is to push each other to their limits. Last season, those girls won their conference, and hopefully, we can too next year. My expectations for next year as a freshman is to contribute to making that goal happen."