The future is bearing down on Kristin Bowe, Kelly Storti and CheyAnn Knudsen as the three fifth-year seniors navigate their final weeks of college golf at UW-Whitewater and try to savor every minute of what lies between now and then.
By this fall, Bowe will be an Audit Associate with Deloitte in Milwaukee. Storti will be working as a recruiter for Aerotek in Madison. Knudsen will be teaching Social Studies and Language Arts to seventh- and eighth-grade students at the Sharon Community School, which serves the tiny community along the Wisconsin/Illinois border.
Photos: The top 10 finishers from the 2021 WIAC women's golf championship at Reedsburg CC
That's why Sunday was such a special day for the Warhawks trio during the final round of the Wisconsin Intercollegiate Athletic Conference Championship at Reedsburg Country Club.
They were able to successfully finish what they started four years ago, when Knudsen transferred from Carthage College in Kenosha to play for then-second-year coach Andrea Wieland, who had been her coach in high school at Milton. Bowe closed out a wire-to-wire victory and joined Knudsen (third) and Storti (fifth) in helping Whitewater become the first school to win four consecutive WIAC women's golf championships and, most importantly, earn themselves two more weeks together preparing for and playing in the upcoming NCAA Division III Championship.
They got a big boost Sunday from junior Ashton Sinak, whose 75 matched Knudsen for team-low scoring honors on the final day and gave the Warhawks a fourth top-five finisher in the 55-player event. Bowe's 79 and Storti's 81 also counted in Whitewater's closing 310 that finished off a 54-hole total of 925 and a 38-stroke victory over UW-La Crosse.
For the third time in its four-year run, the Warhawks lowered the WIAC Championship scoring record, this time bettering their 2019 winning mark of 933. They will tee it up again May 11-14 in the NCAA Division III Championship at Forest Akers Golf Club in East Lansing, Mich.
"I wasn't sure what was going to happen after our season got cut short last spring and I felt like I was robbed ... of my last year," Knudsen wrote in a text message to Wisconsin.Golf, grateful that the NCAA extended extra eligibility to 2020 spring sports athletes like her after their NCAA Championship season was canceled by COVID-19. "So (Sunday) afternoon was an emotional one for me walking up the 18th hole because I knew that this was my last and final time. No more second chances."
The one they got took some of the sting out of missing their scheduled trip to the 2020 NCAA Division III Championship in Palm Beach Gardens, Fla.
Bowe, Storti, Knudsen and the Warhawks didn't get a fall season, but they did get five varsity starts during a crazy spring schedule. Their journey included the two-day Illinois Wesleyan Spring Invitational in Bloomington, Ill., that required Whitewater to make the three-hour drive each way both days due to WIAC-imposed COVID-19 protocols to play in an event missing the host school due to pandemic concerns.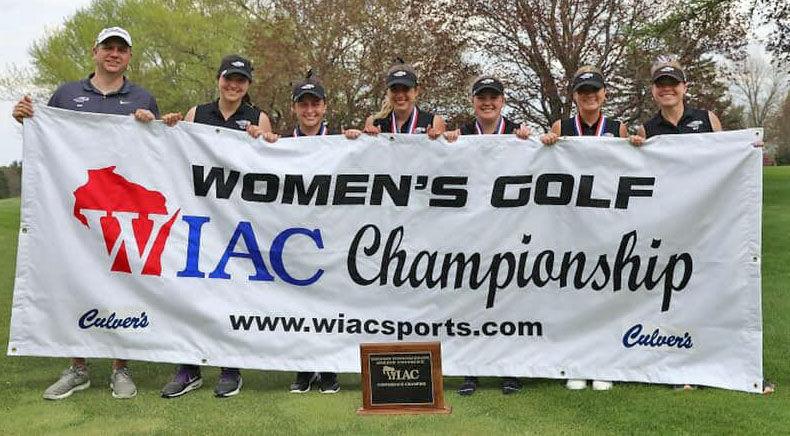 Sunday made it all worthwhile, especially for Bowe, who feasted on the firm, fast conditions at Reedsburg CC — a far cry from the soft, wet conditions that greeted her four previous WIAC championship appearances in the fall. Her final-round 79 gave her a winning total of 13-over-par 223, the lowest 54-hole score in the 25-year history of the event, albeit on a course playing 5,607 yards — 200 yards shorter than normal — due to construction on the 11th hole that reduced it from a par-5 to a par-3.
"I'm proud that we played our hearts out this weekend and were able to finish as well as we did," Bowe wrote in a text message. "Our goal is to go shot-by-shot and I think we successfully did that this weekend, which lead to (the four of) us placing in the top five."
Warhawks coach Andrea Wieland added via text message: "(Sunday) was the first time we felt calm going in to the day. A 33-stroke lead was comforting, but maybe too comfortable because we didn't get off to a great start. However, they came back and finished well.
"Our goals were just to do more of the same as we did the first two days. And have fun! So, we checked the boxes!"
Whitewater wasn't the only team to make Sunday a day to remember.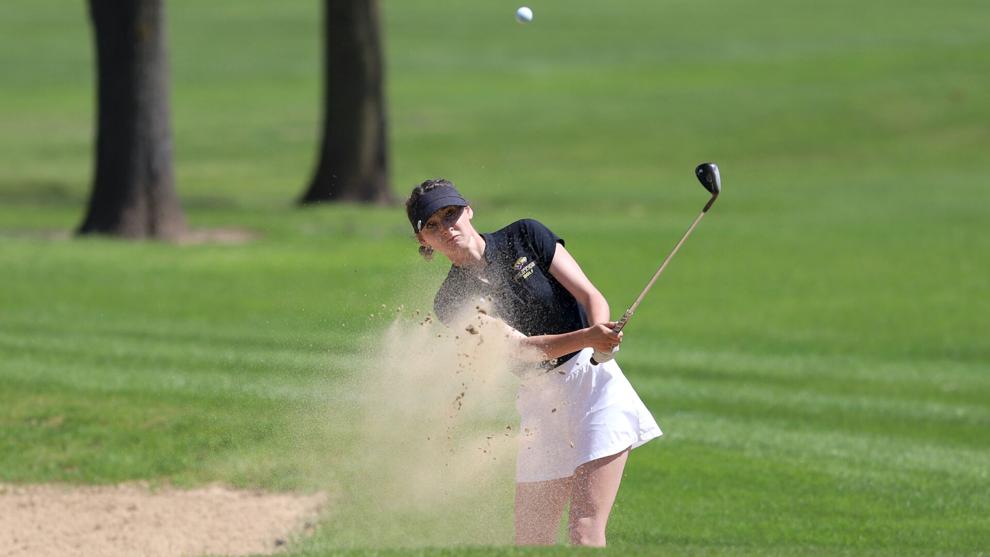 UW-Stevens Point junior Bree Downie, a transfer from NCAA Division II Winona (Minn.) State, became the first golfer in WIAC Championship history to break 70. She made three birdies in a five-hole stretch starting at No. 4 to get to 2-under and made nine pars around a bogey at No. 10 to close out a 1-under 69 that bettered her previous collegiate career best (her opening 76 on Friday) and helped Downie finish second at 227, four strokes behind Bowe.
"(Sunday), I felt a lot more relaxed; I got up this morning and thought to myself, no matter what happened I proved myself in the conference and I needed to walk away with a smile," Downie wrote via text message, adding that she didn't know what to think when first-year Pointers coach Diane Gilbert told her it was a record. "I didn't believe coach Gilbert when she first told me! I was so shocked but it just made me feel even more overwhelmed with joy. I started tearing up putting out my last putt for par."
UW-Stout, which finished second to Whitewater each of the last three years after winning the title in 2016, won the battle for third place by five shots over UW-Eau Claire. The Blue Devils boasted the top freshman in the field in Abbey Filipiak, who birdied the final hole — just as her older sister Alexa, a former Stout golfer, arrived on her way to starting a new job as assistant merchandiser at Erin Hills — to shoot a final-round 74 and finish alone in fourth place at 237.
La Crosse impressively stepped into the runner-up spot behind Whitewater. After struggling to a 339 in Saturday's second round, the Eagles bounced back with a 315 behind freshmen Andrea Schleeper (76) and Grace Ellison (78) to place four golfers in the top 11 — Ellison (seventh), Schleeper and Molly Larsen (T-9) and Maja Tanberg (T-11) — and finish 58 strokes ahead of Stout.
"Overall, it was a great three days for our program," La Crosse coach Dave Taebel wrote via text message, believing golfers in his 3-year-old program learned a lot this weekend playing with Whitewater each day. "We have come a long way in the past three years and I could not be more proud of the women on our team. Hats off to Whitewater on their championship. It was great playing with them to be able to see where we need to be in order to achieve that ourselves."
As competitive as the WIAC is becoming in the freshman and sophomore ranks, there might never be another run as enduring as the one Whitewater is on.
Bowe and Knudsen were appreciative of the opportunity to compete another year and finish it off, especially since they had another of year of work in front of them — Bowe to earn her MBA with an accounting emphasis and Knudsen, whose transfer from Carthage lengthened her stay in Whitewater, to wrap up work on her Education degree, including a student teaching rotation this spring. But Storti was the one who took the biggest leap of faith — like the other two on her own dime — to return to school and enjoy one more run at an NCAA Division III berth.
"I was unsure when we were granted another year of eligibility what I would do!" Storti wrote. "I was moved back home, and had a job lined up. Lots of conversations were had with my coach, my parents, and my teammates in my decision to come back. I came back because of the program that Andrea has created.
"Ultimately, my journey was not supposed to be done, and I wanted to finish what I started with my teammates."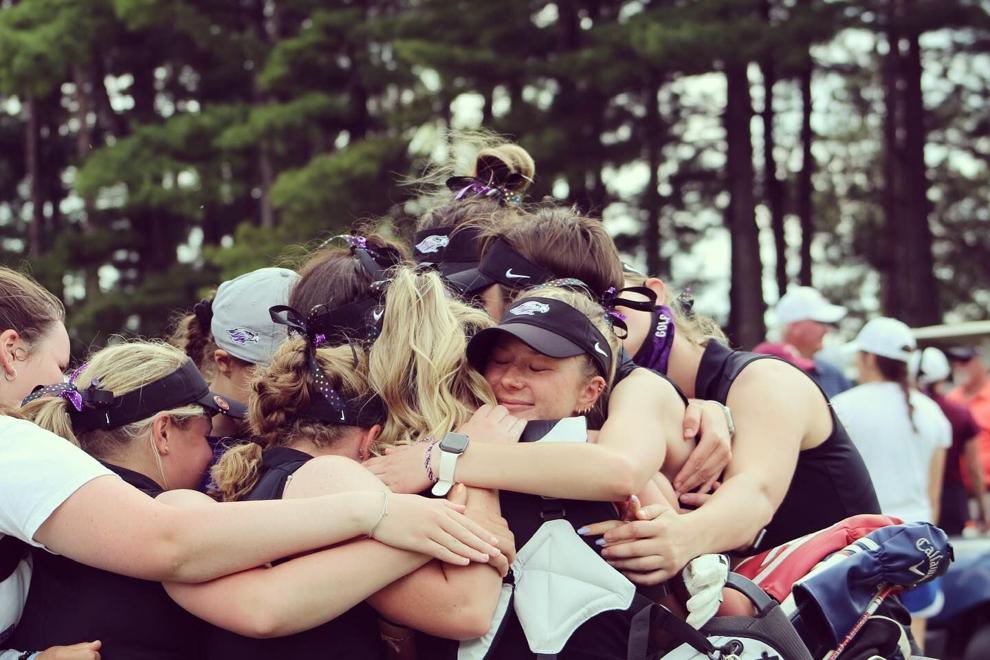 Was it worth it? If a photo of the Warhawks celebration scrum Storti posted to her Facebook page — with her eyes closed, sporting a proud smile —  didn't say it all, her perspective in a text to Wisconsin.Golf a short time later put into words what the opportunity to extend her college career meant to the Deerfield, Ill., native.
"To say the very least, it means the world," Storti wrote. "In a wild world that we are living in we are never promised anything, so we just were grateful to be competing, and we were lucky enough that the championship took place. When wrapping up this afternoon, it felt like everything fell into place (and) everything that we worked for was accomplished."