---
Course openings by region: Southeast | Southwest | Central | Northeast | Northwoods | Northwest
---
Temperatures in the 60s aren't likely until the back end of the 14-day forecast, which is also when the first of several more of Wisconsin's destination golf courses are scheduled to open.
Sand Valley Golf Resort near Nekoosa and The Club at Lac La Belle in Oconomowoc have announced that they will open April 30 for public play. The Club at Lac La Belle technically opened April 1 for member play.
Meanwhile, Erin Hills near Hartford is also inside one month away from its official opening date, according to a post on its Facebook page. The 2017 U.S. Open venue has started taking tee times for the planned May 10 opening and also also maintains a course availability page for those golfers wanting to plan a stop in the coming months.
Despite the recent run of cool, rainy weather, golf courses continue to open across the state and stay open as conditions allow.
The Bog in Saukville, an Arnold Palmer design, opened last Thursday in southeast Wisconsin. Christmas Mountain Resort will open its 18-hole Oaks Course Saturday.
Two prominent Northwoods courses — Timber Ridge in Minocqua and NorthWoods GC in Rhinelander — opened Friday, one day ahead of St. Germain GC. Eagle River GC will open for the season Friday.
Course opening timeline
April 5: Keeping up are the Joneses; House on the Rock Resort, University Ridge set to open this week
If your golf course design tastes gravitate towards Robert Trent Jones, this is your week.
Two of Wisconsin's most prominent contributions from the father-son duo of Robert Trent Jones Sr. and Robert Trent Jones Jr. are among the state courses opening for the season this week.
The House on the Rock Resort Golf Club in Spring Green, where its original 18 holes was designed by the elder Robert Trent Jones, will open for the season Thursday, according to a post on its Facebook page. Known as The Springs GC when it opened in 1971, the facility has since added nine holes designed by two-time U.S. Open champion Andy North and Roger Packard.
Meanwhile, University Ridge GC in Madison — designed by the younger Jones — will open for the season Saturday. According to an email from the course, the practice facilities at the University of Wisconsin's golf course will also open that day.
Golfers will likely have to wait for two other Wisconsin courses bearing the Robert Trent Jones name to open for the 2021 season.
Madeline Island GC in LaPointe, designed by Robert Trent Jones Sr. in 1965, typically does not open until the first or second week of May. SentryWorld in Stevens Point, announced recently as host to the 2023 U.S. Senior Open, has targeted Aug. 17 as its opening date following renovations being done as part of preparations for the Senior Open. SentryWorld was closed all of 2020 due to COVID-19.
---
April 1: Whistling Straits, Blackwolf Run are open? You'd better baahh-lieve it! And Lake Arrowhead is next
All eyes will be on Kohler Golf's centerpiece course at the end of the 2021 golf season when the Ryder Cup comes to the Straits Course at Whistling Straits in Haven in September.
All four of its courses drew attention at the start of its golf season Thursday when it was announced that two have opened for the season and two more — including the Straits Course — will join the ranks soon.
The Irish Course at Whistling Straits and the original championship course at Blackwolf Run were the two 18-hole layouts to open for play Thursday. The Blackwolf Run routing is a combination of holes from its 1988 opening that have since been worked into the River and Meadow Valleys Course, which will open in their current form April 23, the same day that the Straits Course will open.
The opening dates give golfers ample opportunity to play the championship venues ahead of the professionals when they venture to Kohler in September for the Ryder Cup.
According to a news release, Destination Kohler is taking reservations for the popular "Dye-Abolical" and "Golf Kohler" stay-and-play packages. 
The three-night "Dye-Abolical" package includes four rounds of golf per person, one each on The Straits and The Irish courses at Whistling Straits and The River and Meadow Valleys courses at Blackwolf Run. Cart, caddie and forecaddie fees are included, along with a 30-minute golf lesson and gift pouch with logoed items. Complimentary replays are available on The Irish and Meadow Valleys courses, and golfers receive a 20 percent discount at the Kohler Waters Spa. Package rates begin at $1,014 at the Inn on Woodlake and $1,191 at The American Club, based on double occupancy.
"Golf Kohler" differs only in terms of stay (two nights versus three) and rounds of golf (three versus four). Rates begin at $781 at the Inn on Woodlake and $899 at The American Club.
That experience will be enhanced in June with the opening of The Baths at Blackwolf Run, which will feature a 10-hole par-3 course, two-acre putting course, food and beverage service and special event capability. The Baths pay homage to Kohler Co.'s 128-year history of bathing design excellence. Beginning on June 1, daily access to The Baths will be included in both the Dye-Abolical and Golf Kohler packages.
Kohler's announcement triggers another big weekend of course-openings in Wisconsin ahead of a weekend forecast calling for temperatures in the 60s throughout the state. High temperatures in the western half of Wisconsin could reach the low-70s as early as Saturday afternoon.
The Lakes Course at Lake Arrowhead Golf Club near Nekoosa will open Friday for the season. An email did not indicate when The Pines Course would be ready for play.
---
March 30: No foolin'! Lawsonia Links, Geneva National to open Thursday; first two Northwoods courses to follow
In recent years, golf courses announcing their opening on April 1 would be met with a measure of skepticism. 
Not this year.
When the Golf Courses at Lawsonia in Green Lake says it is going to open its famed Links Course at 10 a.m. Thursday? It's going to happen.
When Pinewood GC in Harshaw and Trout Lake GC in Arbor Vitae reveals plans to be the first Northwoods courses to welcome golfers later this week? You resist the temptation to dismiss it as some sick April Fool's joke.
Temperatures might have dropped into the upper teens overnight Tuesday in the Green Lake area. This weekend, however, the forecast calls for temperatures in the upper 60s with no rain until early next week.
No fewer than a half dozen courses are planning to open for the season over the next five days.
Geneva National Golf Club will open for the season Thursday, according to a post on its Facebook page, pushing the total number of reported openeings in southeast Wisconsin to nearly 50. Evansville Golf Club and Towne Country Club in Edgerton, the boyhood home course of U.S. Ryder Cup captain Steve Stricker, will open Thursday in southwest Wisconsin while Monroe Golf Club and Barnyard Nine in Prairie du Chien will follow Friday.
Lawsonia's opening in central Wisconsin follows that of Bullseye GC in Wisconsin Rapids last weekend. Oshkosh Country Club will be among the openings Friday in northeast Wisconsin while River Run GC in Sparta and Black Bear GC in Minong top the list of the latest openings in northwest Wisconsin. 
---
March 25: Wild Rock GC in Wisconsin Dells leads 10 more courses set to join 'now open' list as state total tops 115
Golfers across Wisconsin woke up Friday to eight more "Now Open" signs at facilities across the state.
Four courses in northwest Wisconsin, including Forest Hills Golf Course in La Crosse and Bristol Ridge GC in Somerset, planned to open in time for the final weekend in March. That brought to 117 the number of courses across the state that have come out of hibernation and started filling their tee sheets.
Reedsburg Country Club and Dodge-Point CC in Mineral Point joined the list of open courses in southwest Wisconsin ahead of a weekend during which Wild Rock GC in Wisconsin Dells will also open its championship layout Saturday. The Woods short course at Wild Rock opened last Saturday for the season.
Three more southwest Wisconsin courses will open Monday, including Prairie du Chien CC and Pleasant View GC in Middleton. By Wednesday, Evansville GC expects to join the list.
Two more Milwaukee County courses — executive layouts at Warnimont GC in Cudahy and Hansen GC in Wauwatosa — opened Thursday for the season. They were to be joined in southeast Wisconsin by the original 18-hole layout at Quit-Qui-Oc GC in Elkhart Lake, where the Glacier Nine opened for play last Sunday.  
---
March 19: Janesville Riverside, Odana Hills, Yahara Hills join Milwaukee-area munis in opening for the season
Muni Madness started in the Milwaukee this weekend and quickly spread across southern Wisconsin.
At least six cities and counties across the lower quarter of the state opened for play Friday or Saturday.
Milwaukee County opened Oakwood Park Golf Course in Franklin on Thursday, the same day that Greenfield Park GC in West Allis and Lincoln Park GC in Milwaukee re-opened after closing briefly following last Monday's snowfall across the state. Brown Deer Park GC, the premier course in the Milwaukee County portfolio, opened Friday along with Dretzka Park GC, Whitall Park GC in Hales Corners, Currie Park GC and Grant Park GC.
Temporary greens were being used on Nos. 13 and 14 at Whitnall Park, according to the Milwaukee County Parks golf website.
Meanwhile, municipal courses in Racine, Waukesha and Kenosha counties  also opened for the season. They were quickly followed by munis in Madison and Janesville.
The White Birch Course at Brighton Dale Links in Kansasville and Petrifying Springs Golf Course in Kenosha opened Friday for the season. The 18-hole Blue Spruce and nine-hole Red Pine courses at Brighton Dale remain closed for now.
"We have completed the renovation of the White Birch Course at Brighton Dale Links that included addressing the drainage, green surrounds and bunkers, and we've also had much of the underbrush in the wooded areas removed throughout Brighton Dale," said Dan Drier, the general manager for Kenosha County's golf division, in a statement on the Kenosha County golf Website. "We are excited to show off our improved conditions and new continuous cart paths at Petrifying Springs Golf Course. We are really proud of our golf courses this season and excited for our guests to play them."
In Racine, city-owned Johnson Park GC opened for the season Saturday, according to a Facebook post. Shoop Park GC and Washington Park GC, however, remain, closed for the time being.
In Pewaukee, Naga-Waukee GC — the only remaining 18-hole course in the Waukesha County lineup — opened for the season Friday. Nine-hole Moor Downs in Waukesha has been open around Monday's snowstorm. 
In Madison, nine holes opened Saturday at Odana Hills Golf Course where part of the 18-hole layout still had snowcover. A Facebook post indicated that Yahara Hills, Monona and Glenway also opened for play over the weekend, but driving ranges at Odana Hills, Yahara Hills and Monona remained closed.
Meanwhile, Janesville Riverside Golf Course also announced on its website plans to open Saturday. Blackhawk GC, its nine-hole sister course, appeared to remain closed.
Meanwhile, another course in central Wisconsin opened for the season Wednesday. Rib Mountain GC near Wausau welcomed its first golfers, it announced in a Facebook post.
---
March 15: Monday's snowfall across state knocks many golfers off course ... for now
March is always due for at least one good snowfall in Wisconsin and it came Monday — with varying degrees of force — from Ashland to Beloit, forcing what is expected to be a brief stoppage in the early start to the 2021 golf season.
The brunt of the snow fell in areas of the state that, just last week, had the smallest snow-cover totals of any regions in Wisconsin.
According to the National Weather Service, more than three inches of snow fell along the Mississippi River from Eau Claire south to Platteville near the Wisconsin/Illinois/Iowa border. The La Crosse area received the most snow on that line with 3.9 inches.
Likewise, the Green Bay area, which was the first to see golf courses open just over a week ago, also received more than two inches of snow, according to the NWS. Ashwaubenon reported the heaviest snowfall total in that area with 3.5 inches.
Although winter's return impacted most of the 40-plus courses around the state that had opened over the last week, it didn't keep others from looking forward to joining the list by this weekend.
The White Birch Course at Brighton Dale Links in Kansasville and Petrifying Springs Golf Course in Kenosha will open Friday for the season, Dan Drier, the general manager for Kenosha County's golf division, said in an email to Wisconsin.Golf.
Others are likely to follow Kenosha's lead, especially in the areas between Madison and Milwaukee where snowfall totals Monday were less than an inch.
Wisconsin.Golf will continue to comb social media channels and add to our list of golf courses opening for the season. Of course, another dump of snow could cause any of the courses to close just as quickly as they opened, at least temporarily, so make sure to call ahead. Courses can contact us directly via email at rob@killarneygolfmedia.com.
---
March 12: SentryWorld targets Aug. 17 as opening date
The Ridges Golf Course in Wisconsin Rapids. MoundView GC in Friendship. Two Oaks North GC in Wautoma.
All three Central Wisconsin layouts will be open for the season by Saturday. However, SentryWorld in Stevens Point remains closed.
In 2020, the Robert Trent Jones Jr. classic remained closed out of an abundance of caution due to COVID-19. In 2021, it will remain closed to open the season as renovations are made with an eye toward hosting the 2023 U.S. Senior Open, which the USGA recently awarded to SentryWorld.
However, we now know when SentryWorld will welcome its first golfers since the end of the 2019 season.
General manager Mike James announced via email and social media that Aug. 17 has been targeted as SentryWorld's opening day. The course opening follow a June 1 opening for PJ's Restaurant, the pro shop, banquet and events spaces and the Fieldhouse. The Inn at SentryWorld, a new boutique hotel, will open in July, according to the announcement.
"After a challenging year navigating the coronavirus pandemic, we're encouraged to see growing vaccine distribution in Wisconsin and across the U.S.," James wrote in the announcement. "We're confident we can safely reopen SentryWorld properties in phases this summer — providing the clean and safe facilities you expect. ... As we prepare for reopening, I can assure you we remain focused on reducing the spread of COVID-19 to our associates, guests and community.
"Thanks for your patience and understanding. We look forward to seeing you soon!"
---
March 8: Northwest Wisconsin wins race to first tee
If you had March 8 as the date for the first announced golf course opening of the year in Wisconsin, pat yourself on the back.
If you had Northeast Wisconsin as the first region to welcome golfers in 2021 ... what can you tell us about this week's Powerball numbers? 
Although temperatures in the Madison area reached the low 60s on March 9 and 10, it was Ledgeview Golf Course in De Pere that beat all the others to the punch in opening for the season. A post on its Facebook page touted the opening of its front nine opened March 8 for walking only, its Monday opening triggering an abundance of course openings throughout the state.
Golfers in the Madison and Milwaukee areas didn't have to wait long to tee it up.
Door Creek GC and The Oaks GC, both in Cottage Grove, and Lake Windsor GC in nearby Windsor were planning to open for the season Friday. The Bridges GC in Madison will welcome its first golfers of the season Saturday.
The GC at Camelot in Lomira became the first course in Southeast Wisconsin to open for play. It opened the front nine March 9, when several courses in the Fond du Lac area announced they would be opening their driving ranges.
Lincoln Park GC became the first course of the 14 in the Milwaukee County Parks system to open for the season. It announced via email that tee times were being taken starting Friday on the county's tee-time website (be sure to set your search to nine holes).
Rolling Meadows GC in Fond du Lac and Scenic View CC in Slinger opened Thursday for the season. Ives Grove GL in Sturtevant and Brown's Lake GC in Burlington were expected to join Lincoln Park in opening for the season Friday.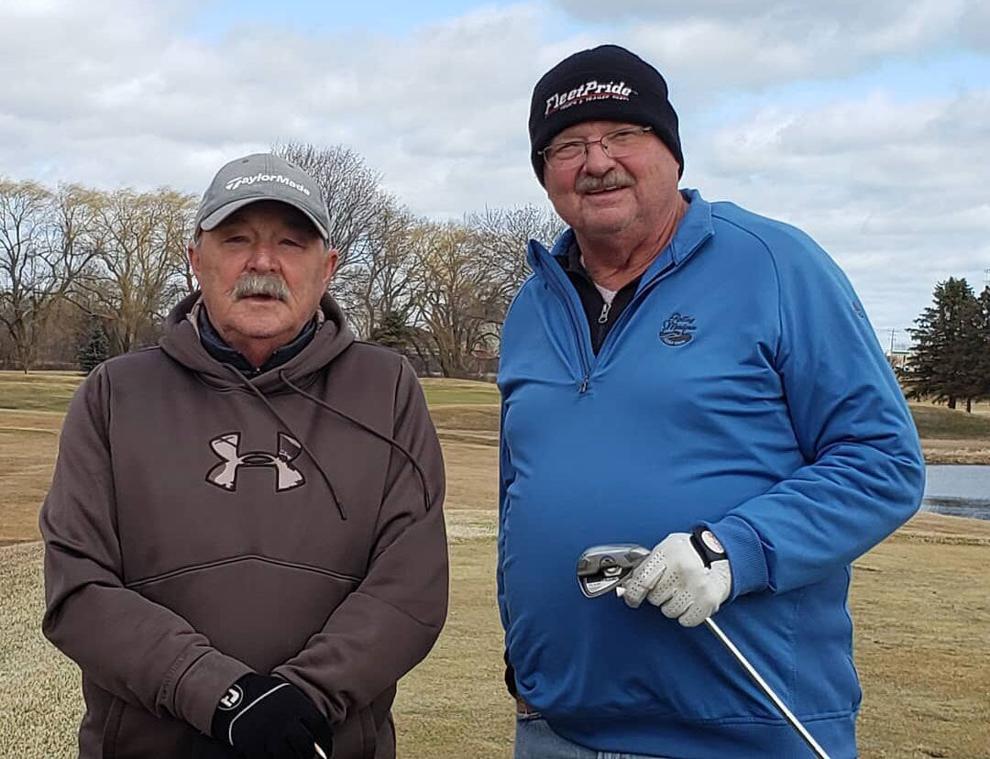 Bundled golfers at Rolling Meadows
Les Little and Gerry Scharf are bundled for their first rounds of the 2021 season at Rolling Meadows GC in Fond du Lac.
Spring Valley Country Club in Salem, near the Wisconsin-Illinois state line, posted on its Facebook page that its opening is now set for Saturday, which also when Muskego Lakes CC in Muskego announced its plans to open.
Until now, the northern part of the state had the rare distinction of having the first open courses of the 2021 season.
The Woods Golf Course in Green Bay opened for the season Tuesday at 10 a.m. The facility, which has been reduced from 18 to 13 holes this season, had nine holes — Nos. 4 through 9 and Nos. 10, 17 and 18 — available on opening day.
Two facilities in Northwest Wisconsin also opened for the season Tuesday.
Nine holes at Wild Ridge and Mill Run, sister golf courses in Eau Claire, were available for play Tuesday, according to its Facebook page. "As weather permits we will be opening 18 holes at each course," the post stated.
Pine Crest Golf Course, a nine-hole course in Dallas, north of Eau Claire, opened for the 2021 season Tuesday.
According to the WeatherStreet.com snow-cover map for Wisconsin, areas between La Crosse and Eau Claire and Sheboygan and Green Bay had little or no snow at the start of opening week. Likewise, the National Oceanic & Atmospheric Administration interactive snow-cover map is showing pockets of central Wisconsin around Stevens Point and Wisconsin Rapids with minimal snow cover.
Saturday is projected to be the best day during the first weekend of the 2021 season to tee it up. Temperatures in both the Madison and Milwaukee areas are predicted to be in the mid-50s before a week of cooler — but, for Wisconsin golfers, playable — weather is expected.