When the recession hit in 2008 and new golf course construction in the United States ground to a halt, Andy North shut down his course design business.
The last course he designed with late partner Roger Packard, Bergamont Golf Club (now The Legend at Bergamont), opened in 2005.
"It got to the point that nobody was building courses, so why keep chasing jobs and spending 50 grand or 75 grand (on RFPs and presentations) to finish second?" North said. "There's redesign work, but I didn't want to chase redesign work around. I'm not going to go chase jobs like that anymore."
Then an old client came calling. Trappers Turn Golf Club, which opened in 1991, wanted to add a par-3 course and turned to North, who designed all 27 holes for the popular resort in Wisconsin Dells, the first 18 of which opened in 1991.
The two-time U.S. Open champion is teaming with Oliphant Golf to build a 12-hole short course on a 15-acre plateau to the left of the first hole on the Lakes Nine.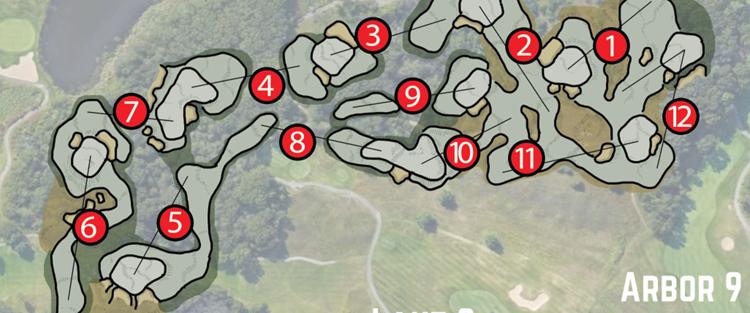 "It's been fun," North said. "I've really gotten a kick out of it."
Construction started in 2019 and the course is expected to open in the spring of 2021, though depending on the grow-in, there could be limited preview play this fall. The holes are roughed in and some of the greens have been shaped.
"If all goes well, we'll have grass in the ground hopefully by July," North said. "If we get a decent spring, we can get the whole thing planted by July, which means you might be able to play a little bit in September. You want it ready when people play it, because the first impression is the first impression."
The holes will measure between 65 and 130 yards, but the green complexes will be challenging.
"Our idea was we wanted these to be real golf holes, but just shorter," North said. "That's really the concept. Where you say, 'Man, this is a nice-looking hole. It's 120 yards, but if it was 190 it would be a really hard hole.' Some of the greens are probably too big for how short the holes are but we're putting some ridges and slopes in them, which normally I don't do.
"If you have a wedge in your hands, you better hit a good shot and put it on the area where the pin is."
Par-3 courses, short courses and putting courses are trending at multi-hole facilities. The goal is to give golfers reasons to stay longer and to provide an alternative for people who don't want to – or physically can't – play 36 holes a day on a regulation course.
Bandon Dunes in Bandon, Ore., one of the top golf destinations in the world, has a popular 13-hole par-3 course. Pinehurst added The Cradle, a nine-hole short course designed by Gil Hanse, which Golf Channel has called "the most fun 10 acres in all of golf."
Erin Hills in the Town of Erin last year opened a putting course designed by Dana Fry, and Sand Valley in the Town of Rome has a 17-hole par-3 course designed by Bill Coore and Ben Crenshaw called The Sandbox.
"I think the biggest thing is you're trying to figure out a way to keep people there," North said. "I think that's the case at all these places. Maybe you don't want to play 36 holes. This gives you an option to play 18, have lunch, and then go out and (play the par-3) and have some fun and not get beat up.
"The Sandbox, it would be really interesting to see how many people tee off on that after 7 o'clock at night in the summer. I'd bet you it's a ton."
Interestingly, many if not most of the short courses being built these days are not the traditional nine or 18 holes. When it comes to par-3 courses, "regulation" goes by the wayside. Designers are working with the land made available to them to build interesting short holes, and if the number turns out to be 12 or 13 or 17, so be it.
"We could have made nine longer holes easily, but we kind of thought 12 was a nice number," North said. "People are building stuff that the number of holes doesn't make a difference anymore."
North also is designing a putting course for Trappers Turn, which plans to add on-site lodging.
"Andy has been a lot of fun to work with," said Oliphant's Craig Haltom, a rising architect in his own right who discovered the land that would become Sand Valley and reimagined The Club at Lac La Belle, scheduled to reopen this year. "He seems over-the-top excited about it. I think it will be pretty neat, and it complements what they've already got at Trappers."