Michael Carbiener, the general manager at Sand Valley Resort, might be the only person in Wisconsin who runs a golf course operation and can't wait for it to snow. The more, in fact, the merrier.
"Oh, heck yeah," Carbiener said with a laugh. "Let it snow!"
That's because Sand Valley is now marketing itself as a four-season resort. And with the golf courses having closed Oct. 20, the sprawling resort in the Town of Rome could use some of the white fluffy stuff to transform into a true winter wonderland.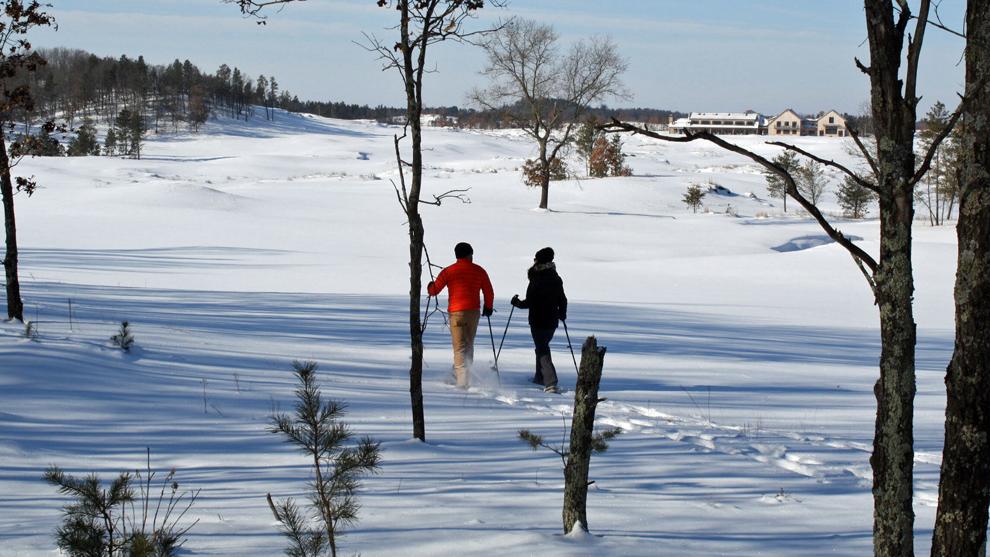 Most four-season resorts, at least in the Midwest, combine golf with downhill skiing. Sand Valley has a lot of hills, but none of them are big enough to carve with downhill skis. What it does have is a 10,000-acre playground in an off-the-beaten-path location in the middle of the state.
"We recognize that we have something that's really cool, and that's not only world-class golf but also 10,000 acres of really impressive dunescape here in central Wisconsin," Carbiener said. "You combine that with the rooms and lodging that we have on site, particularly our four-bedroom cottage units that have full kitchens, and we thought, 'Who wouldn't want to come here in the wintertime?'
"One thing we thought internally is, particularly in the backdrop of all the COVID-related stuff that's swirling around, people might find it really comforting to come to a more rural, less congested environment and enjoy the great outdoors."
Guest activities include hiking, snowshoeing, fat-tire biking, cross-country skiing, sledding and ice skating and ice fishing on the resort's three lakes, when they eventually freeze over.
The resort has some outdoor winter equipment available for rental and also will provide guest transportation to ski hills in the area.
"I think we more than make up for (a lack of downhill skiing), quite frankly," Carbiener said. "We've got an existing trail system that's pretty encompassing. We also have invested in snow-grooming equipment that allows us to have groomed fat-tire biking and cross-country skiing and snowshoeing trails. So that gives us a little more versatility for when there are meaningful amounts of snow on the ground."
During peak golf season, Sand Valley has a staff of more than 400 employees, including caddies. For the winter season, the resort staff numbers between 50 and 60. Lodging is in four-bedroom cottage units and clubhouse rooms, though Carbiener said more rooms would open "as demand dictates."
Accommodations include some pet-friendly rooms, and dogs are welcome.
"We also have our Leopold Cottage units that are appealing to people who might have a family or a larger gathering of eight, 10 or 12 people," Carbiener said.
The four-bedroom cottages have kitchens, so guests can bring their own food. Or, the resort's culinary staff will prepare pre-packaged meal kits that are designed to be simply warmed in the oven. In addition, Aldo's Farm & Table restaurant will be open to resort guests only Thursdays through Sundays.
"We feel that what we're promoting is that proper responsible operating plan and without patios and outdoor spaces we don't want it to be too congested," Carbiener said. "We have a nice winter menu and breakfast a la carte."
Sand Valley has been marketing its fall/winter experience with its Sand Valley Insider newsletter, as well as with the Wisconsin Department of Tourism and Visit Rome.
"It's just getting going," Carbiener said. "We're welcoming guests here this weekend, which will be great. I think for people who (live in) larger, densely populated urban areas, being a little bit more remote and not as compressed is appealing. And I think what they experience in Year 1 will be positive and will keep them coming back in Year 2 and Year 3 and Year 4."
The resort was covered with a blanket of snow a couple weeks ago in the wake of the first big seasonal snowfall, but most of it has since melted.
A couple of well-timed Alberta clippers wouldn't hurt.