The owners of Par 4 Resort in Waupaca, which includes Foxfire Golf Course and an adjacent hotel, have purchased the former Fox Hills Resort in Mishicot and rebranded the complex that features 45 holes of golf, lodging, a popular wedding venue and conference center.
And they aren't done yet.
"This is Par 5 Resort," said Lloyd Young, director of operations at Mishicot, "and right now we're looking for a Par 3 Resort."
Young declined to say where they are looking for another acquisition but noted, "There's a couple of resorts around here that are up for grabs."
The purchase of the former Fox Hills, a year-round facility about 25 miles southeast of Green Bay, was unveiled at the end of January. According to the announcement on the resort's Facebook page, the new owners are "a group of seasoned resort owners" who intend to give the resort the "refresh" it needs.
"We are working very hard to remodel and update the resort across the board and wanted to rebrand as 'Par 5 Resort' to represent the fresh, new changes," the announcement said.
The purchase does not include condos at the resort that will continue to wear the Fox Hills name.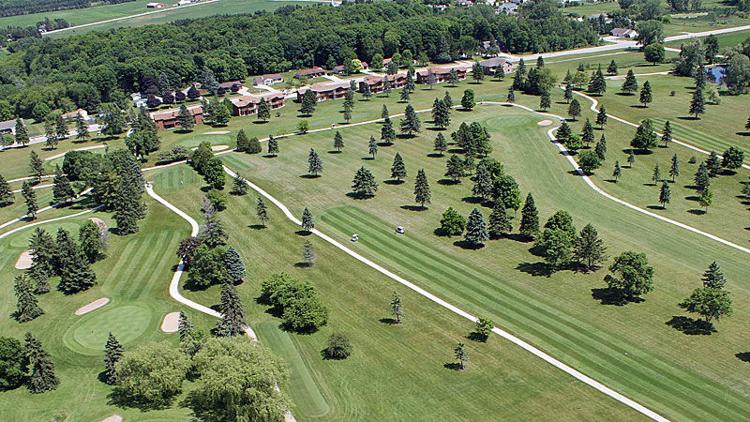 For many groups of golfers, the resort has long been known as home of the 18-hole links-style course called The National as well as the 27 holes of the more traditional Fox Creek parkland layout. Young said the property was appealing to the new owners, who are based in Chicago, because it offered a complete resort package.
Unlike the Waupaca resort that was purchased in pieces, he said, "When this came up it already had a golf course, hotel and conference center."
While a grand re-opening will be held closer to the golf season, Young said the resort is already making changes to its restaurant menu, updating its website to make wedding planning easier and making plans to improve the golf experience. For example, he said all carts will be fitted with new GPS technology.
Young said the resort will continue to attract both local players and traveling groups who want a place for several days of golf and entertainment. At the recent Appleton golf show, he said, the resort was pushing one-day all-you-can-play golf, but for other shows the emphasis will be on group travel.
Other courses in Wisconsin are well known as golf destinations, including Erin Hills, Sand Valley and the golf courses at Kohler, but Young noted those are mostly walking-only courses that many golfers can't handle.
"Do you know how many 350-pound Illinois guys come (to Wisconsin to play)?" he asked. At Par 5 Resort, he said, "they're coming in here and they're taking a cart and they'll have it all weekend. (For groups) we'll structure whatever they want."
Having the two operations about 70 miles apart will offer opportunities for combined marketing efforts and for two-course packages, Young said. Already, one group wanted to stay and play in Mishicot on consecutive days but one day was already booked for a large tournament. Now the group can play one day at Mishicot and the next at Waupaca.
Improving the wedding planning experience is important, Young said, because the resort hosts lots of them.
"Oh my goodness, this place does so many," he said. Sometimes "we'll have three weddings in a weekend."
Par 4 Resort, located in Waupaca County's Chain O' Lakes area, includes the highly regarded Foxfire course, a newly refurbished hotel and conference and event center. Foxfire, which has been described as blending Scottish links-style holes with traditional Midwest holes, has received four stars from Golf Digest. The clubhouse also features an indoor simulator for year-round play.