It is, or at least was, lesson number one in the caddie handbook. Before every round, shake the hand of the golfer whose bag you will be toting, and shake it again when getting paid after the round. Manners and etiquette matter.
Which seems oh, so quaint in light of the new reality that is golf during a highly contagious global pandemic.
"It's definitely going to be a crazy world when we get to the end of this," said Dave Spengler, the PGA pro at Northbrook Golf and Grill in Luxemburg, which supports a small caddie program of high school students who have their eye on winning a coveted Evans Scholarship, which provides recipients with four years of college tuition and housing. 
"Is the handshake going to be gone?"
More to the point, will caddies be gone?
For now, at least, they are. Across the state caddie programs are in limbo, caught up in the uncertainty that surrounds so many aspects of life in a time of strict social distancing. No one interviewed for this story suggested that caddie programs would not return – someday – but nearly everyone agreed they will be different, even in ways they are still struggling to understand.
Will caddies be wearing masks for four-hour rounds? Where will such safety equipment come from? Will high school kids – and especially their parents – feel comfortable enough with precautions to return to looping? While caddie programs remain suspended while the state's safer-at-home guidelines minimize many traditional human interactions, golf pros at many country clubs are calling each other to ask those questions and many more.
"Everybody's in the same boat," said Bill Berdan, who runs perhaps the state's largest caddie program at Blue Mound Golf & Country Club in Wauwatosa. "I've taken calls from other country clubs (because) everybody's in the same boat.
"We're unsure of some things. We don't want to be the first course to try something" and have it backfire, he said.
One thing is clear: many kids want to caddie. Last year, 98 kids carried bags at Blue Mound, where honor caddies – the highest rank in the caddie corps – can earn as much as $100 for less than four hours of walking fairways with golfers. This year, nearly 200 applications had arrived before the shutdown over the novel coronavirus, Berdan said, which also forced postponement of the annual caddie orientation program while officials try to figure out what the new reality will be. Today, he fields texts from kids wondering when they can return to work, and from parents who wonder how their kids will be protected.
"The traditional way, walking with a golfer, that doesn't seem like a good idea. I just don't see a kid carrying a bag and walking down the fairway. We're going to miss that," said James Grogan, a member at North Hills Country Club in Menomonee Falls who also serves on the board of the Evans Scholars Foundation, whose work is done through the Western Golf Association.
A former Evans Scholar himself, Grogan is passionate about the program and believes it will survive the current situation "even if we never get a kid out this year." 
 But for the sake of kids who want to work and golfers who appreciate playing with caddies, he said, it is important to figure out how to move forward.
"The game of golf is played better with a caddie," said Grogan, who always asks the kids who carry his clubs if they are aware of the scholarship, "and second of all is the passion of helping these kids. I think it's a combination of helping the kids and having a better golf experience."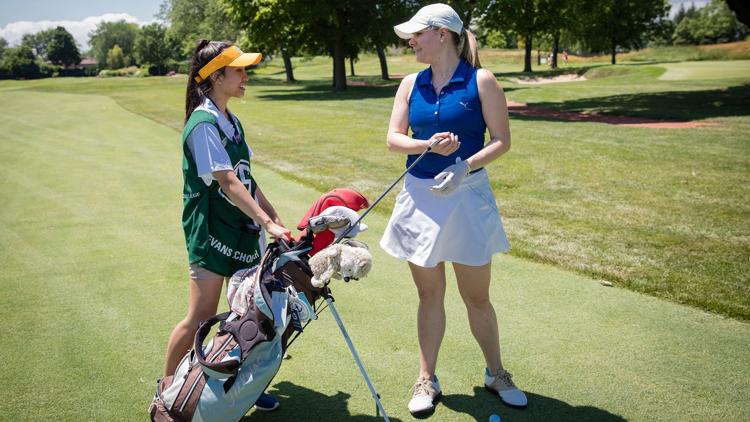 Grogan and others said a likely approach after the stay-at-home orders are lifted would be to employ forecaddies only. Caddies could find and mark drives, carry a rake to handle bunker maintenance and make sure distances are kept and no touching of flagsticks or other objects takes place. Caddies could carry hand sanitizer to use as needed, and schedules could limit them to four-hour shifts to avoid congregating. Another approach would be to have two caddies in carts transporting four bags of clubs while golfers walk behind.
At Big Foot Country Club in Walworth County, head pro Carsten Van Vuren said the "best case" he can see is employing forecaddies by Memorial Day.
"Best case," he stressed, "possibly forecaddies to start and then play it by ear."
Big Foot's website calls its longtime caddie program "an unbelievable source of pride for our club," with about a dozen current Evans Scholars in the caddie pool and three more who are scheduled to enter college this fall.
"There's a lot of demand (for the program) but we've got to make sure the kids are willing to come back," he said. He was expecting many caddies or parents of caddies to be leery about even working this year but has been fielding calls from kids who want to know when they can work again, he said, "and that's a little surprising to me."
Some have suggested that caddies at country clubs in less populated areas might have less to worry about than those in urban settings like Blue Mound. But Spengler, whose club is in lightly populated Kewaunee County, said some of his members live in neighboring Brown County, which has experienced one of the highest outbreaks of COVID-19. The prospect of a caddie becoming infected by a golfer and carrying it home to more at-risk family members "is the scariest part of it all for me," Spengler said.
Before caddies can begin work again there will have to be education programs aimed at both the kids who carry and their parents, said Tim Orbon, who works with caddie development for the Western Golf Association and Evans Scholars Foundation.
"Yeah, from both the member side and the caddie and parent side, there's some apprehension," he said.
For now, he said, it's fine that caddie programs are suspended while officials continue to refine protocols that will protect both caddies and golfers. Under some new guidelines, caddies would carry bags, set them down and step back at least six feet; caddies could inform players of yardage and help read greens but players would be responsible for pulling their own clubs and washing their own balls.
But even that won't happen until states lift current restrictions.
"We're very youth-centric," said Orbon. "Where we're at with shelter-in-place they should be at home."
High-end, walking-only golf courses are also changing to meet the times. Erin Hills Golf Course has purchased 125 push carts for players to use free of charge but every foursome will be required to take a forecaddie. "That is just to help keep up pace of play, to make sure everyone is moving right along and keep our tee sheet (current)," said Daniel Mohan, assistant manager for reservations. "We do want to return to regular caddies as soon as it's safe to do so." Caddies will be available for golfers at Sand Valley Golf Club in Adams County, but they have been instructed to follow a new set of guidelines and protocols for safety and social distancing.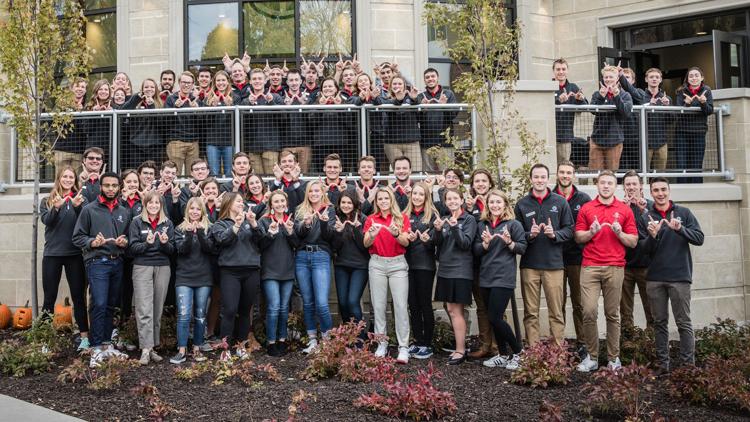 Caddies are not the only people affected by the virus. While golf courses have been allowed to open, pro shops and clubhouses remain closed and many who tend bar or serve food are still without work. But those at courses with caddie programs say it is important to do everything possible to keep them in place eventually, both for the jobs provided to caddies in the short run and for the possibility of winning Evans Scholarships.
In December, 19 Wisconsin high school students were awarded the scholarships, each valued at an estimated $120,000.
"People want to support the kids," said Orbon, so "maybe we have to caddie a little differently in June. Is it going to affect their pocketbooks? Sure.
"We know caddying can work. It's going to look different and feel different but … we're pretty hopeful. We're not ready to raise the white flag yet."