NEW GLARUS – With a 9:36 a.m. tee time and the course stacked with foursomes ahead of us, my buddy and I prepared for a wait-on-every-tee round last week at Edelweiss Chalet Country Club.
A little more than three hours later, we were putting out on the 18th green to conclude one of the most pleasurable rounds I've played this year (despite a lousy double-quad finish that ruined what would have been a good score). We almost never had to wait for the foursome in front of us, and obviously play was moving along ahead of them.
Is it always like this at Edelweiss?
"It is typical," said Jeff Ellingson, the PGA general manager and head professional. "It's something that we keep track of pretty regularly. Even on our busy weekends and holidays, we very rarely get above 4 hours 20 minutes. We've never had a starter or a marshal go around. If there's no public play our members will play in 3 hours, 3:15 in foursomes."
Two things that will squelch return play at a golf course are 5½-hour slogs and poor greens. Based on my first round at Edelweiss – the 180th course I've played in Wisconsin – I'll definitely be going back.
Edelweiss opened in nine-hole segments (1968 and 1989) and was designed by Art Johnson, whose portfolio includes some 25 courses in America's Birdieland. The only noticeable difference between the nines is that the greens on the newer back nine have considerably more movement than the flattish greens on the front side.
The speed is fast and consistent throughout. I knew the greens would command our full attention when I dropped a ball on the practice green and stroked my first putt, a 20-footer, a full 10 feet past the cup.
The course is a blast to play, starting with the elevated tee shot on the first hole. I had everything from wedge to 3-wood into the par-4s. There are doglegs in both directions, tight driving holes and wide-open fairways. We played from the white tees (6,262 yards); the longest par-5 was 507 and the other three were under 490. As a 12-handicapper, I appreciate having a flip wedge into a par-5 for my third shot as opposed to hitting driver, 3-wood, 5-wood on a 560-yarder.
The hardest hole is the par-4 ninth, which played 391 from the whites. My drive finished on the right side of the fairway, but my path to the green was blocked by a huge tree on the right side, some 40 yards short of the green. My approach hit the tree and kicked into a bad spot, which led to a double-bogey.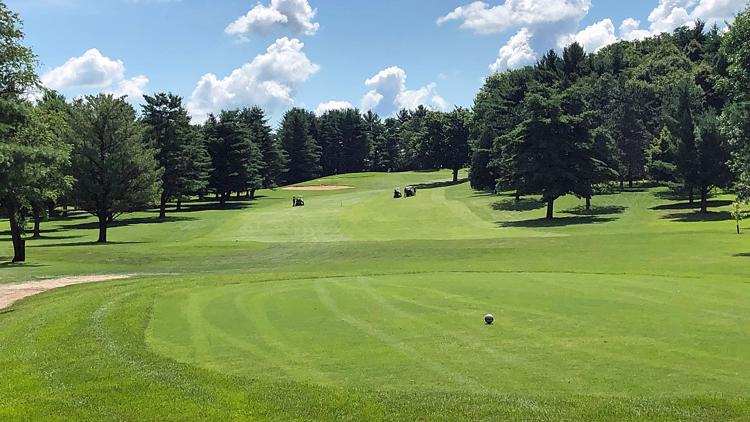 Still, I had an outside shot to break 80 until I played the last four holes in 8-over. On the par-3 17th, my tee shot found a greenside bunker and I blasted 25 feet above the hole. That is not the spot to be. The downhill slider had six feet of break and after barely breathing on the ball I watched it speed past the hole. A three-putt double ensued.
The 18th is a short but demanding par-4 of 317 yards. The second shot is straight uphill to a small target. I missed the green left and my ball kicked down a hill and into an impossible lie behind a tree. After two flubbed chips I lost concentration and walked off with a snowman.
Normally, that would have soured me, but Edelweiss Chalet was too much fun to let a bad finish ruin my day. My buddy, playing his first round of the year, shot an 82 and loved the place.
The course is located about three miles from New Glarus Brewing Company, which gives you a second reason to visit (though coronavirus has closed tours for the summer). Another attraction, at least for me, is that Edelweiss is off the beaten path. It's about 25 miles south of the Madison Beltline and accessed by twisting country roads.
"I think people love to come out here because it's peaceful," said Ellingson, current president of the Wisconsin PGA Section. "There's one house on the golf course. There's no traffic. There's the bike trail and the stream (Little Sugar River). We've had a pair of cranes that have been coming back for more than 10 years. It's the same pair and they don't really care about golfers too much."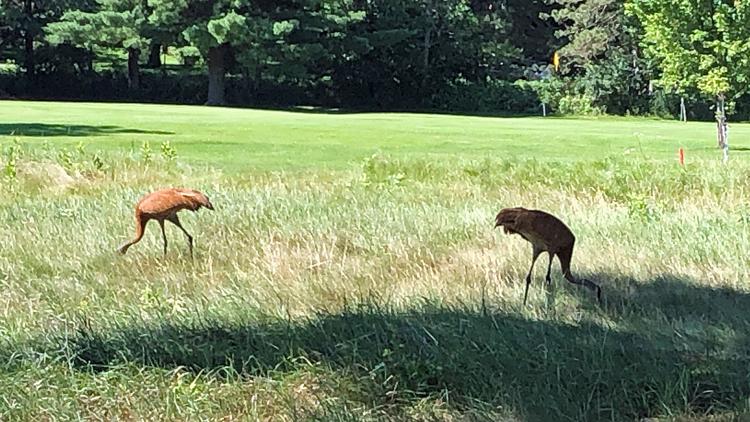 We came across the cranes on the back nine and they were unfazed when I drove our cart to within 15 yards of them, got out and took some photos.
Edelweiss Chalet has about 360 members but is open to the public. Rates are $44 weekdays and $51 weekends for 18 holes with cart. The course is very walkable, though, and the rates to hoof it are $26 weekdays and $33 weekends. The practice range isn't much, but it's serviceable.
Most of the play comes from the west side of Madison, Verona and the surrounding small towns of New Glarus, Belleville, Argyle and Blanchardville. It's a two-hour drive from Milwaukee, but if I lived in the area, I'd buy the 20-round package for $660.
Phrases such as "well-kept secret" and "hidden gem" are overused by golf course reviewers, but Edelweiss Chalet Country Club fits both to a tee.